My first bungalow Christmas, in The Hare House, my 1910 Craftsman was a year in the planning. Built before electricity came to that part of, what would be, Los Angeles. I moved in in December of 1998 & started thinking about the next Christmas. I had been living in a terrific Mid-Century hillside house in Pasadena & didn't feel like I would do the same Christmas with the 50's colored lights & Blow Mold Santas.
As I planted my garden beds at the Hare House, I considered what  might be good choices for Christmas cuttings. Asparagus ferns are a total takeover nightmare, but I decided to plant a couple to use on the deep mantel & above the built-ins in the dining room. They bounce back even after the closest haircut & provide a nice fluffy element. I am in love with ferns, so I planted a few different types, again thinking of bedecking the halls.
I was lucky enough to have toyons on my property, perennial California native shrubs that had been trimmed into trees. Also know as Christmas berry, I knew that they would provide me with all the red berries that I would need. Fortunately, the tree in back produced a sufficient quantity that I could leave all its lovely, red berries on the tree to decorate my front yard.
My family lives in Northern California, my brother in the woods, so I had bags of pine cones, of all shapes & sizes. I invested heavily in candles, at the after Christmas sales & searched eBay for the perfect embroidered A&C pillow. I found it!
Of course, Mahjong was the most beautiful item of decor during any season. He loved having his picture taken & trotted around with us as we went from room to room, always posing charmingly. I think he looks like a tiny yak, here in his long winter coat.
BUNGALOW CHRISTMAS AT THE HARE HOUSE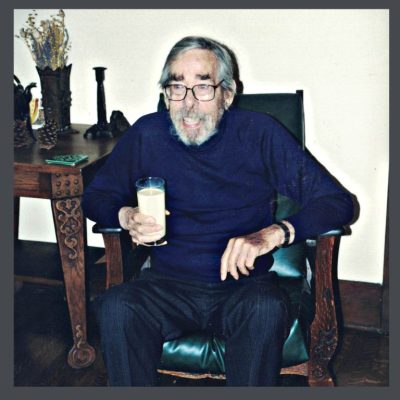 By the next year, I was ready to host Christmas. I invited my family, mother, brother & sister-in-law from the Bay Area & Uncle Bill from Westwood. Uncle Bill was ever the life of the party. When I was a tiny girl & the family was gathered, my mother used to ask whom I wanted to put me to bed. Every time it was Uncle Bill.
Always looking like he was ready to leap out of his chair, even in his 90's, Uncle Bill was a conductor & music teacher. One of his students said of him, "he believed in learning music indigenously, innately." There was nothing contrived about him. He swore like a sailor, but had the vocabulary of a professor at Antioch, which he & his 2 siblings had attended, before WWII. Antioch had been his salvation after having grown up in a small town in the South with a father who belittled him for his interest in music. My rather stern & imposing grandfather insisting that he couldn't make money as a musician & encouraged him to pursue a career in business, like his older brother who took over the family bakery when my grandfather passed.
Bill was always a crowd pleaser, holding court surrounded by women despite his homely appearance, telling tale after tale. My favorite story is the one he told about being in the Army, expecting to be deployed to the front lines in Germany. He was terrified. At the 11th hour, he was chosen to instead, play in the Army band. He guffawed as he recounted his experience of going to bed that night & peeing all over himself in his sleep out of sheer relief.
Bill was one of the most alive people I have ever known, a totally entranced listener, no matter how dull the recital & the perfect uncle for a little arty girl who also did not march to the beat of the family drum.
CELEBRATING IN MY TAMPA BUNGALOW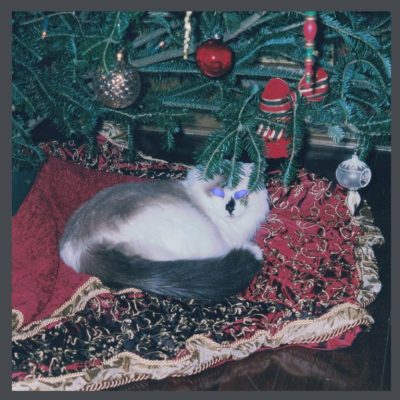 Now this is the kitty who likes to play with everything. In his world, everything is a bug, a mouse, a lizard. Watch your shoelaces. He's comin' for 'em! Drawstring pants- watch your tummy! Yet, he never once even batted at an ornament, never tried to climb the tree, never disturbed a package ribbon. Other than lounging under the tree, & walking on the fully set dining table dipping his nose into each glass, nothing about the holiday seemed to interest him at all.
California Christmases always made sense to me, though I never saw a snowflake & when we wanted to light a fire in the fireplace, we opened all the windows & turned on the fans. Florida Christmases just made me think of plastic flamingos in Santa hats on the lawn under a palm tree, or the jolly old fellow himself, lounging on the beach in a Hawaiian shirt, margarita in hand.
So, the family came to Tampa. We went to the beach, We hit the botanical gardens & admired the flamingos. My husband wore his Hawaiian shirt peppered with ornaments. My brother wore his with pictures of Santa surfing. And I used cut magnolia leaves on my mantel.
I guess I was right about Christmas in Florida!
STAY IN THE BUNGALOW KNOW!!!
Sign up for our newsletter & receive our FREE E-book, 7 VITAL Things to Do Before You Hire a Contractor.