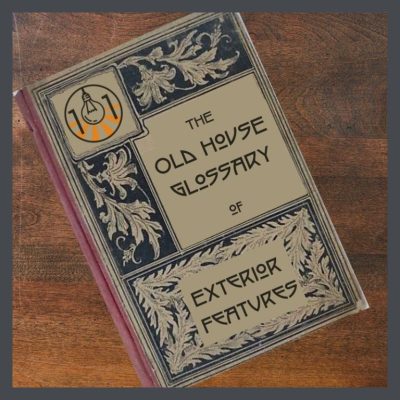 This bungalow details exterior glossary will help you get a rapid grasp of what makes a bungalow a bungalow, & not a Mid-Century, a Queen Anne or a Dutch Revival. Many of the terms are applicable to other styles of homes, & some to all periods of architecture & it's not bad to know them if you love old houses like I do.  It's easier to sing the song if you know all the words. To get really acquainted with all the magic of bungalows, begin at the beginning. Please let me know if you run across any terms in your study of bungalows that are not defined here, or if you should find any of my explanations incomplete or difficult to understand, I'd like to know that too. I studied architecture on my own & would have loved to have had a glossary when I was reading books about it. After stumbling about, I decided to create my own. Regional terms also threw me when I moved from California to Florida.
This glossary has been side-checked by Jo-Anne Peck of Historic Shed. Jo-Anne has an undergraduate degree in Building Science, a Masters degree in Historic Preservation & is a certified Florida Building Contractor who has been involved in consulting, design & construction for historic buildings for over 25 years. If a definition needs more than just an image, I'm linking you to my YouTube Channel because I have scooped up some great information on my playlist. Again, alert me to any good ones I may have overlooked. I'm working on a glossary for interior terms & will link it here also when it's complete.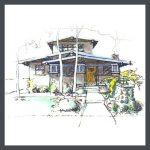 Airplane Bungalow
This type of bungalow features a large, single room on the second floor, generally surrounded completely by windows, designed to be for sleeping in warm weather.
When I go out toodling around shooting bungalows, I look for airplanes because they often have other interesting features.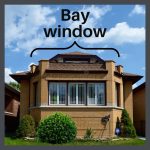 Bay Window
A window generally, of three wall segments. The two side wall segments are attached to the main wall of the home & project at an angle. A wall section is built parallel with the home's main wall. Each wall section contains a window (or windows).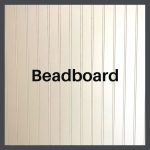 Beadboard
Though used inside, eaves & porch ceilings are typically built of beadboard, a tongue & groove paneling with a small beaded groove running along the length. The little indentation or ridge is the "bead."
Beam
A framing member usually significantly larger than other framing members that carry roof or floor loads over a certain span.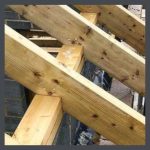 Birdsmouth Joint
A triangular-shaped cut that allows a rafter to sit squarely on the framing.
Bungalow
See this Post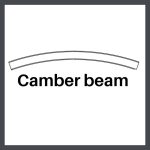 Camber beam
A piece of timber cut archwise. It is much stronger than another of the same size, since being laid with the hollow side downwards, as they usually are, they form a kind of supporting arch.
Casing
Pieces of wood trim surrounding a window or door. It can range from very plain to quite elaborate depending on the home style.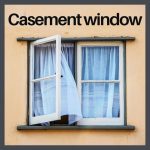 Casement Window
A window that pivots on a side hinge much like a door with a handle to crank the window open.
Character defining features
The visual and physical features that give a building its identity & distinctive character, i.e., why we love bungalows!
Clapboard
Also called bevel siding, lap siding, or weatherboard, depending on the region, clapboard is wide wood siding usually overlapping, installed horizontally to form exterior walls. Why is it called clapboard? The word comes from the Dutch klappen, which means "to split."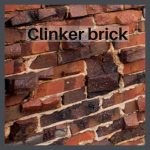 Clinker bricks
Bricks that are produced when wet clay bricks are exposed to excessive heat during the firing process, forming a shiny, dark-colored coating, giving them a blackened appearance. They are usually irregular in shape, often misshapen or split. Clinker bricks are used Arts & Crafts houses to add interest.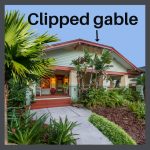 Clipped Gable
Or jerkinhead roof (it's much more fun to say jerkinhead). Instead of ending with a point, it is flattened at the end with a small hip. This feature reduces wind force on facades, probably why you see so many of them in Flor-ee-da.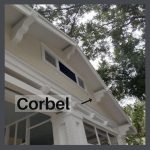 Corbel
A  weight-bearing architectural element that projects from the wall & supports a structure above it, especially one that is stepped upward and outward from a vertical surface. They can be used as support or decoratively. Also called an outrigger.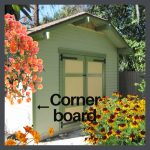 Corner boards
Trim boards placed at the outside corners of a house; most commonly used with wood siding.
Craftsman
An architectural or interior style, inspired by the Arts and Crafts movement, & brought to America by Gustav Stickley. This is a good video that will help you more completely understand what a Craftsman House is.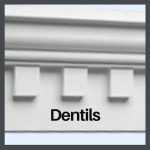 Dentil
A decorative molding using evenly spaced rectangular blocks. A row of dentils can project from beneath the roof line of a building, in ceilings, furniture & it is also seen in built-ins.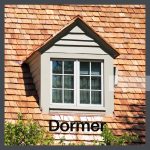 Dormer
A projection of vertical walls through the sloped roof plane with or without a window & its own roof ties into the home's main roof. Dormers allow the natural light & ventilation to enter into upper floors or attic spaces.
Double-hung window
This is the type of window that you will most see in bungalows. They are composed of 2 sashes, one over the other & are built to slide over one another, each one opening independently. Rather than trying to show or to 'splain it to you, see can them here, doing their slidy thing, in this great video.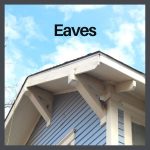 Eaves
The lower part of a roof plane extends outward from the structure at the same slope as the roof & is generally finished with a fascia board. Sometimes referred to as the roof overhang. The eave on a gable end is sometimes referred to as the gable overhang.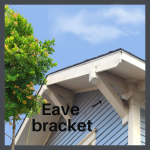 Eave brackets
Often triangular in shape, eave brackets are used at the gable ends of a roof to help support the roof overhang. They can be decorative or structural.
Edge Flashing
The metal trim that is placed on the edge of the roof covering the seam between the roof plan on the eave & the fascia board. Sometimes referred to as drip edge.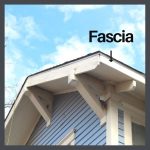 Fascia
A horizontal board positioned on edge & attached to the ends of the rafters or truss ends where gutters are typically supported. This is called an eave fascia. Fascia placed on the end of a gable roof end is called gable fascia.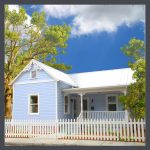 Folk Victorian
A more practical & affordable version of the typical ornate Victorian, seen in the U.S. from around 1890-1910, influencing typical bungalow design.
Footing
A footing supports foundation or bearing walls carrying the weight of upper floors, roof structures, etc. A footing is generally wider than the foundation or bearing wall & is constructed on undisturbed soil to achieve the maximum stability possible. Footings run continuously under all bearing & foundation walls or intermittently under piers.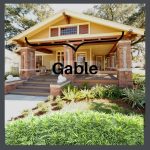 Gable
A triangular portion of a wall between the edges of intersecting roof pitches, or slopes. A clipped gable has its point "clipped" off.
Gable roof
A pitched roof terminating in a gable at one or both ends.
Gutters
A channel attached to the fascia board designed to carry away water that runs off the roof surface. Read the article about why they are important to maintaining the condition of your foundation.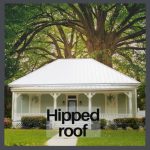 Hipped roof
A roof that slopes in 4 directions, like a pyramid.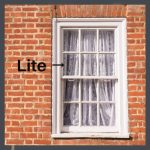 Lites
Separated glass areas in a window, usually separated by some sort of grid pattern.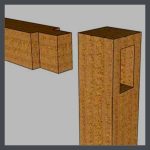 Mortise & tenon
A type of joint used in building structures or furniture that connects two pieces of wood or other material, having two parts, the mortise hole which has a hole & the tenon which has a tongue. The joint may be glued, pinned, or wedged to secure the pieces together. .
This joint is also used with other materials. For example, it is traditionally used by both stonemasons and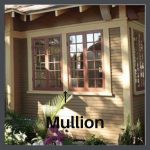 Mullion
Vertical pieces of wood that separate 2 windows that sit side-by-side.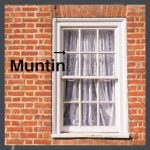 Muntins
Vertical & horizontal strips that divide a window's glass into a grid, or diagonally, into a lattice pattern. They provide stability & support to panes of glass, & were initially used when manufacturers of the past, needed to use several smaller panes to create a large window.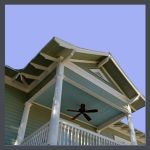 Outrigger
A horizontal brace for the gable eaves. This house in the photo above has 3 outriggers on the front porch gable. Also referred to as a corbel.
Pier foundation
A series of masonry supports that act as the building or porch foundation & allow air flow under the building. Typically used in warmer climates where ground freezing is not an issue. You can read more about foundations here.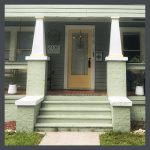 Pony wall
A short wall, typically 3′ in height. The term is often used interchangeably with "knee wall" or "cripple wall." You can see them on porches & as walls that serve as guards on stairs or balconies.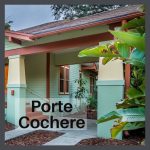 Porte- cochere
A roofed structure extending from the side of the house, usually from the porch, over the driveway to provide shelter when you are coming from the car into the house. Also called a Car port.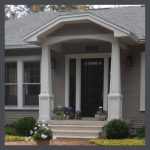 Portico
A small porch, usually just over the door.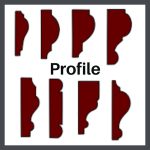 Profile
A shape that is applied to the edge of a piece of wood such as a door or window frame, exterior or interior trim or a window or door jamb. This creates shadow lines and visual interest in the trim piece.
Rabbet
To cut a step-shaped recess along the edge or in the face of a piece of wood, typically forming a match to the edge or lap of another piece.). Here's a video that explains it perfectly!
Rafter
A framing member, immediately beneath the roofing material extending from the perimeter wall to the ridge of the home. The rafters support the exterior roof surface. They are often left exposed on Craftsman style bungalows.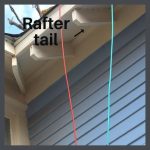 Rafter tail
Portion of a rafter that projects beyond the exterior wall to support the eaves (often cut into decorative designs when left exposed.)
Ridge
The highest part of a roof where the sloped roof planes meet. Sometimes referred to as the roof peak.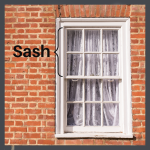 Sash
A window frame. A sash window is made of one or more movable panels or "sashes" that hold panes of glass, which are often separated from other panes (or "lites") by narrow wood strips (or "muntins.") A double-hung window has 2 panels or sashes.
Shed Roof
A single sloped roof section which covers an entire area. Structures are often covered by several shed roofs sloping in various directions. Dormers are also often covered with shed roof sections.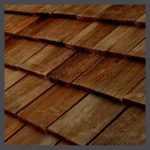 Shingles
A small, thin piece of wood, thinner at the top & thicker toward the bottom, that are laid in staggered, overlapping rows as a covering for the roof or sides of a house.
Shotgun house
A narrow house that has a gabled front porch & 2 or more rooms laid out straight behind it. The rooms are connected without hallways. This type of  house has doors at each end of it, front & back.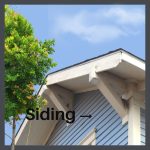 Siding
The exterior material applied to the walls of a house or other building meant to shed water, protect the walls from the effects of weather, insulate, & is key in the aesthetics of the structure.

Soffit
The underside area of a building arch, balcony, or an overhanging eave.
Story book
Houses built to look like where Hansel & Gretel & friends could have lived.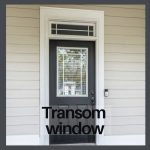 Transom window
A window that is placed above a doorway.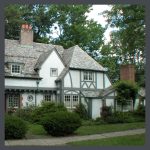 Tudor
Usually stone or a light-color stucco, Tudors feature peaked gables & two-toned exteriors, dressed up with half-timbering.
Window sill
The bottom horizontal trim member at the base of a window projecting outward.
STAY IN THE BUNGALOW KNOW!!!
Sign up for our newsletter & receive our FREE E-book, 7 VITAL Things to Do Before You Hire a Contractor.