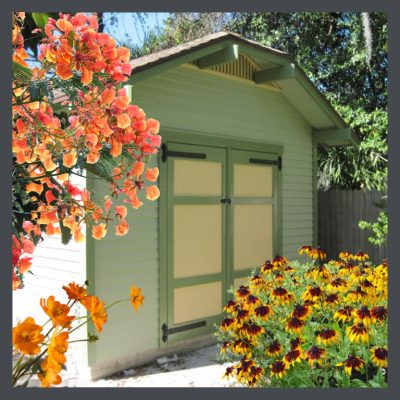 I'm a gardener & a bungalow style custom shed for me was a much needed item. I love to buy pots, tools & soil supplements & I needed a place to stash the dang stuff. With only a porte cochere & lacking a garage, a shed was also required to store my husband's items- hardware, tools & of course, the bar-be-que.
I'm also a big fan of tiny houses, so I wanted it to look like the wee folk could live there in comfort. And, it had to be lovely. It's plunk in the middle of my backyard so it needed to complement the plants & ideally, mimic my bungalow.
It had taken me a year to choose my exterior colors & I was in love with my clipped gable & really wanted to see those again.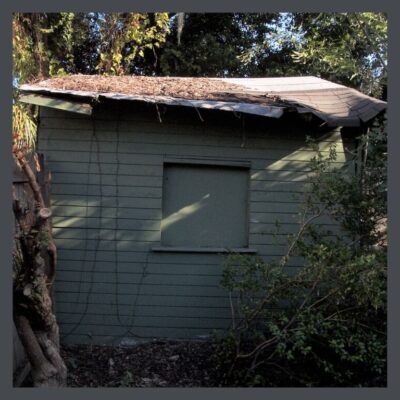 When I purchased my 1925 bungalow, it had a funky old shed that totally creeped me out to enter. In Florida, things get critter filled & really disgusting. As a gardener, I had to go in it often to access my supplies. Ick!
I decided that I needed something nicer, so I started pricing pre-built sheds. They were expensive, not historic & UGLY. So, I decided to go custom & I had some plans drawn by my friend, Tampa architect, Alan Dobbs, for a shed & got some prices for all the trades I would need- carpenter, roofer, painter- for a tiny shed! It all added up to too much plus, I had just completed the restoration of a 1907 Victorian that was in terrible shape & I sorely needed a rest from herding tradespeople & breathing sawdust.
MASTERS OF THE CUSTOM BUNGALOW SHED
I called Historic Shed & was happily surprised at the price they quoted for everything! Because of their great reputation, I even let them pick the hardware & design the doors. I never let anybody choose anything for me but I was tired of making choices. I was thrilled with the doors & the wonderful hinges they brought.
The best part was that it was installed in just over a day. They custom built it in their workshop & then hauled to my backyard, completed & even painted.  I am sure that it would have taken a month-long project with all the trade coordinating that I would have had to have done.
I then had a shed that is the mini-me version of my beautiful bungalow. It holds everything I could need & it is clean & fresh. It made another season of gardening quite appealing!
The new custom shed incorporates the color, siding and trim details, roof-line, and outriggers of the bungalow while adding traditional elements such as the bead-board carriage house style doors. At 12'x12′, the storage shed did not require a permit for construction, but did have to undergo design approval by the City of Tampa historic preservation staff. They loved it!
Truth is, I'd like to live in it. I adore tiny spaces. But, it's full of stuff, which is why we built it & I guess that I'll just need to commission a doll house to live out my childhood fantasies with the fairies.
P.S. Historic Shed has moved on & is no longer building sheds, however, you can purchase their plans from Liberty House Plans. 
STAY IN THE BUNGALOW KNOW!!!
Sign up for our newsletter & receive our FREE E-book, 7 VITAL Things to Do Before You Hire a Contractor.