LET'S LOOK AT SOME BUNGALOWS!
Photo credit Robert Schweitzer, BUNGALOW COLORS: EXTERIORS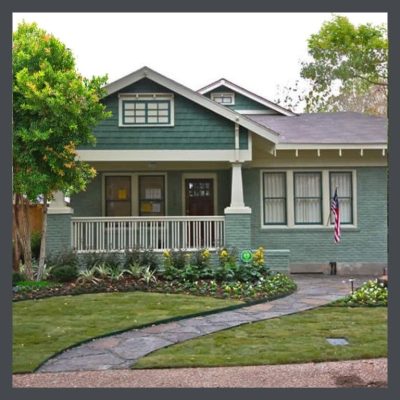 Now that I've thoroughly destroyed all possible affinity for the paint purveyors of the past, let's look at some bungalows & see what combinations these paint companies offered. We all know about Sears kit houses-prefabricated homes that were delivered by train all ready to assemble on site, but Sears also offered their own line of paints, Seroco, which you could purchase alone, or use to make your kit house your very own.
Below is a catalogue from 1914. An inside pages shows the colors that were offered. There is nothing wrong with the colors presented by modern day paint companies. I greatly appreciate that they have researched & formulated these very beautiful palettes, however, they are very restricted.There were many paint companies selling paint at the turn of the century & they all adjusted their palettes to some extent, with the new A&C trend. (At the end of the page I'll show you a few.)
I often hear people complaining that they don't like the A&C palette, but they just haven't seen the possibilities. I'm pretty tired of the usual historic palettes too.
Though earlier illustrations in Seroco catalogs show & specify colors, this changed soon after they began offering the paints. Sears architectural catalogs, in black & white, depict only lighter and darker parts. Of course photos of bungalows from the time show only black & white. So, what do we use as a guide? The palette I'm going to display to you reflects the full spectrum of the colors that deliver the Arts & Crafts message– the belief in craftsmanship which stresses the inherent beauty of the material, the importance of nature as inspiration, & the value of simplicity, utility, & beauty.
LET'S LOOK AT SOME BUNGALOWS-JUST FOOLIN' AROUND
I decided to take a look at our various standard color harmonies to see how the colors play out on a "real" house, using historic Seroco colors. I'm using the top of the color wheel for all these examples. Tip it, & there are more choices still.
ANALOGOUS BUNGALOWS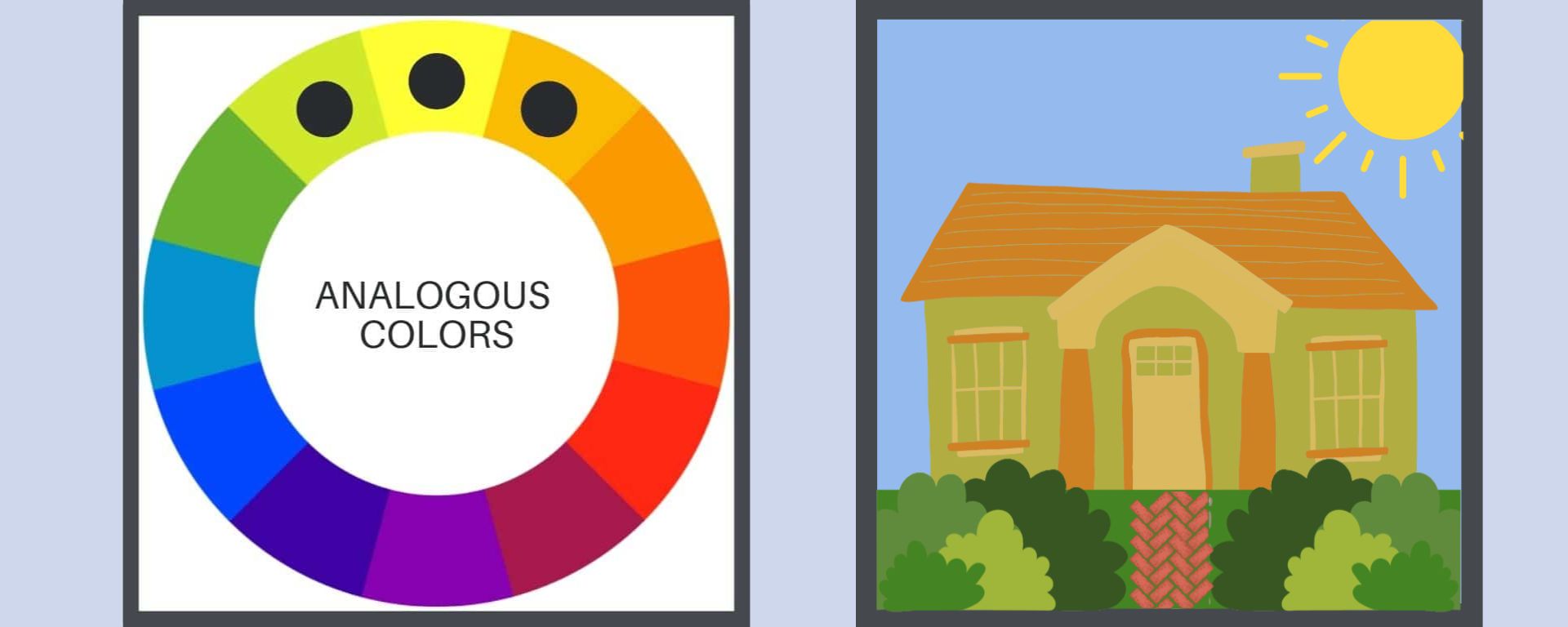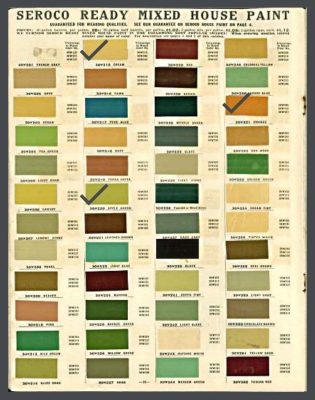 I really like it! I have put little check marks on the paint sample board beside the colors that are closest to the pure colors shown on the color wheel.
The benefit of analogous tones is that they are a smooth transition from one to the next. These colors allow a great deal of wiggle room in regard to where you use each one, because they are so closely related. In coolor climates, perhaps lead with the darker ones & in warmer, lead with the lighter. I think that if you were to choose an analogous palette, you'd have a beautiful bungalow!
COMPLEMENTARY BUNGALOWS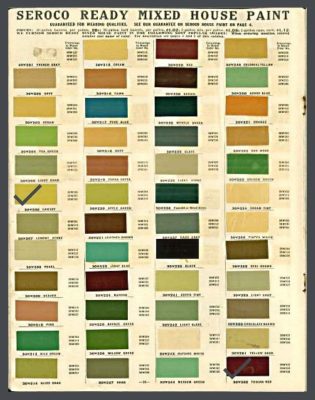 I would never have considered pairing these 2 colors, the closest that Seroco offers me to the pure colors of the color wheel, & I love them on a bungalow! They could be used with a gray roof to amplify the cooler tone of the red & add gray as the 3rd paint color (which my graphics program has thoughtfully done here.) or you could choose a monotone (lighter or darker) of the gold for your 3rd, with maybe a black roof & accents. Or a brown or red roof to go warm. It's a good base combination on which you could build a harmonious palette in cool or warm tones.
MONOCHROMATIC BUNGALOWS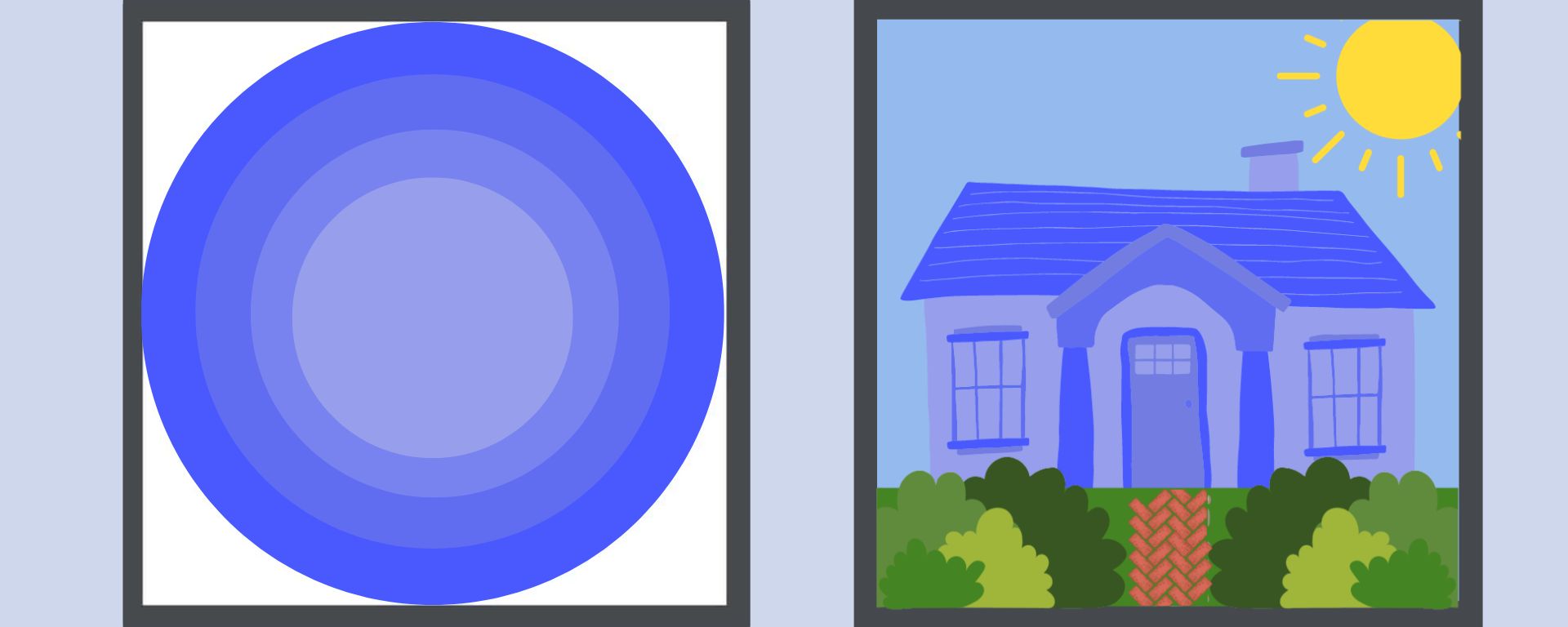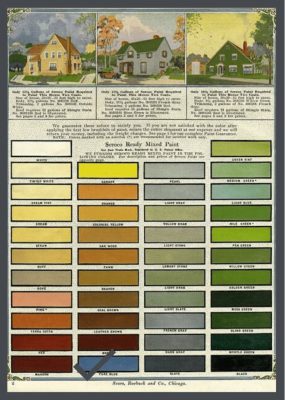 This is a color combination on which you could bet money! Monochromatic tones are always a sure winner because there's great harmony in repetition. The combo allows you to use your roof as a contrasting color, your landscaping or your hardscaping. You do not risk ending up with a hodgepodge. All it takes it one contrasting element to create interest. I would suggest a neutral or a complementary color for maximum pop.
Should you lack much confidence when it comes to color, this is the choice for you. You can use it to make your voice heard without feeling like you are shouting.
TETRADIC BUNGALOWS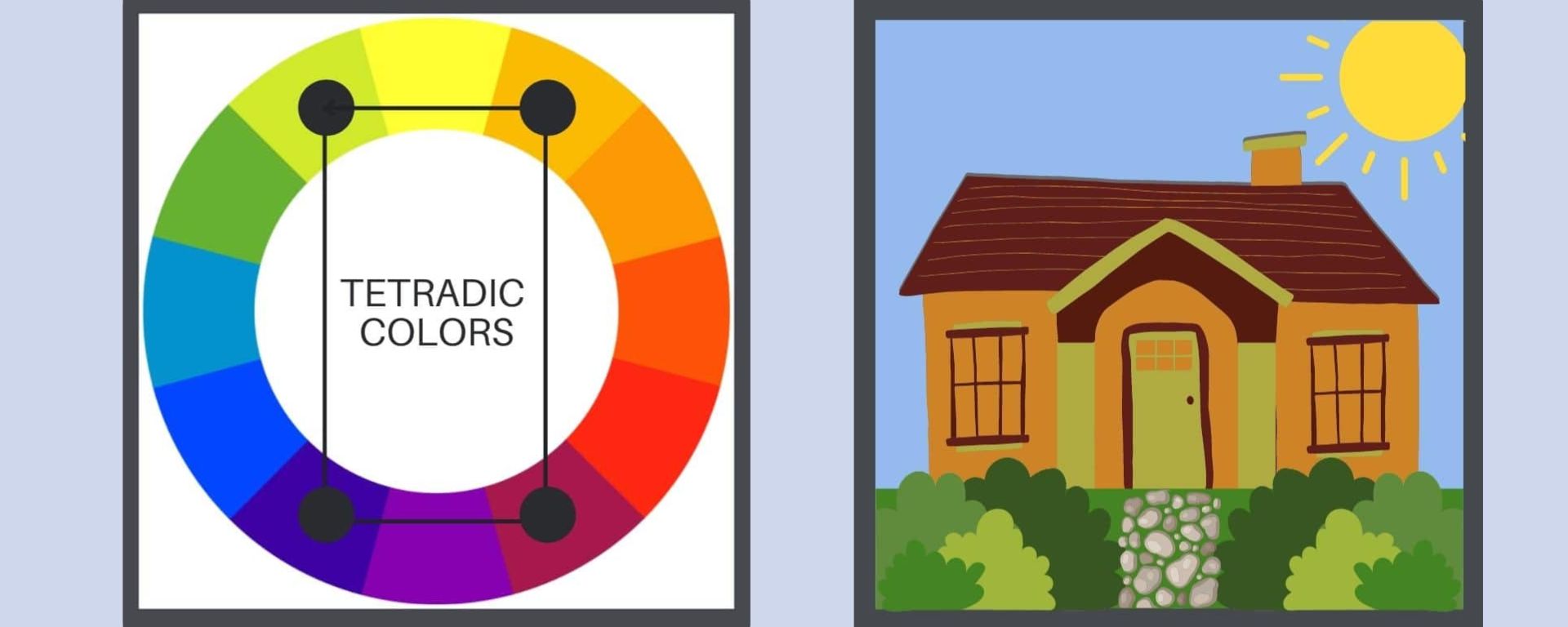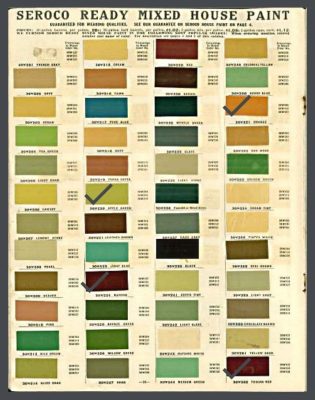 Another eye-pleasing combination, in this area of the color wheel, & one not commonly used. A large variety of color proportions work in this palette. Because of my lack of choices on the Seroco color sheet, I have used only one red. If you want to lighten the green & the pumpkin, that's fine too. Once again, you could go warm or cool with your roof, path & flowers.
TRIADIC BUNGALOWS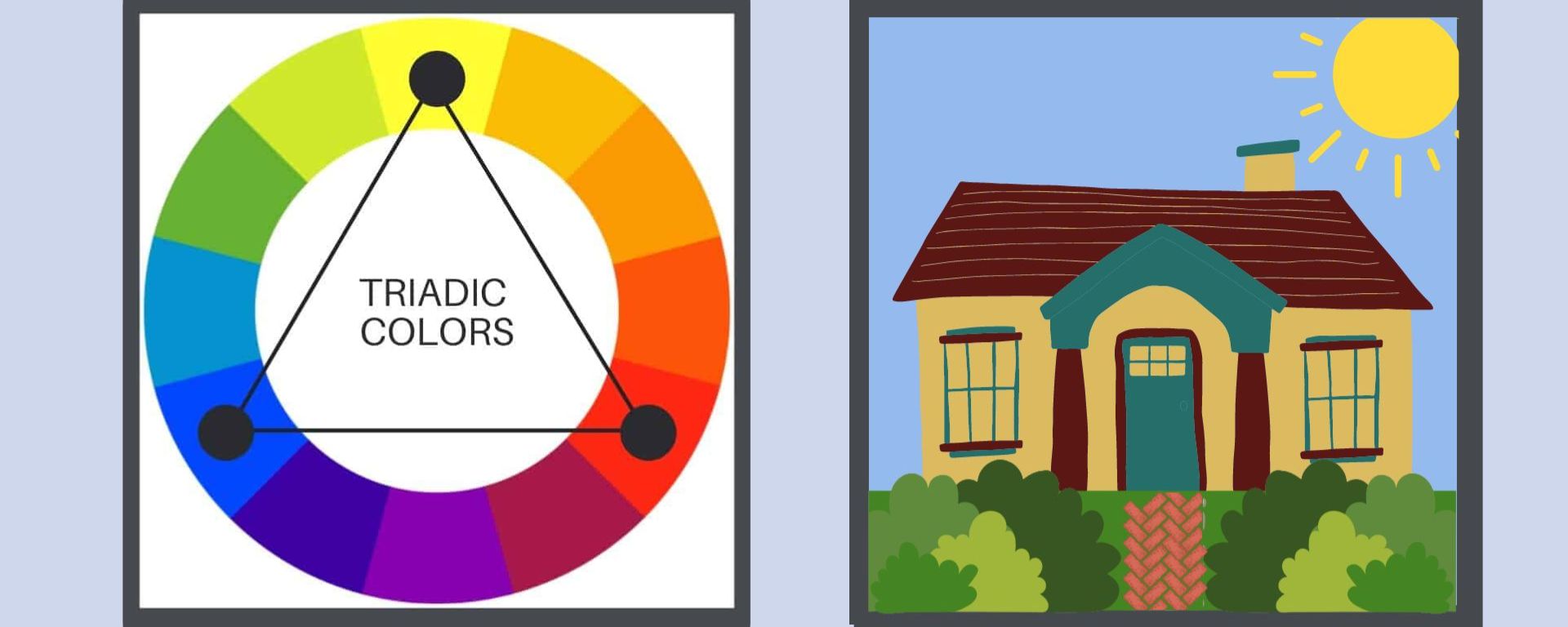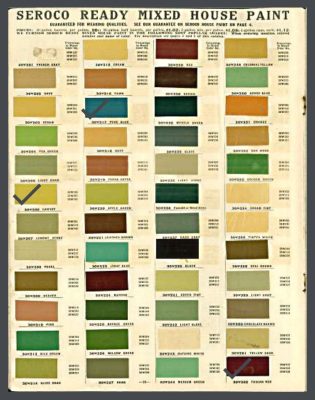 So here's the bungalow/Seroco version of the primary colors- yellow, red & blue. Even in these muted tones, this combination is quite lively. Maybe not baby blocks lively, but lively nonetheless, & again offering warm & cool choices for roofing & landscaping.
LET'S LOOK AT SOME BUNGALOW PAINT SAMPLES BEYOND SEARS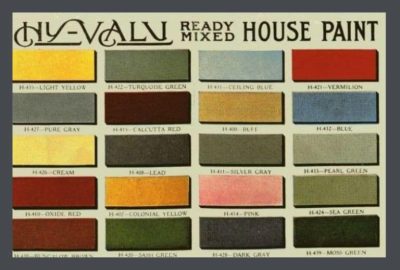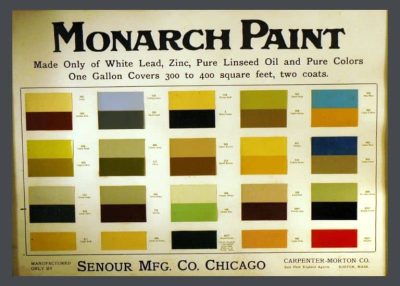 LET'S APPLY ALL THIS INFORMATION TO YOU & YOUR BUNGALOW IN PART 6, HERE. 
STAY IN THE BUNGALOW KNOW!!!
Sign up for our newsletter & receive our FREE E-book, 7 VITAL Things to Do Before You Hire a Contractor.