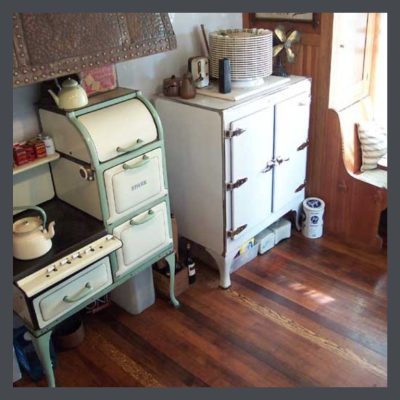 Time to grab your Kleenex box. Creating a bungalow kitchen never got any further than the dreams stage for me. I'd had my nose buried in Jane Powell's BUNGALOW KITCHENS for a number of years & wanted nothing more (maybe world peace, but that's about it) than an authentic kitchen.
All of my friends had restored or original kitchens & I was feeling like the red-headed stepchild of the historic preservation communinity. Make that 2 historic preservation communities!
The one to the left is in a landmarked house in Eagle Rock, California, created by 2 plein air artists who were as dedicated as I to authentic restoration. With my ability to pick up the phone & talk to anybody, I gotten their house featured in American Bungalow Magazine.
My first friend in my new neighborhood in Tampa, Florida, Steve, who was head of the Historic Preservation Committee for the neighbor association had an original kitchen in his beautiful Craftsman. He lived down the street from me & I often tortured myself by visiting his beautiful house & peeking in his California cooler.
MY HOUSE & ITS HIDEOUS, VERY UN-BUNGALOWY KITCHEN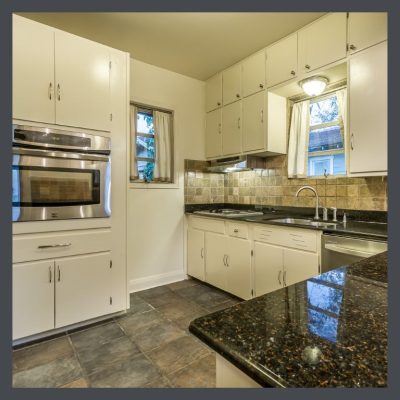 Before buying my Tampa bungalow, I was house-shopping & had seen a nice looking 1925 bungalow listed for a couple months, but I was truly repelled by the kitchen, (& I didn't even know about the roaches yet! Get ready for the icky part.) knowing that it was part of the inflated price I would have to pay only to come in & tear out that black marble & chunky tile, not to mention the (mismatched) stainless appliances, to create the bungalow kitchen of my dreams.
Not having central air, yes, in Flor-ee-da, the house had languished on the market for several months & one day when I'd been out house-hunting, it was open. What the heck. I went in & fell in like with the house. It now had A/C & though there were a few things to deal with, it had a nice, big living room for committee meetings, a good layout & was only 1 block away from my new friend, Steve. By this time, I was desperate enough & the price was low enough, I went for it. And it was in a historic district, so I knew that it would increase in value.
The house had a large, hideous kitchen, a perfect blend of 70's jalousie windows, solid wood cabinets from maybe the 50's, tile flooring, counter & backsplash from the 90's, & fancy-schmancy Home Depot pendant lights from probably 2 days before the house was put on the market. The black marble countertops were especially awful. Before we got the house sealed it featured nightly invasions of palmetto bugs. This is a local species of the cockroach- huge & flying- & they felt right at home, camouflaged by the black countertops.
The kitchen did have its original door to the back porch & the original door to what had been the butler's pantry & was now the grodiest ever pantry/laundry room/HVAC unit.
The kitchen layout was very awkward & I was clueless as to how it had ever been configured. There was now a cooktop & a wall oven so all hints of its original incarnation were annihilated long before.
JANE POWELL- THE QUEEN OF CREATING A BUNGALOW KITCHEN ARRIVES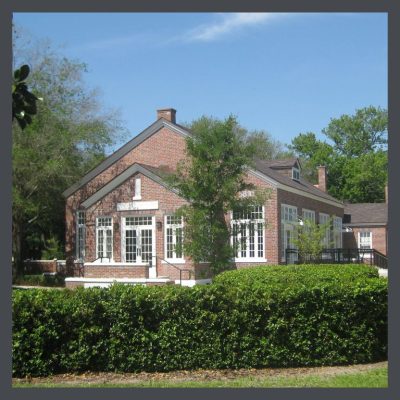 After seeing all the destroyed & neglected properties during my house hunting, I decided that the people of Tampa needed to get a little education about restoring bungalows-'specially kitchens. So, I proposed to the neighborhood association that Jane should be invited to come & speak at an educational event, topic: Creating a Bungalow Kitchen! One of the board members was thrilled. He knew of Jane's books & even had a Jane kitchen.  The proposal was accepted. (They didn't know me yet & had no idea how this would open the door to my wild my future proposals!) & a couple weeks after I moved in, Jane arrived.
My kitchen conundrum was no match for Jane. In 3 seconds she had the space planned so beautifully that I wondered why I had never figured it out. Suddenly, it seemed so obvious how I could create my dream bungalow kitchen.
Her packed-to-the-rafters event at our beautiful, historic garden center went off without a hitch & we spent the 3 days after driving around doing kitchen consultations, 2 other events & teaching a class in interior design. Well, I drove & she consulted, spoke & taught. It was rather awful to take her to the airport for her return flight home, but I connected with the head of our county library system & they bought 50 books- 10 in each title. With that, I felt like I had put a little bit of Jane in Tampa & looked forward to having my own Jane Powell kitchen.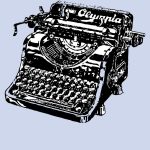 STAY IN THE BUNGALOW KNOW!!!
Sign up for our newsletter & receive our FREE E-book, 7 VITAL Things to Do Before You Hire a Contractor.