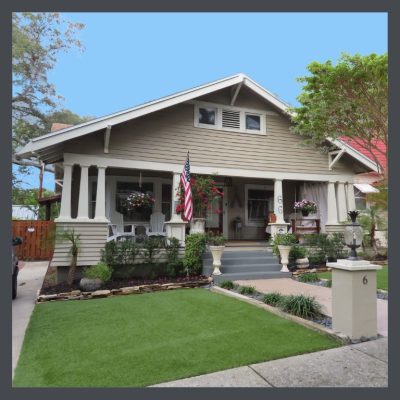 By looking at bits of bungalows, you should start to feel like you could maybe know one when you see one. A bungalow, like any house, is the sum of its many details, the characteristics that it has that no other type of house has. You might want to take a cruise over to the article WHAT THE HECK IS A BUNGALOW ANYWAY? to have a base from which to view these pieces.
The majority of the details that we show you are Florida bungalows, but when my friend from Eagle Rock came to visit me in my historic Tampa neighborhood, she was astonished to feel right at home. We drove around with my friend Steve who chaired the neighborhood preservation committee & he told her about the neighborhood which is so similar to her own.
These Florida bungalow details images & their descriptions were provided by Jo-Anne Peck of Preservation Resource. Jo-Anne has many years of experience as a consultant & a hands-on restorer of old houses. She is going to explain the various details. You will see links to the GLOSSARY sprinkled throughout the post. She graciously assisted in the creation of the glossary.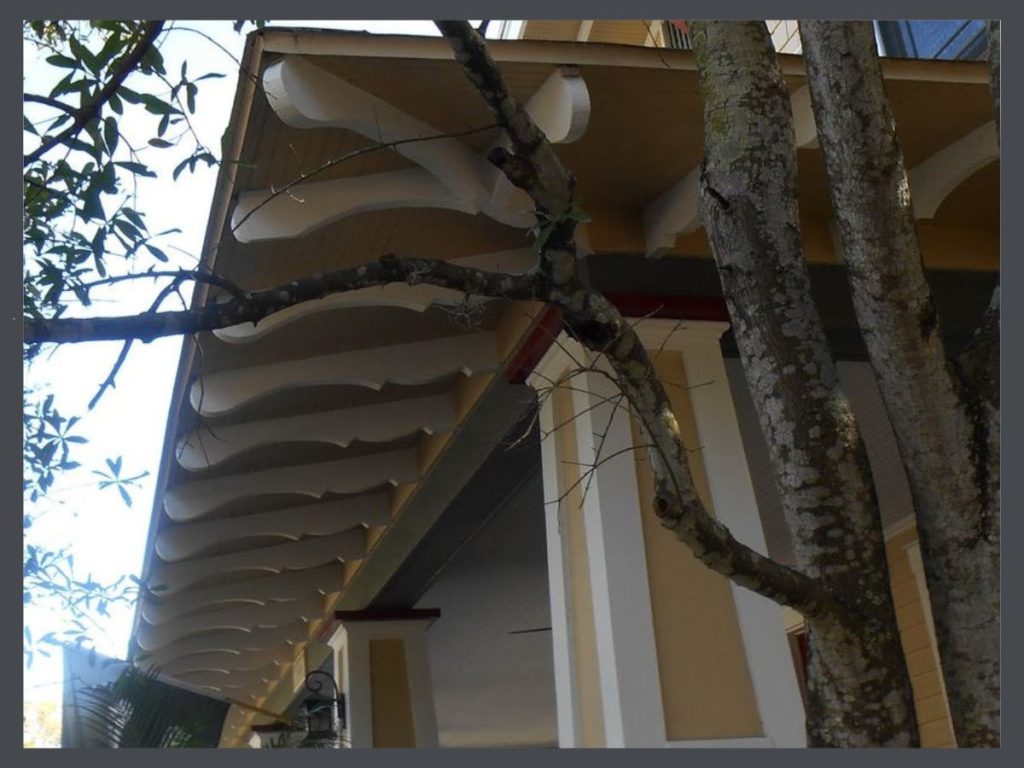 DESCRIPTION OF CHARACTERISTICS
Why would anyone design a house with a closed soffit when you could have fun exposed cut rafter tails like these?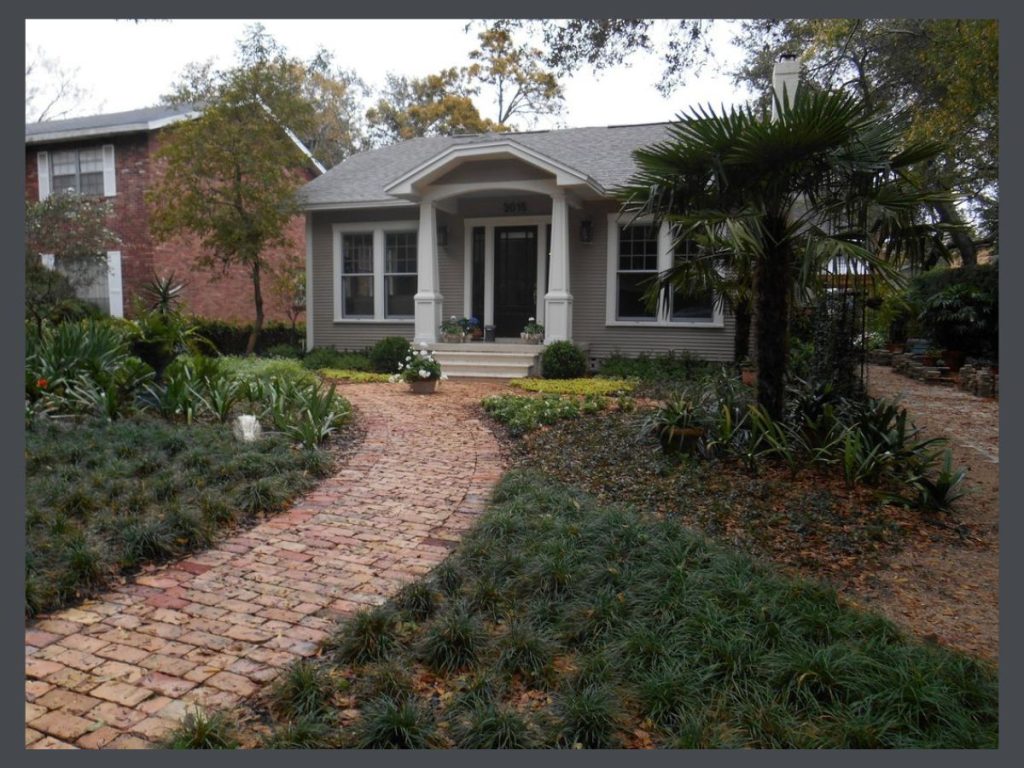 DESCRIPTION OF CHARACTERISTICS
I love how this brick path (real brick, not those pale pink concrete pavers) leads you to this darling cottage with a side clipped gable (or jerkinhead) roof and the entry portico centered on the symmetrical front facade. Hardscaping is an often-over-looked component to showing off a bungalow.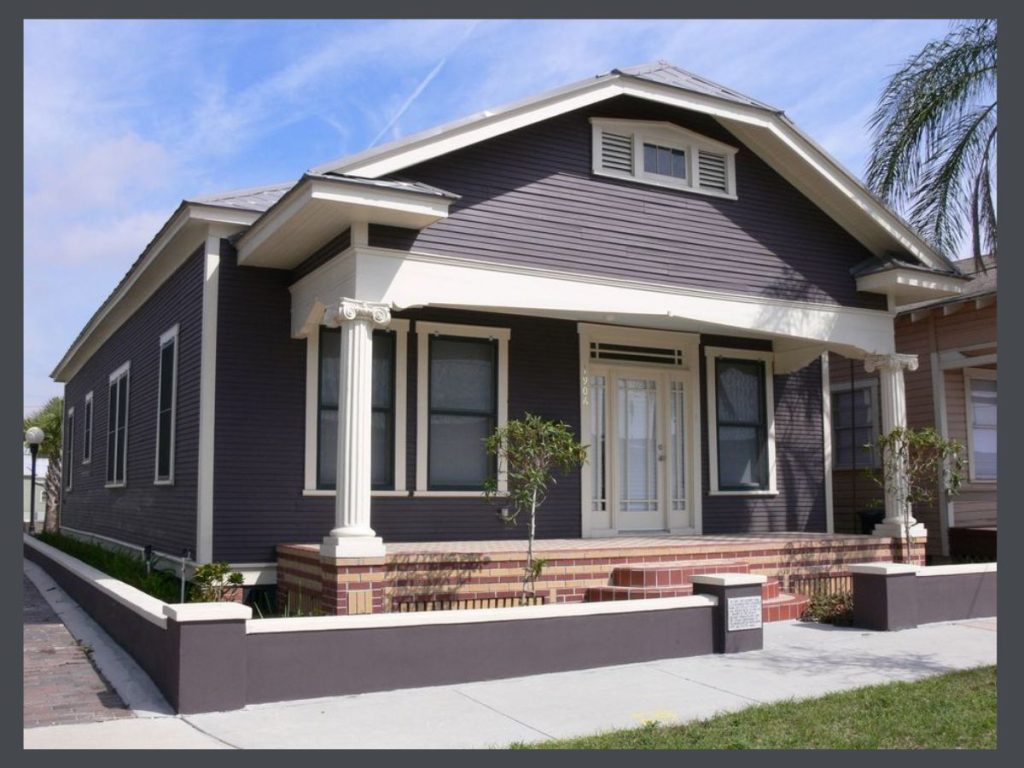 DESCRIPTION OF CHARACTERISTICS
This house demonstrates how lovely a soffit can be if it is enclosed with real wood beadboard. Just say "NO!" to vinyl.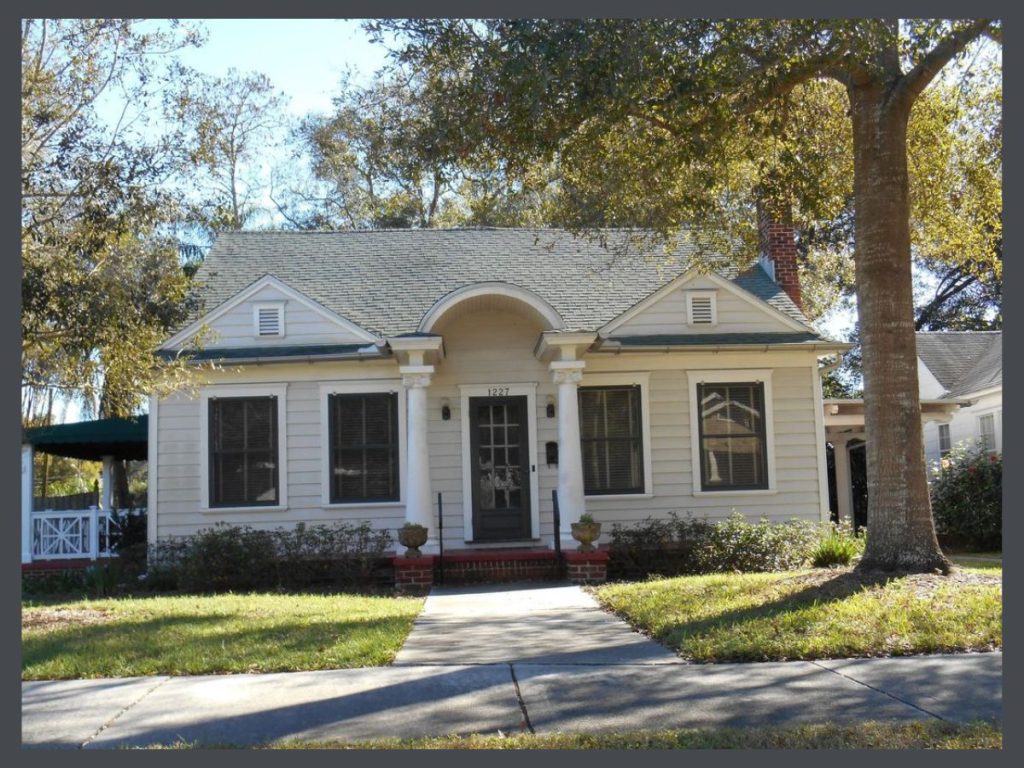 DESCRIPTION OF CHARACTERISTICS
More symmetry to make me feel balanced (I need as much balance as possible in my life!)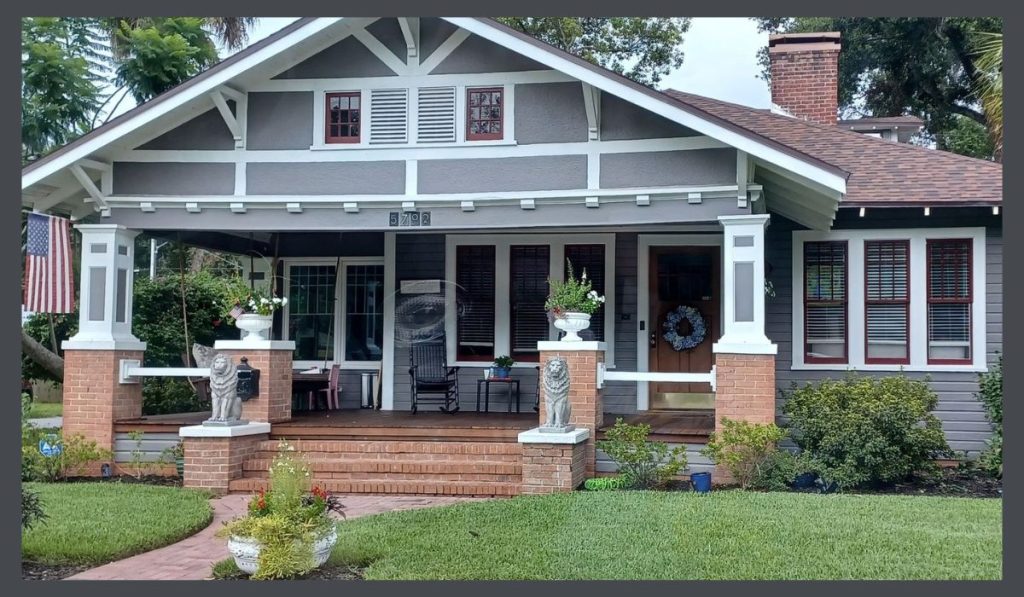 DESCRIPTION OF CHARACTERISTICS
I photograph a lot of Craftsman bungalows with Tudor style influences like this one with the great half-timbering in the porch gable.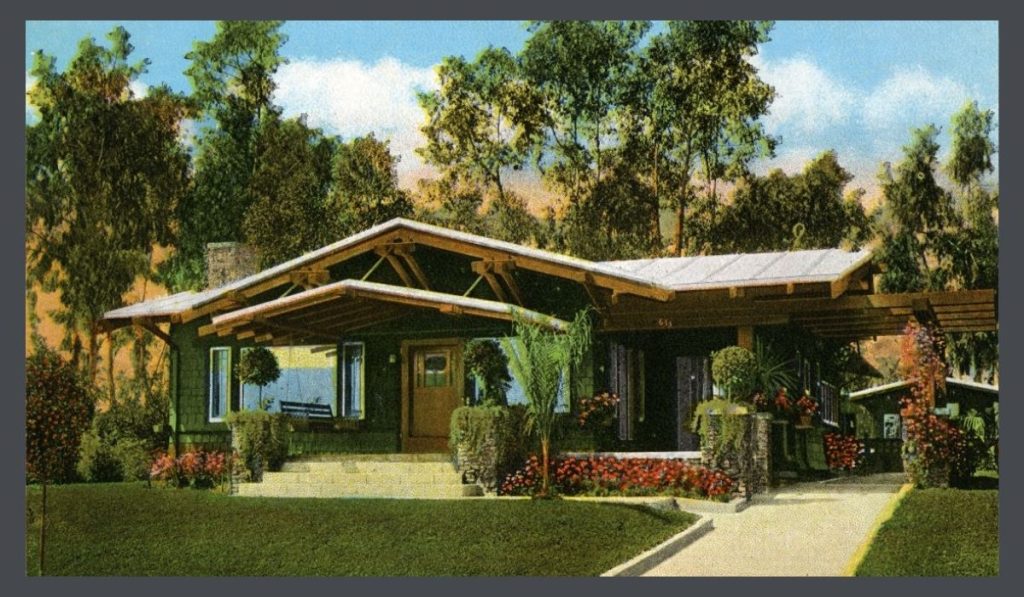 DESCRIPTION OF CHARACTERISTICS
Isn't this an interesting porch overhang? It's suspended from the roof above in this 1915 postcard from the Florida State Archives. Then they had the confidence to hang a porch swing from the suspended porch roof! I have no idea where in Florida this Craftsman bungalow was constructed, or whether this daring porch design survived the test of time (and hurricanes) but would love to hear from anyone who might know.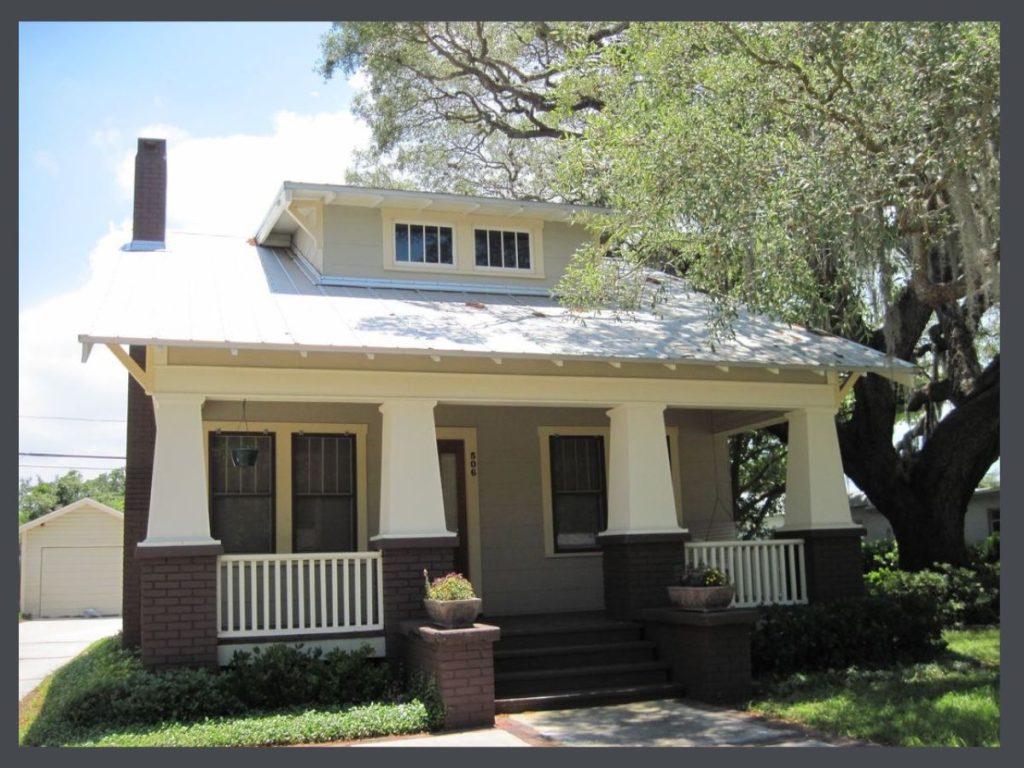 DESCRIPTION OF CHARACTERISTICS
This little Craftsman bungalow is strong and simple with original windows and wood window screens. The side gable roof allows for a wonderful shed roofed dormer that likely makes for a nice finished attic space. While there is nothing wrong with a standard, sturdy Craftsman eave bracket, a detail like this with a little extra flair just makes you smile.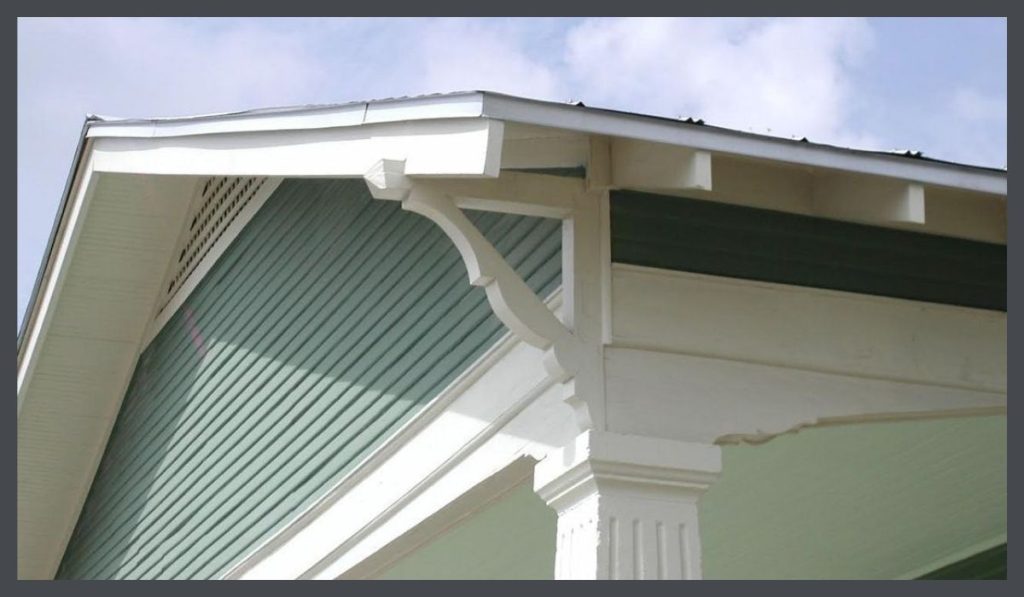 DESCRIPTION OF CHARACTERISTICS
Notice how the rafter is birdsmouthed to rest on the bracket properly (another thing that makes the architectural nerd in me smile.)
DESCRIPTION OF CHARACTERISTICS
There is an awful lot to love in this Craftsman bungalow with its half-timbered gable, wraparound hipped porch and double shed roofed dormers. Read here why it's not a Tudor Revival, despite the lovely half-timbering on the gables!
This article was written by Jo-Anne Peck of Preservation Resource, Inc. & Historic Shed. Jo-Anne is a historic preservation professional with a degree in Building Science, a Master's of Fine Arts in Historic Preservation & a licensed Florida Building Contractor with over 25 years experience in preservation. She has kindly provided these photos & this information based on her vast knowledge of bungalows.
STAY IN THE BUNGALOW KNOW!!!
Sign up for our newsletter & receive our FREE E-book, 7 VITAL Things to Do Before You Hire a Contractor.