The subject of bungalow window coverings & the resources where they can be found is much debated, but is actually pretty simple. Nobody wants to cover their beautiful window moldings, but blocking the sun is generally desired & blocking passing eyeballs is highly recommended!
Jane Powell used to joke that the Revival has lo-o-ong out-lasted the original Arts & Crafts Movement. Well, yeah, but it has brought us some amazing craftspeople & I must admit that my favorites are those working in textiles. In the right hands, a bit of fabric, a snip of thread or a bit of paint can create astonishing window art.
Textile art is something that you can learn to do yourself. When I was a hippy, way back in the early 70's, I loved to embroider, learning from books & the artistry of my friends. You can tote your work around with you & no one ever seemed to mind that I'd pick it up mid-conversation. (Of course, we were pretty mellow those days.)
I have included here textile artists, all well-known for their work, who offer window treatments. They also offer complimentary items such as pillows, table runners & upholstery covers. Of course it is not mandatory to have adornment on your curtains because the beautiful fabric & even the lovely hem work will enhance any room in which you use them.
Several of these artists offer stencil & embroidery patterns, & I'll be including links to others who deal in only those goods, so if you want to create your own embellishment, you can do so. I would love to see what you make, so please send me images of your homes with your lovely new blinds!!
Hardware is also a tricky issue so I have included harware sources below. I'm a bit of a hardware addict, & when I needed to replace some of the hardware in the Hare House, I formed a friendship with my hardware specialist & 20 years & 3 houses years later, we get together when she visits her sister in St. Pete. We can spend hours on the phone talking hardware & I have been nagging her to write a book on doorknobs.
HERE ARE YOUR BUNGALOW WINDOW COVERINGS RESOURCES!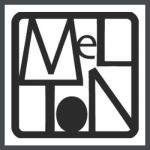 Ann Wallace For Prairie Textiles/melton Workroom
Ann carries a full line of custom made window treatments-curtains, Roman shades, roller shades- in a variety of appropriate fabrics. She offers either stenciling or embroidery & will help you to choose the best combinations. She has a lovely collection of embroidery choices to best complement your home.
If you want to stencil your own designs, she has the stencils, brushes & the paints. I have always lovely thistles- even once named a kitty Thistle!  And, she has all the hardware that you would need to install your wonderful new window treatments. She'll also make you pillows, runners & bedspreads to match or complement!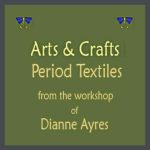 Arts & Crafts Period Textiles
From The Workshop Of Diane Ayers
In addition to her custom, hand-made wares, Diane features antique textiles also which combine beautifully with newly made pieces & can serve as great inspiration. She also carries antique books about the Arts & Crafts period, most on the topic of design.
Diane's website takes you step-by-step through planning your order, being with lifestyle requirements. She continues with fabric descriptions & choices, embellishment offerings & discusses the need for lining. You can also purchase beautiful & appropriate fabric from her to make your own curtains.
She has some great information & clear illustrations to demonstrate mounting choices & shows mounting hardware in her catalogue.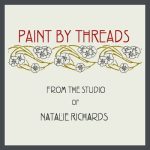 From The Studio Of Natalie Richards
Natalie is a Roycroft Renaissance Artisan. This designation is awarded only to those who demonstrate high quality hand-craftsmanship, excellence in design, continuing artistic growth & originality of expression.
On her site, she provides an explanation of the different curtain types/choices that exist. She also describes many fabric types. It's a good, basic lesson.
Natalie offers curtains in a great assortment of fabrics with a number of finishes. She also has embroidered & stenciled pillows & embroidered table runners as well as kits for these items. In addition, you can purchase fabric from her as well as  embroidery supplies.
Morris & Co.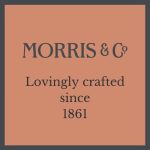 This British company recreates William Morris' designs in beautiful fabric, wallpaper & paint, in lush colors to complement a more formal home. When I chose fabric for the Hare house, I was not aware of this resource. I liked the fabric I chose, but I would have been much happier with the patterns I saw in my books about Morris.
Unfortunately, their products cannot be purchased online, so you'll need to use their search feature to locate a retailer near you. Howver, what could be bad about visiting these lush colors & patterns?
Morris' designs represent the philosophical & aesthetic inspiration for your bungalow. Even if they are not appropriate in your more casual, American Craftsman home, they are an important part of its history with their interpretations being expressed in every feature.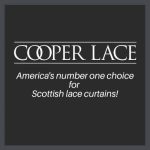 Cooper Lace
Cooper Lace offers 100% cotton, Scottish-woven sheers & sidelights in a variety of Arts & Crafts patterns. My favorite, of course, because it enhanced the windows of the Hare House, is their Voysey, The Stag, but there are several others which would complement your bungalow, giving you varying degrees of light penetration & privacy. The image is of the Ginkgo Leaf, a revered & oft-repeated image in the Movement.
Alameda Shade Shop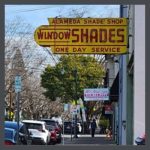 Pull-down blinds are what you want to have in your bedroom. They can be used alone, with a valence, behind lace or other open-weave fabrics.
While there are a great number of Victorians on their site, they do offer a plain hem with a ring pull, in cotton. (Just waiting for you to add your own flair with a custom, stenciled design!) Their room darkening, fire retardant, washable blind is offered in 3 neutral tones. Each blind is custom made to your specifications. They even offer laminations, using your own fabric and which they apply to their blackout fabrics.
If you are in the San Francisco Bay area, they can offer you more choices in their gallery.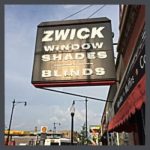 Zwick Window Shade Company
Founded in 1930, Zwick is in its third generation as a family business, manufacturing handmade custom shades in their Chicago workshop.
Each shade is made to your exact specifications. They'll re-cycle your old rollers to use them for your new shades & give you a discount! From their Build Your Custom Window Shade feature, you can choose the mundane details such as measurements & also the more entertaining ones such as fabric, trim & pulls. And, they include mounting hardware.
BUNGALOW WINDOWS-STENCILS
There are many books available that provide stencil patterns & ideas for patterns should you choose to create your own, as well as vendors that feature ready-cut ones.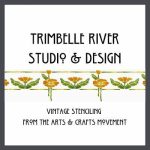 Trimbelle River Studio & Design
Vintage stenciling from the Arts & Crafts Movement
Trimbelle River is a complete resource for stencils. They provide a large & beautiful variety of designs- floral, geometric, very large, as well as supplies such as brushes.
These wonderful folks have partnered with Northeast Contemporary Services, Inc. a group of adults with intellectual and developmental disabilities & promote their stenciled items. You can sign up to be notified for their sales via Trimbelle River's website.
BUNGALOW WINDOW COVERINGS RESOURCES- HARDWARE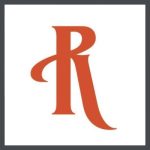 Rejuvenation Hardware
Rejuvenation offers single mounting sets & also rings in several finishes. They also have metal tiebacks that you can mount to hold back your curtains. These are handy because you're not going to want to use ornate fabric tie-backs on the simple window dressings.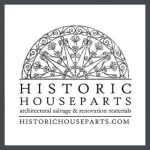 Historic Houseparts
This vendor offers- well-everything! In addition to my vintage appliance addiction, I am mesmerized by old hardware & promise you will get lost in this site. That's why I sent you directly to the curtain hardware section. I'm trying to help.
They carry single & double mounts, rods & a beautiful assortment of glass tie-backs.
I have many textile images on my Pinterest page so you can see the work of these very skillful fabric artists & others.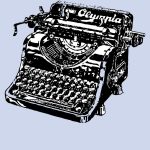 STAY IN THE BUNGALOW KNOW!!!
Sign up for our newsletter & receive our FREE E-book, 7 VITAL Things to Do Before You Hire a Contractor.