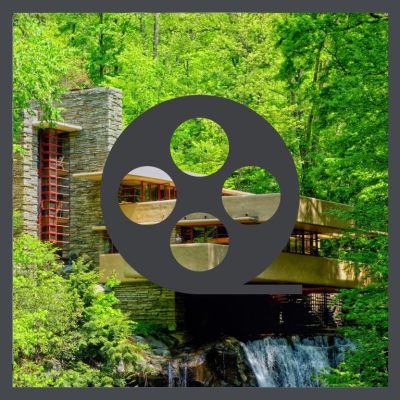 "Organic buildings are the strength and lightness of the spiders' spinning, buildings qualified by light, bred by native character to environment, married to the ground."
Frank Lloyd Wright, architect
Rather than trying to compose an educational post, I have curated this group of videos on Wright for 3 reasons, the main one being that no one explains Wright's philosophy & work with more clarity than the man himself.
#2, nothing expresses his genius better than the buildings themselves. (How could you use words to describe Fallingwater? I stammer in my head just considering it!)
#3.These students & scholars of Wright possess 1,000 times more information & insight that I do & they have produced fascinating footage, including tours of his most iconic buildings, that will both inform & intrigue you. I spent a couple afternoons watching these videos & feel that I now understand this complex genius. My appreciation of his work has soared!
HEARING THE WORDS OF WRIGHT & SEEING HIS GENIUS BROUGHT TO LIFE
Frank Lloyd Wright: America's Greatest Architect? | The Man Who Built America (59:33)
Timeline – World History Documentaries
This video is narrated by a Welsh architect who explores the influence of Wright's Welsh background as he travels across the United States, visiting homes FLW designed & built. His commentary allows us to deeply understand the influences & philosophy that guided Wright's eye & hand.
An interview in 1953 with Hugh Downs about Wright's thoughts on American life & architecture. As always, Wright's words are powerful & illuminating.
This charming video features a soliloquy critiquing the architecture of the time, seguing into his design philosophy. Delivered in Wright's own words, it is a charming peek into his brilliance & arrogance.
TIP: I have many beautifully done videos on my playlist from how to repair windows to the history of the Arts & Crafts Movement. Watch them HERE!
STAY IN THE BUNGALOW KNOW!!!
Sign up for our newsletter & receive our FREE E-book, 7 VITAL Things to Do Before You Hire a Contractor.