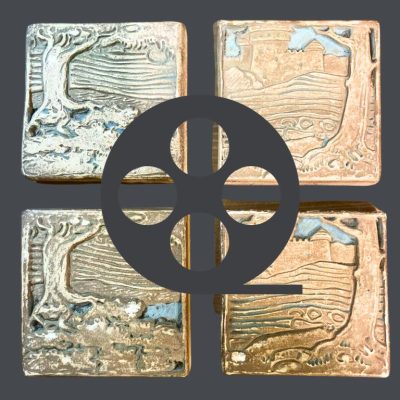 For me, Ernest Batchelder, tilemaker (1875-1957) stands with the Greene's as an icon of the Southern California Arts & Crafts Movement. Like the Gamble House, Batchelder's home overlooked the Arroyo Seco & like the brothers, he took inspiration from the beauty of this area with its often dry, sometimes gushing river, the tumbled rocks & the magnificent California oaks that lined the bed.
Robert Winter, architectural historian, lived in his house from 1971 until his death in 2019 & was an expert of all things Batchelder, writing the definitive Batchelder history, Batchelder Tilemaker. Winter contributed hugely to our understanding of the Movement in Southern California. We see his delightful self here in the first video.
I'm going to allow the videos to tell his story.
THE TILE OF ERNEST BATCHELDER
House of the Green Rabbit: The Ernest A. Batchelder Bungalow (16:31)
PasadenaHistory
Robert W. Winter Batchelder architectural historian & tile expert talks about the life & art of Batchelder. We get a nice tour of the home, in which Winter lived after his death & we hear from Alan Batchelder, the grandson of Batchelder.
History At Home: Ernest A. Batchelder
Pasadena Media (2:22)
More about Batchelder & his work & some views of more of his wonderful tiles.
Batchelder Fireplaces – The Cat's Meow (5:20)
KGEM-TV
See some beautiful surrounds adorned with Batchelder's tiles.
Handmade tiles with Pasadena Craftsman Tile
(5:33)
Pasadena Craftsman Tile
Tile artist Cha-Rie Tang creates custom handmade relief tiles in the Arts & Crafts style & Batchelder revival tiles. She's who I want to be when I grow up.
Wondering if the tiles in your house might have been made by Batchelder? The Pasadena Museum of History is compiling a database of tiles & is offering to identify yours. Click here for more information on how to access this great service.
To see more examples of his art, visit my Pinterest page here.

STAY IN THE BUNGALOW KNOW!!!
Sign up for our newsletter & receive our FREE E-book, 7 VITAL Things to Do Before You Hire a Contractor.