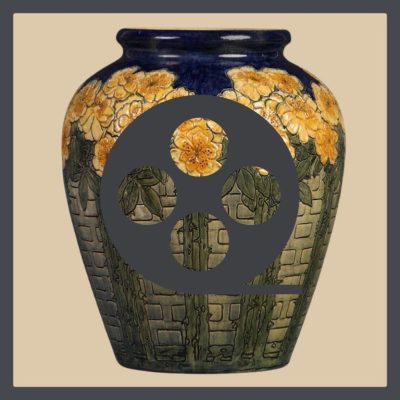 Few things are more at home in a bungalow than American art pottery. Its bright colors & luster bring cheer & light to a dark interior & add details that complement the simple lines of the more rustic Arts & Crafts furniture & Craftsman architectural details.
Anyone can collect art pottery. Mine was representative of the finest from the period, chipped & mended into affordability. There are plenty of imperfect pieces on the market & artfully arranged, you can emulate the most prestigious collection of any museum. (I won't tell.)
Pottery can serve as an inspiration piece when you are starting from ground zero in decorating your home. Using the colors, the images, the shape, you can use them as a basis for choosing your furniture & your textiles.
LEARN HOW POTTERY CAN BE BEAUTIFUL IN YOUR BUNGALOW
American Art Pottery Secrets – Paul J. Katrich – 1of6.mp4 (9:08)
Paul katrich
Paul, himself a master potter, is passionate about historic pottery. This is the first of 6 videos in which he explains the origin & inspiration of Arts & Crafts pottery. He tells us about the aesthetic & technological developments that culminated in American A&C, then shows & tells us about the icons of the period.
I am not going to list every video in the full series. The parts are best viewed in order & when the first video is over, the second & those after will magically appear. You will experience some lovely examples of the American Movement!
THE IMPORTANCE OF WOMEN IN AMERICAN ART POTTERY
Women artists have been overlooked for centuries. By the end of the 19th Century, we began coming into our own. In addition to demanding to work, we were also clamoring for a place in the world. Recognition would come much later, but what we wanted was the opportunity to use our wits & talents to contribute to the human cause. For many women, gaining artistic skills meant that they had greater earning power & could feed their families.These videos tell of how the crafts, especially pottery allowed us to do this.
Women, Art, and Social Change: The Newcomb Pottery Enterprise (1:32)
Gardiner Museum
An overview of the Smithsonian exhibition of ceramics. metalwork, textiles & images of the women at work.
Roger Ogden on Newcomb Pottery (2:31)
Craft in America
Roger Ogden, collector explains the femininity of New Orleans, the home of H. Sophie Newcomb Memorial College (Tulane University's former women's college.)
Earth into Art — The Flowering of American Art Pottery (2:00)
Morse Museum
Lead by woman, America's first success on the World's art stage.

STAY IN THE BUNGALOW KNOW!!!
Sign up for our newsletter & receive our FREE E-book, 7 VITAL Things to Do Before You Hire a Contractor.