BUNGALOW LIGHTING DESIGN BASICS
This article will cover residential illumination, with emphasis on bungalow lighting design basics. We're going to look at types of lighting, as they could be applied to your unique home.
Many years ago, I did a survey of homeowners, seeking to understand what they considered to be their most important goals when decorating their homes. Soon after, a similar survey was conducted by the National Wood Flooring Association. Combining the results of these two surveys was wonderfully illuminating. (Pun intended.)
My survey results showed that people placed great value on beauty- highly prized as contributing to the quality of life, in the Arts & Crafts philosophy.
The second valued attribute was warmth, a visual manifestation of the human connection. We style our homes to be welcoming, to be safe havens of comfort & regeneration for our families & our friends. We want our homes to express us, to tell our individual stories. To help us connect.
The NWFA's questioning uncovered the desire for design that is beautiful &, "evokes an emotional response." Once again, the human factor, the wish to communicate, the desire to be heard & understood by others.
The warmth & beauty are built-in to the basic design our bungalows. No one (at least no one reading this article!) can deny their own, emotional response to the beautiful features of a historic bungalow.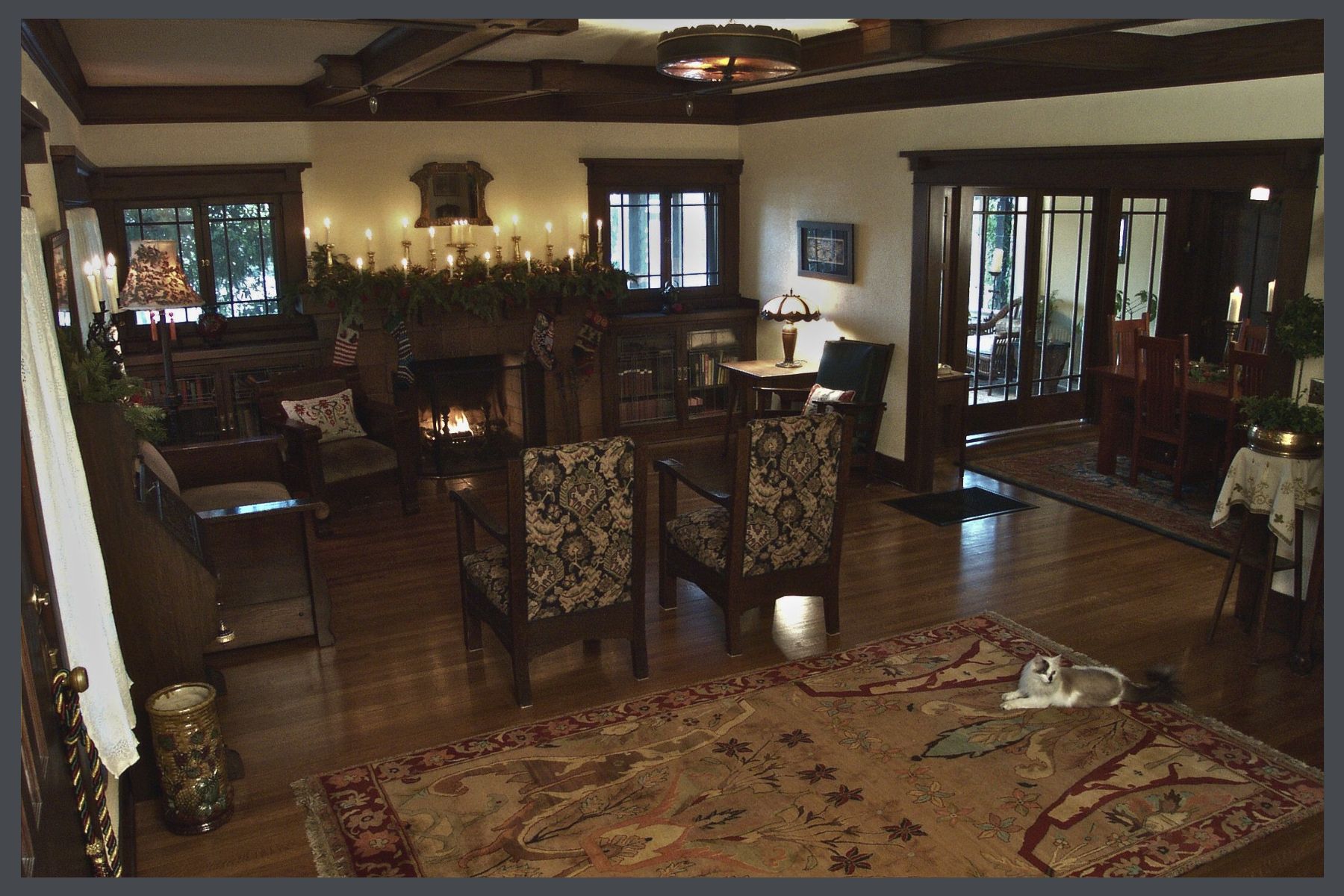 So, how can we enhance the warmth, the emotion, the beauty in our homes? How do we make our living spaces express our individual voices more clearly & eloquently? How can our homes contribute more profoundly, more richly, to the lives of our beloved family members & our dear friends, in the simple design choices that we make?
Well, here's how you can put a little more light in their lives!
AMBIENT LIGHTING IN YOUR BUNGALOW
The first to consider is general, or ambient (defined as existing or present on all sides: encompassing) lighting. This is the type that provides a general, uniform illumination for the entire area, allowing you to be oriented to the space & to move about safely. During the day, this is usually provided by windows.
Our bungalows tend to have deep porches & overhangs. We also often have large, mature trees which block the sun, so the illumination provided by our windows is not always bright. When many of our homes were built, we were not accustomed to the high wattage of today's lighting & such illumination was sufficient. In fact, our houses were planned to be at their most attractive under the softer, more subtle glow of the lighting of the times. Window coverings typical to the period allowed this natural light in, providing layers of blockage for privacy & darkness.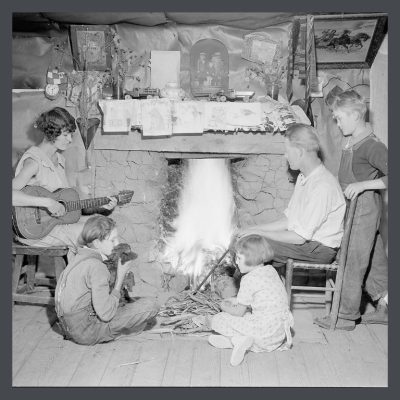 Our fireplaces contribute to the ambient light. At one time, they would have provided a main source of visibility & warmth. The family would have crowded 'round after the sun set for warmth, comradery & entertainment, as well as illumination. (I cannot but compare a similar scene today- the family sitting around the big screen TV, in the cold glow of its blue light, each person mute & staring, some looking at their phones.)
The study of my Eagle Rock home, the Hare House had a small fireplace in addition to the main fireplace pictured above. The first resident, Alfred was both a minister, leading a congregation & an attorney with a thriving law practice in downtown Los Angeles. Though he had sisters who lived nearby, & both Alfred & Grace were very active in community affairs, they were childless & I imagine that, at times, she may have gotten lonely. I can easily picture Reverend Hare working at his desk there in the evening, perhaps with the added help of a gas lantern, to keep his dear Grace, company. Perhaps she knitted for one of her charities or aid groups?
TASK LIGHTING
Reading by the fire was a common pastime which we would find rather uncomfortable now. After our homes were wired for electricity, we eagerly employed lamps to read & write, to cook & wash dishes, to shave, to accomplish the many tasks inherent in daily living. I'm in hearty agreement! Should I need to read a set of tiny directions, or figure out what my cat has in his mouth, I want light & plenty of it.
Task lighting has different functions in various rooms. Probably most people don't read in the living room these days, & for many, reading means looking at a lit screen, but some folks actually read print books & it's handy to have light directed at it. Too bad that there's no sheet music in this piano image because it's such a perfect example of task lighting.
In the kitchen, task lighting is crucial for safety, hygiene & perfect caramelization. And for identifying which children are yours.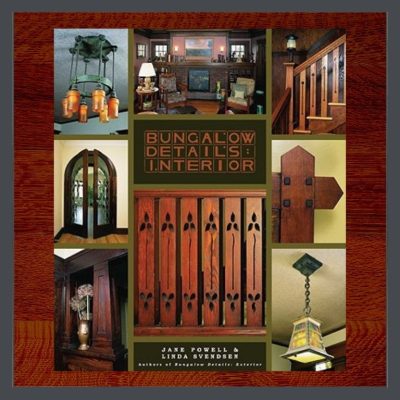 Let me be perfectly clear here about the use of can or recessed lights. Nope, no way, no how! IN BUNGALOW DETAILS: INTERIOR, Jane says," DO NOT ALLOW RECESSED CAN LIGHTING INTO YOUR BUNGALOW!"
She obliviously felt that you needed to defend yourself from this type of lighting at all costs. Jane goes on to say, "There is nothing, NOTHING that screams 'late twentieth century' more than a recessed can light- I don't care how many lighting designers tell you they are 'unobtrusive…'
"There was no track lighting either, nor were there fancy Italian-design halogen lights suspended on wires."
That takes us to-
ACCENT LIGHTING/A VITAL BUNGALOW LIGHTING DESIGN BASIC
This is how we define the room. Against a dark background of wood, accent lighting creates atmosphere, forming multiple layers of depth. It draws the eye from one point of illumination to the next, create sculptural vignettes, enhancing the aesthetic & intimacy of the room.
Here we see a beautifully illuminated room. The lighting is layered- there is ambient lighting coming from the windows, complete with a cozy kitty, & table lamps which serve as task & accent lighting. You could easily read in the cushiony chairs beside them & they highlight the textile to the front, & the teddy on the window seat. Notice the signature acorn pulls of RAGSDALE, Mission Style Oak and Mica Lamps and Lighting, a modern master about whom you can read in Part 7.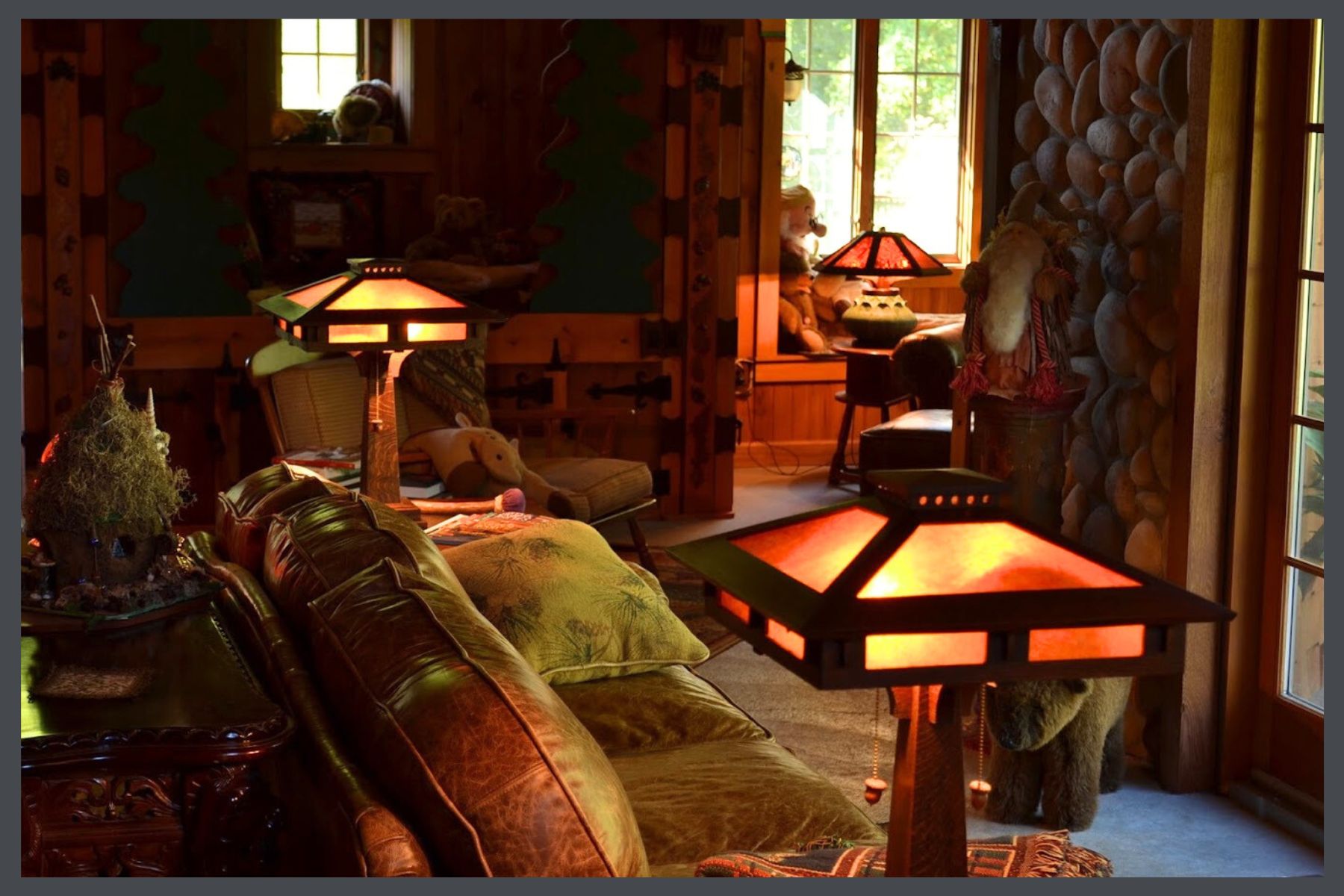 The beauty of layering that it imparts a warm glow throughout the room. There are no abrupt changes that force your eye to readjust to different areas, yet, there is enough variety to keep it moving & interested.
This article is just the beginning! To become a master of bungalow lighting, keep reading!

Part 1, OUT OF THE DARKNESS
Lighting & your DNA.

Part 2, THE CRAFTSMAN MAGAZINE LIGHTING ARTICLE
Tips on utilizing this new technology in the home.

Part 3, THE LIGHTING OF THE A & C ERA
How lighting expresses the philosophy & aesthetic of the Movement.

Part 4,  ARTS & CRAFTS LIGHTING DESIGNERS
Taking a look at how this new technology provided a market & how the market was served.

Part 5, WOMEN IN ARTS & CRAFTS LIGHTING
2 women who contributed to the Movement with their beautiful lamps.

Part 6, ANTIQUE ARTS & CRAFTS LIGHTING RESOURCES
If you want something authentic, but not a museum piece.

Part 7, MODERN DAY ARTS & CRAFTS LIGHTING MASTERS
Craftsmen honoring the tradition.

Part 8, REPRODUCTION ARTS & CRAFTS RESOURCES
Another beautiful option.

STAY IN THE BUNGALOW KNOW!!!
Sign up for our newsletter & receive our FREE E-book, 7 VITAL Things to Do Before You Hire a Contractor.