MODERN DAY ARTS & CRAFTS LIGHTING MASTERS
Jane Powell used to joke that the Arts & Crafts Revival has lasted longer than its original period of popularity. Although I am ever pining for my time machine, it gives me joy to know that there are many talented craftsman working in the style today, including these modern day Arts & Crafts lighting masters. Thanks to the world of the internet, it is easy to admire & purchase their work.
Ragsdale
Mission Style Oak & Mica Lamps & Lighting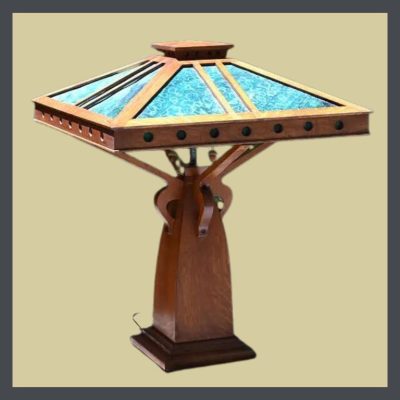 "The Arts & Crafts lamp or Mission Style design is meant to capture the essence of old-time lamp makers and bring the art up one level."
Craftsman Phillip D. Myer built his first Arts & Crafts style lamp in 7th grade woodshop & soon had a little craft show stand where he created Frank Lloyd Wright inspired items. 20 years later he began designing & drawing furniture seriously, & then started his first full time wood shop & studio & gradually, coming full circle, Arts & Crafts lighting became his main focus. Says Phil, "I spent many years living in the details of designing the 33 lamp designs I now do."
Phil creates his lamps from quartersawn white oak, also termed "tiger oak." This wood is obtained by slicing a log of high grade (few flaws, knots, etc.) into quarters & then cutting the boards to show the flame shape grain.
Years ago, he used to spend hours at the mill, hand-picking the heavy boards, searching for the flame, choosing only a small fraction of them & tossing the rest back into the pile. The mill owners objected to his taking the best pieces & he gladly offered to pay them a higher price for the better quality material. However, he never stopped searching for the most beautifully grained wood & today buys from a mill that provides lumber with the most pronounced & exquisite graining obtainable.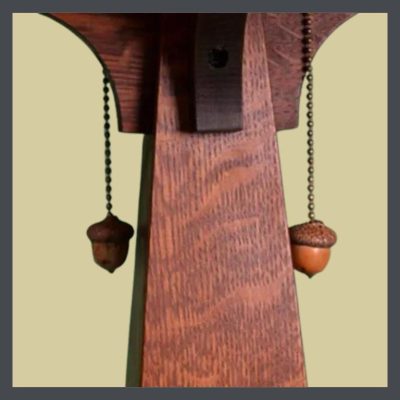 The light glows through authentic mica a naturally occurring mineral, which was originally mined near Asheville NC & stained glass, crafted in the U.S.
In 2010, Phil's lighting was honored by being accepted by the Roycroft Copper Shop in the Roycroft Campus in East Aurora NY, placing his work on the same campus where Elbert Hubbard brought Arts & Crafts to our country.
As an extra bonus, Phil offers real acorn pull chains. He searches the forests of Michigan, returning again & again to the trees which produce the most perfectly shaped ones. He hollows the acorns & then fills the little cuties with epoxy to make them strong.
Delightful!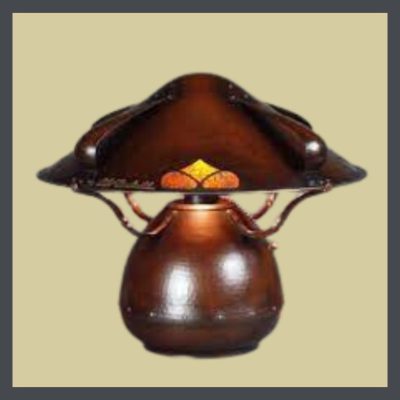 Taught by his father, Luke Marshall became an artisan at 13, crafting silver jewelry & sculpting metal. Later, he met the Spanish grandmaster silversmith, Ricardo Lopez de Grado who refused to teach him, but suggested that he copy his work. De Gardo himself was a descendant of goldsmiths, & his training was guided by his godfather. It was believed that De Grado was the only remaining artist who began a piece from a flat piece of metal, coaxing it into the shape desired with his hammer. Marshall uses this technique to create hollow forms, likely inspired by De Grado. As with De Grado, he also fashions his own tools.
In his mid-teens, when Marshall was told that his work was reminiscent of Roycroft copper, he researched the Roycrofters & "fell in love." He then saw a Van Erp lamp in a newspaper, copied it & its popularity spurred him to continue making them.
Though he does make reproductions of Van Erp's lamps, (as well as meticulously repairing lamps made by Van Erp 100 years ago) his pieces are uniquely his own, with every hammer strike bearing his signature touch. He also crafts his own designs, & offers custom work. As well as lamps, Marshall makes lidded copper boxes with highly detailed, applied relief.
CARL RADKE
ART GLASS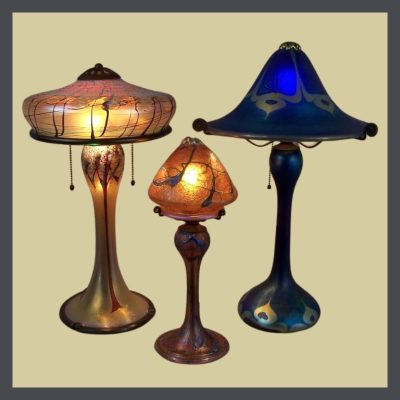 Master glass artist, Carl Radke has been creating magnificent hand-blown luster glass lighting for 45 years. Lusterware contains silver to produce its beautiful sheen & after having first been created by Tiffany in 1881, lost favor in the mid-20's.
In the 1970's Radke helped inspire the Renaissance of American glass art, during a period of increased interest in the crafts. Please read more about this art form & its interesting technology here.
He also creates Arts & Crafts glass shades to fit your own lamps.
WHO ARE YOUR FAVORITES?
These are only three of the masters working in America today. No doubt there are some creating incredible lighting in Europe. I'd like to hear from you & learn whose lighting illuminates your bungalow.
THIS IS JUST ONE PART OF AN IN-DEPTH SERIES ON LIGHTING
Read them all!

Part 1, OUT OF THE DARKNESS
The harnessing of light.

Part 2, THE CRAFTSMAN MAGAZINE LIGHTING ARTICLE
Tips on using this new technology in the home.

Part 3, THE LIGHTING OF THE A & C ERA
How lighting expresses the philosophy & aesthetic of the Movement.

Part 4,  ARTS & CRAFTS LIGHTING DESIGNERS
Taking a look at how this new technology provided a market & how the market was served.

Part 5, WOMEN IN ARTS & CRAFTS LIGHTING
2 women who contributed to the Movement with their beautiful lamps.

Part 6, ANTIQUE ARTS & CRAFTS LIGHTING RESOURCES
If you want something authentic, but not a museum piece.

Part 8, REPRODUCTION ARTS & CRAFTS RESOURCES
Another beautiful option.

STAY IN THE BUNGALOW KNOW!!!
Sign up for our newsletter & receive our FREE E-book, 7 VITAL Things to Do Before You Hire a Contractor.