ANTIQUE ARTS & CRAFTS LIGHTING RESOURCES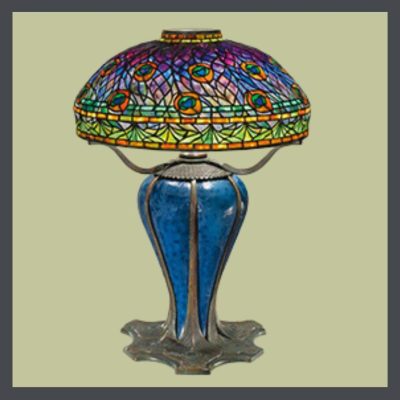 There was a great deal of lighting manufactured 100 years that doesn't come with a designer name & a designer price tag. (An authentic Tiffany, as an example, can set you back a cool $2,000,000.)  For anyone not living in a Greene & Greene or other bungamansion, this lighting is beautiful, highly appropriate & will complement the other features of your home. Some of the shops listed below are online sources & some are brick & mortar, which sell online also.
Before I begin, let me mention that salvage shops are wonderful sources of old lighting fixtures & may also have some table & floor lamps. They can also be found at antique stores, mostly those specializing in A&C. I have also done well on eBay & Etsy though I have received pieces that were not as represented.
Even if you are not in the market for lighting, please visit & browse these sites, read the stories & admire their merchandise. The proprietors of these businesses have all devoted decades to learning about, collecting, restoring & selling lighting. Just looking at their pages will provide you with a wonderful education on the Arts & Crafts aesthetic.
HERE'S THE LIST OF ANTIQUE ARTS & CRAFTS LIGHTING RESOURCES
GENUINE ANTIQUE LIGHTING
Exclusively Restoring and Selling Antique Lights Since 1979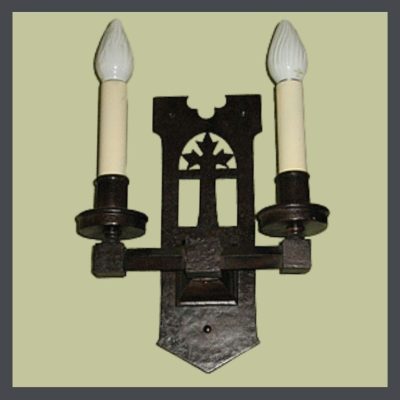 A lovely collection of old fixtures from 1840-1940, that have been painstakingly restored with upgraded hardware & rewired to current code. He can also change a gas fixture into an electric one.   In most cases they use antique shades, however, they also stock gas & electric shade reproductions.
They buy from other dealers who are not equipped to perform restoration work, nor have the skills. Their work is meticulous, honoring the age of each piece.
Carrying lamps from all periods they have some great A&C fixtures. Their selection of kitchen lighting is extensive, varied & whimsical. I follow them on Facebook & greatly enjoy seeing their changing inventory.
Their website clearly lays out their policies & practices, from shipping to returns. They do have a storefront, open by appointment in Boston.
TURN OF THE CENTURY LIGHTING
North America's Finest Selection of Antique & Vintage Lighting
The shop is in Canada (Toronto) & I know that most of you are in the United States. I have no clue as to how the American dollar is currently performing in Canada, nor do I know what shipping would be to your bungalow in Hometown, USA, but you need to at least visit their page & experience this lighting!
If you're venturing up that way, stop in at their glorious showroom & feast thine eyes. A prime example, this lamp is one of the coolest I have ever seen. Made in the early 1900's in Austrian, these figural lamps were made of bronze or spelter (an alloy in which zinc is the main constituent) & were often painted as the metal was cooling, creating a an enamel like finish. I love the red silk shade with its open work pierced detail & original beaded trim. Rewired & ready to enjoy, I'd use it in my bungalow in a heartbeat!
They also have a collection of new lights that are available in 5 different finishes, some of which would be appropriate in a bungalow. For those of you nearby, they perform complete restorations & rewires as well as & repairing & recovering lampshades. Its goods & services make it truly one of the finest antique Arts & Crafts lighting resources.
Vintage Hardware & Lighting
Producer of Historic Home Hardware and Classic Lighting since 1978.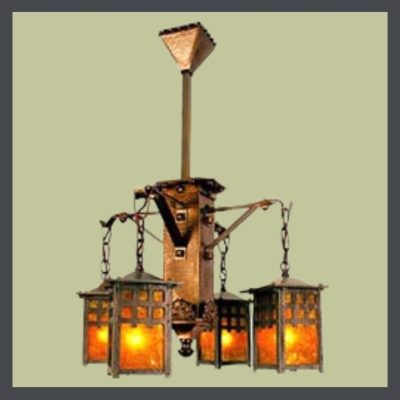 I think that these folks have an incredible selection of all types of lighting- chandeliers, pendants, flush mount, sconces, kitchen & bathroom. They have a small number of table lamps.
They also carry parts such as shades, candle covers & other components & perform lighting fixture repair.
Their selection of hardware is extensive- door hardware, reproductions of antique originals, door knockers, thresholds & kickplates, doorbells, locks, mailboxes & mailslots.
Sadly, the brick & mortar facility & museum are closed due to staffing shortages but they are still selling online & will respond to your call or email.
Vintage Lights.com
Only Vintage Fixtures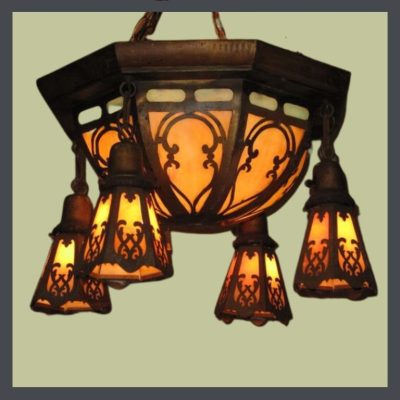 A sweet collection of lighting from 1890-1930, they follow Morris' dictum, "If you want a golden rule that will fit everybody, this is it: Have nothing in your house that you do not know to be useful, or believe to be beautiful."
They offer ceiling lamps, wall sconces, porch lighting, slip shades. & some table lamps. Worth noting is that they have some of the most appealing A& C lighting I have ever seen!
They have a far larger inventory than those shown on the website, which is mid-upgrade. If you need a lighting fixture for your bungalow, give their knowledgeable, friendly proprietor Patrick a ring or an email & he'll show you his abundant wares.
Check out my Pinterest page of their A&C lighting for more items, some available, some sold, restored & some not yet. These lights will provide you with the best education on A&C lighting you could get anywhere!
WHO ARE YOUR FAVORITES, PLEASE?
These are mine, but I am certain that you have discovered many others.  I'd like to hear from you & learn whose lighting illuminates your bungalow. Drop me a line!
THIS IS JUST ONE PART OF AN IN-DEPTH SERIES ON LIGHTING
Read them all!

Part 1, OUT OF THE DARKNESS
The harnessing of light.

Part 2, THE CRAFTSMAN MAGAZINE LIGHTING ARTICLE
Tips on using this new technology in the home.

Part 3, THE LIGHTING OF THE A & C ERA
How lighting expresses the philosophy & aesthetic of the Movement.

Part 4,  ARTS & CRAFTS LIGHTING DESIGNERS
Taking a look at how this new technology provided a market & how the market was served.

Part 5, WOMEN IN ARTS & CRAFTS LIGHTING
2 women who contributed to the Movement with their beautiful lamps.

Part 7, MODERN DAY ARTS & CRAFTS LIGHTING MASTERS
Craftsmen honoring the tradition.

Part 8, REPRODUCTION ARTS & CRAFTS RESOURCES
Another beautiful option.

STAY IN THE BUNGALOW KNOW!!!
Sign up for our newsletter & receive our FREE E-book, 7 VITAL Things to Do Before You Hire a Contractor.