WOMEN IN ARTS & CRAFTS LIGHTING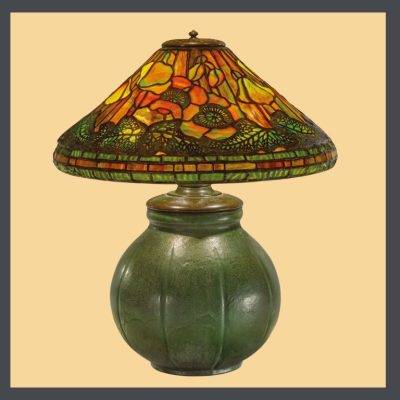 There were many women who were involved in the making of Arts & Crafts lighting. For example, at Grueby, a pottery manufacturer which often partnered with other designers such as Stickley & Tiffany to make lamps, male potters formed the clay & women painted it. Newcomb Pottery, which also made lamps, was founded in 1895 as an educational experiment of H. Sophie Newcomb Memorial College (Tulane University's former women's college) in New Orleans. The quasi-commercial program provided an opportunity for Southern women to support themselves financially during & after their training as artisans.
One hundred years later, the immense contributions of women at Tiffany are finally being recognized. The nearly unknown "Tiffany Girls" designed & created lamps & lampshades including many of Tiffany's  most beloved pieces. The base of this exquisite piece was created by Grueby & the shade by Tiffany.
In this article, I want to focus on two women of Arts & Crafts lighting, Lillian McNeill Palmer & Elizabeth Eaton Burton because I am very fond of their work. Both display a distinct femininity that is lacking in the work of their male counterparts.
LILLIAN McNEILL PALMER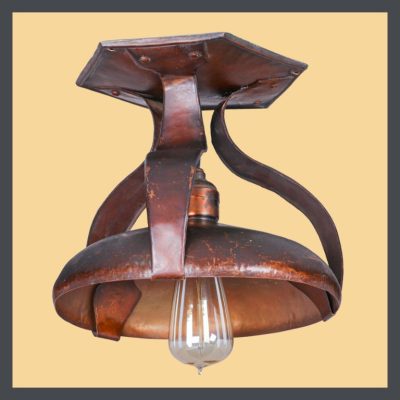 Palmer & Van Erp, both being metalsmiths, were rivals, with Palmer stealing artists from Van Erp, even his own nephew! (Perhaps this explains why Van Erp refused to teach anyone, even his family about how he created his finishes!)
In the 1900s, Palmer worked as a writer & editor for the Mercury Publishing Company which seems to have focused on Theosophical matters, & started gaining an interest in Arts & Crafts metalwork, creating a metal working studio in her parents' basement. From there she started her business of making & marketing light fixtures.
Both she & Van Erp (& many others) took advantage of the opportunities created by the 7.8 magnitude quake that struck San Francisco on April 18, 1906. For 3 days fired raged over the city, turning almost 300,000 structures to ash. The rebuilding that occurred afterward provided an economic boon to those involved in construction & to those providing decorative embellishments for the home, including Palmer who was among the first recorded metal artists using copper, lead & brass.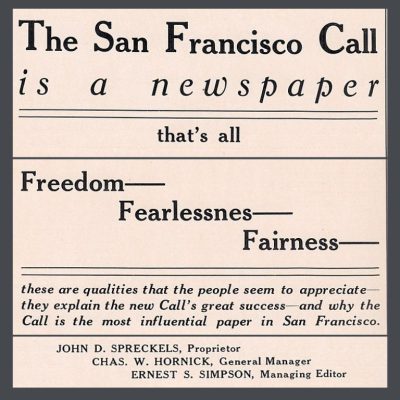 A year later, she was featured in the San Francisco Call who dubbed her an "Ingenious Girl Worker in Metals."
The next year, 1908, Palmer traveled to Europe & Asia to learn more about the Arts & Crafts aesthetic. She took courses in metal crafting & electrical design in Vienna & later, back in the United States, she studied power-efficient lighting & the new science of lighting placement to reduce eye strain. In 1910, she opened the "Palmer Copper Shop" in San Francisco. She expressed her work as, "designing fixtures that not only attain the desired lighting effects in a given room, but also conform to the style & contour of the room & the usage to which it is to be put," clearly utilizing the new knowledge & skills that she had absorbed in Europe.
When metal became scarce with the beginning of World War I, she again drew on her experience & education, becoming active in many California women's clubs, speaking on topics such as "Electric Lighting of Dwellings from the Standpoint of Health, Economic operation, Science & Ornament," "Starting in Business with Ninety Cents & No Experience," "Housewives Learning to Wield, Saw & Hammer," & "Women as Builders of Business." She was able to return to metalworking in 1931 to resume her place as one of the iconic women in Arts & Crafts lighting.
Check out my Pinterest page on Lillian Palmer to see more of her stunning work.
ELIZABETH EATON BURTON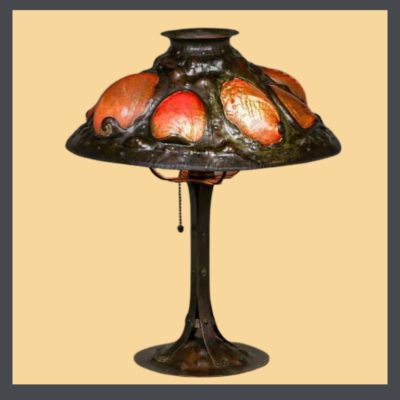 Burton's prolific work speaks to my heart. I can easily imagine her working in her Santa Barbara studio, gracefully executing her designs, choosing her shells, carefully placing them in the metal & finally inspecting the illuminated lamp, admiring its warm glow.
There is an ease to her work that I believe came from growing up as the daughter of an artist, Charles Frederik Burton. Like May Morris, her life was filled with the creating of art & beauty from its earliest days. She was clearly influenced by her environment- the sea providing her with both materials & inspiration for her lamps.
She is most well known for her hammered & repousséd copper lamps & sconces in floral motifs set with shells. But, after establishing herself in the Southern California art scene as a woman in Arts & Crafts lighting, through exhibiting in art shows & craft fairs, she also began making unique woodcuts, watercolors, book bindings, tooled leather décor, screens & stained glass. A great deal of her work is unsigned but being unique in design & meticulously crafted, it is not difficult to identify.
My Pinterest page displays many more examples of her work. Please give yourself a treat & visit there!
This article is one in a series about lighting in the Arts & Crafts period. Make sure that you read them all !!

Part 1, OUT OF THE DARKNESS
The harnessing of light.

Part 2, THE CRAFTSMAN MAGAZINE LIGHTING ARTICLE
Tips on utilizing this new technology in the home.

Part 3, THE LIGHTING OF THE A & C ERA
How lighting expresses the philosophy & aesthetic of the Movement.

Part 4, ARTS & CRAFTS LIGHTING DESIGNERS
Taking a look at how this new technology provided a market & how the market was served.

Part 6, ANTIQUE ARTS & CRAFTS LIGHTING RESOURCES
If you want something authentic, but not a museum piece.

Part 7, MODERN DAY ARTS & CRAFTS LIGHTING MASTERS
Craftsmen honoring the tradition.

Part 8, REPRODUCTION ARTS & CRAFTS RESOURCES
Another beautiful option.

STAY IN THE BUNGALOW KNOW!!!
Sign up for our newsletter & receive our FREE E-book, 7 VITAL Things to Do Before You Hire a Contractor.