by Jane Powell, author & Linda Svendsen, photographer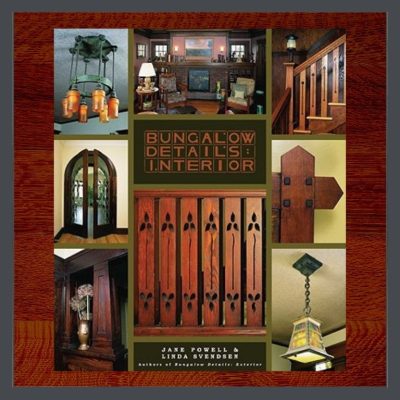 In BUNGALOW DETAILS: INTERIOR, author Jane Powell covers every nook & cranny of America's favorite house.
FOREWARD
"It is the great excellence of a writer to put into his book as much as his book will hold." – Samuel Johnson
Written 2 years after BUNGALOW: The Ultimate Arts & Crafts Home, this book, though less chunky is still described by Jane as "the longest I have ever written." The book is crammed with information & text is tiny, but I still recommend giving it a good read. You can rest your eyes by looking at the soothing pictures & occasionally taking a ginger tea break. But, I assure you that after absorbing the contents of this book, you will be an expert, an authority, verily a master on the subject & will be able to amaze your friends with your knowledge. It will also teach you how to live in a bungalow.
As in KITCHENS & BATHROOMS, in every restoration facet she offers compromise solutions.
And, back to the book contents, Jane devotes a whole page to asbestos & strongly recommends testing. I second. Restoring old houses is not for sissies.
CHAPTER ONE: WHAT IS A BUNGALOW?
Here she defines is as a "Know one when you see one kind of things," but goes on to define it as:
A bungalow is a one-or one-&-a-half story house of simple design& expressed structure, built from local or natural materials, with a low sloping roof, overhanging eaves, & a prominent porch, built during the Arts & Crafts period in America (approximately 1900-1930). But offers the disclaimer, that the definition is pretty broad & you just need to look at enough of them until you know.
Should you be desperate to know now, a check out preservation expert Jo-Anne Peck's article WHAT THE HECK IS A BUNGALOW, ANYWAY, here.
CHAPTER TWO: ROOM TO MOVE
Here she discusses layout & tours us through the rooms of several bungalows, allowing us to see some classic bungalow features in several homes.
CHAPTER THREE: SHORT STORY
Yeah, it's a pun. Jane's talking about roofs & attics here including pests found in them. She also discusses insulation (or the lack thereof) & ventilation.
CHAPTER FOUR: CEILING GROOVY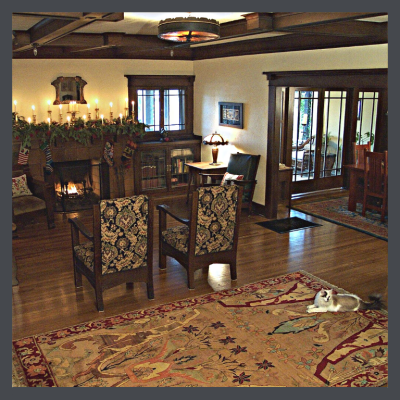 You can't see me. I am shaking my head. But I am somewhat (It's a very small picture.) calmed by the image I see of the beautiful box beam ceilings in the living room of the Hare House, my 1920 Craftsman in L.A., on page 56.
Jane describes ceiling cracks, their causes & not surprisingly, recommends against covering them with gold-veined mirror tiles. My ceilings in the Hare House were coated with "popcorn." Yes, even between the box beams in this room & in every other room in the house. It wasn't terribly difficult to remove, in fact, after we had sprayed a chunky section of the back bedroom ceiling, the whole thing fell down. Whumph! The sound & the dust were like a nuclear explosion. All the popcorn, all the plaster, down to the lathe, it was on the floor in one piece. A cracked piece, for sure, but it was all there. Amazingly, nobody was standing under it.
She devotes a whole page to asbestos & strongly recommends testing. I second.
CHAPTER FIVE: WALL MART
Whoo, boy! This is a chunky chapter so I think I'll just list what is covered in it, with little commentary.
Joinery & nails
Balloon framing
Brick & stone
Paint types & colors
Stencils
Wallpaper
Paneling & trim
Built-ins
Wood stains & finishes
As always, the book is well-illustrated with beautiful examples of every topic & sub-topic. And, she ends with her sensible  obsessive & compromise solutions
CHAPTER SIX: OPENING LINES
The chapter opens with Jane saying, "Bungalow designers did their best to open the houses to the outdoors with generous numbers of windows & doors. The interplay between indoors & out made even a small bungalow larger than it really was. There was also a belief that fresh air & sunshine would kill germs, prevent disease & promote good health."
She gives us a brief window history lesson, including some information about glass.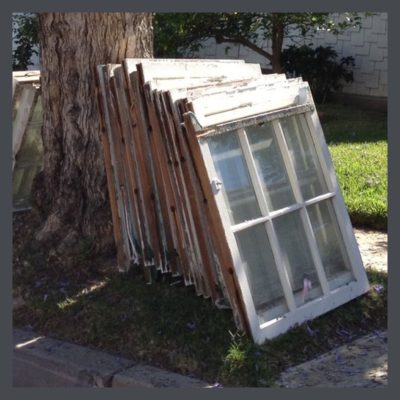 The best part is her dissertation on why replacing wood windows is a travesty. She lays out 4 pages, in tiny type, enumerating all the lie$ that are told to encourage people to rip out their wonderful old windows & install, new, hideous ones that you can replace in 15 years when they fail because they cannot be repaired. In her OBSESSIVE/COMPROMISE section, she says that she refuses to compromise.
As I sit here writing, tears are dripping down my face, missing this funny, fierce woman. I have written so much about her, but it is in this section that her firey spirit truly shines. I can only pray that my little blog will help her message live on.
A blow & a sniff later & I'm ready to carry on. She gives complete instructions for repairing a wood window, suggesting tools & materials. Then she treats us to vintage ad images for windows parts & signs off with a section on window treatments.
I offer window suggestions in my own article, here.
CHAPTER SEVEN: ENTRY LEVEL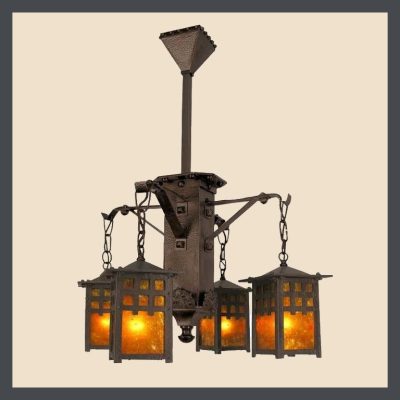 Not surprisingly, this chapter is about doors, types of doors, (interior & exterior) door construction, & door hardware-with the same great photos of beautiful door pulls & knobs & escutcheons. She has a number of cool, vintage ads, including one "For homes of refinement."
As she says, "The front door was meant to impress," I have been impressed by more than one front door. I have to admit that the door of the Hare House is my all-time favorite & I was very torn by my choice to build a screen door so that my children could look out onto the world but be protected. (Between the skunks & coyotes, Eagle Rock was not a safe place for kitties.) We found the most figured pieces of quartersaw oak that you could imagine & with my copper screening & pegged joints, I was happy!
She also devotes several pages to lighting, treating us to some terrific examples of Arts & Crafts pendants & sconces.
In her section, CAN DON'T, she is adamant about the inappropriateness of can lighting. Once again, I concur, especially because the lighting of the time is so charming!!
I hope that this wonderful image will help you recover from the last one of the windows, abandoned, like poor relations, under the tree.
CHAPTER EIGHT: HEARTH OF THE MATTER
According to Jane, "Fire fulfills a deep & primal role in the human psyche…"  Why else would there be 110 videos on YouTube of crackling fireplaces?
Anyway, we see some amazing fireplaces here- clinker brick, 2-tone brick, river-roof, cast concrete, granite & Grueby & Batchelder  tiles. Not surprisingly she spends 14 pages delving into the history & construction of the fireplace.
Next is the subject of built-ins & once more, we are treated to beautiful images of sideboards, nooks, Murphy beds & stairways, plus vintage hardware ads & illustrations.
CHAPTER NINE: SUPPORT GROUP
Jane wraps it up with a discussion of floors, subfloors & joists as well as rugs & vacuum cleaners to keep all the dirt sucked up. She talks about furnaces & heating systems & we see some ads for new fangled contraptions that will keep you toasty. She shows us some really cool old water heaters & waxes enthusiastic about fuse boxes & electrical receptacles.
Last Call is about telephones with her closing statement being, "Besides, a bungalow is the best house in the world."
READ ALL JANE'S BOOKS ABOUT BUNGALOWS!

BUNGALOW KITCHENS
Restoring the heart of the home.

BUNGALOW BATHROOMS
Everything you need to know to restore or create a beautiful & functional bungalow bathroom.

BUNGALOW DETAILS: EXTERIOR
What makes a bungalow.

BUNGALOW: THE ULTIMATE ARTS & CRAFTS HOME
All things bungalow.
& last but not least

LINOLEUM
It's not vinyl!

STAY IN THE BUNGALOW KNOW!!!
Sign up for our newsletter & receive our FREE E-book, 7 VITAL Things to Do Before You Hire a Contractor.