by Jane Powell, author & Linda Svendsen, photographer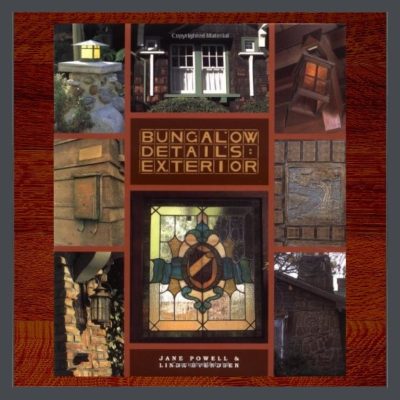 For BUNGALOW DETAILS: EXTERIOR, as with DETAILS: INTERIOR, I'm going to go chapter by chapter highlighting the contents of this wonderful & informative book, while pointing out the pages that have pictures of my house!
The very first image in the book, is a full-pager of a river rock column topped by a lantern. Though unidentified in the book, this column was crafted by the steward of the Hanson Puthuff House in Eagle Rock, California. (As defined by the U.S. Department of Agriculture, "Archaeological stewardship is the preservation, protection and maintenance of cultural resources. This involves making sure that cultural resources are not looted, vandalized or destroyed. Stewards are both caretakers and advocates of the archaeological record.")
Hanson Puthuff was the father of the plein air movement (which just means painting outside) in California. The current owners of his home, both artists themselves, meticulously preserved, protected & maintained this valuable cultural resource, researched its astonishing & varied history (It spent some time as a sweatshop where indentured workers toiled for hours all day & then slept at night, in the crawlspace, under the house.) & submitted it for inclusion as a Los Angeles Historic Landmark. Not surprisingly, it was accepted.
Allow me to take this moment to suggest that you take advantage of our BUNGALOW DETAILS: EXTERIOR, GLOSSARY should you run into any terms that you might not understand. It will enhance your education & your enjoyment of the article.
FOREWARD OF BUNGALOW EXTERIOR: DETAILS
Jane was a dear friend (Read about our story here.) & spoke often of her father & this book is dedicated to him because he taught her that details matter. I think so too.
CHAPTER ONE: WHAT IS A BUNGALOW
In this section Jane gives us a brief history of the bungalow & what she terms "The Reader's Digest of the Arts & Crafts Movement."  The first illustration is the quintessential American A & C house, Gustav Stickley's house at Craftsman Farms in Parsippany, New Jersey, followed by vintage ads for bungalow plans & then more of Linda's photos of houses with unique features.
CHAPTER TWO: GOOD HOUSE KEEPING
In this chapter, Jane stands with one hand on her hip, shaking her figure, admonishing us to maintain our houses or buy a condo. In it she includes Erik's Bungalow Manifesto, of course, with comments.
CHAPTER THREE: TAKE IT FROM THE TOP
If you want to know about every type of bungalow roof made, you can learn it here, with illustrations. She also covers materials such as tile, slate & asphalt. My favorite is one that is composed of over-lapping metal barrel lids. We get to see a variety of chimneys (including mine on page 57) & gutters. We see dormers & brackets in all configurations. She includes an image of pre-fab rafter tails that are very cool & I'm think of houses on which I have seen with such tails.Jane lists 2 full pages of resources for roofing materials of all types, chimney parts, gutters & anti-pigeon devices. She's really not a fan of pigeons & is often eloquent in stating her low opinion of them.Throughout the chapter she again offers restoration solutions, both obsessive & compromising.
CHAPTER FOUR: THE ENVELOPE PLEASE
It's all about the walls- logs, shingles, brick of all types, colors & textures, wood siding, board & batten, beadboard, half-timbering, molded concrete, hollow tile, stucco- the good.
Asphalt, aluminum, vinyl-not so much. A key point she brings up here is the fact that vermin love that "maintenance-free" siding. It's hidden. It's dark. It's damp. It remains undisturbed for decades.
She shows us some creative gable ends, with unique attic vents, rafter tails & other ornamentation.
At the end of the chapter- more resources for materials.
CHAPTER FIVE: GRAND OPENINGS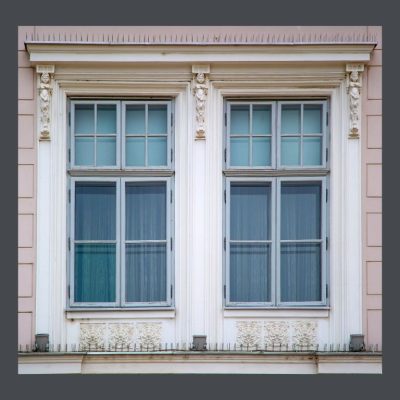 Jane loves windows, referring to them as the most important part of the bungalow. She gives us a brief history of window & glass development, with plenty of illustrations in both Linda's photos & manufacturer pictures. These images also show different muntin (the strip of wood separating & holding panes of glass in a window) configurations.
Jane enumerates the "obfuscations" used by window manufacturers to confuse people in making clear judgements regarding window replacement. It's worth reading the list & if you are considering yanking your windows, I'd so go far as to call it mandatory.
She teaches us how to make a storm window & then talks about screens. I highly recommend having screens on your windows so your cats (Jane loved cats.) can smell the outdoors. I also recommend that your windows are in good repair, with some sort of stop, so that you don't experience a sash come crashing down on an innocent kitty.
Then on to doors where she provides us with some beautiful images. Many styles were appropriate & she thoughtfully has 2 pages of historic manufacturer images giving us a grand array.
If you want to know more about windows, you could read what I have to say about them here!
Her resources list closes the chapter. (Get it? Like you close a door? Are puns contagious?)
CHAPTER SIX: THE FOUNDATION OF KNOWLEDGE
This is a short chapter 'splaining how a foundation is built. It's a good thing to know because your bungalow has one.
CHAPTER SEVEN: LET'S PORCH THE PLACE
"…It is impossible to live upon own's lawn in privacy. The veranda offers a compromise between indoors & outdoors, and had developed into a species of open-air room, the furnishings of which is quite as important as that of any other room in the house."- Esther Singleton in American Homes and Gardens, May 1907
This is a nice, long chapter featuring images of many porches in a multitude of styles. While Jane's favorite feature is windows, mine is porches. I love the opportunities for the variety of columns, double, triple, elephantine in an abundance of materials.
Although doors were in the previous chapter, she covers door hardware, another one of my most appreciated porch features. Hardware is well represented in this book with several pages of historic manufacturer images!
And once again, Jane did her homework with a nice list of resources.
CHAPTER EIGHT: OUTSIDE CHANCES
The history of garages is interesting. People used to put their cars in the carriage house with the carriage & the horse. Poor horses!
We learn here about porte cocheres, about the many styles of garages, & about garage apartments.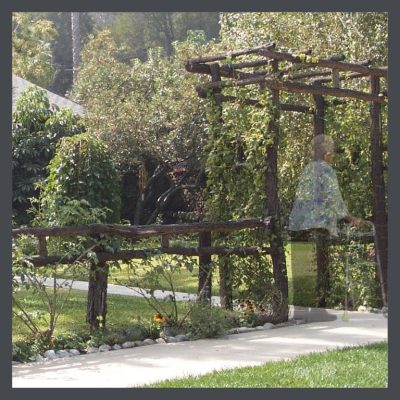 On page 190 is my very most favorite image of my house. See the little old lady standing under the arbor with her walker? It's the ghost of my dear mother. A couple days before the shoot, someone had decided to "trim" the honeysuckle growing on my willow arbor. I was devastated.
My 80-year-old mother had arrived for a visit from Northern California & gasped when she saw the massacred vines. Without even going in the house, she asked for plant ties & clippers. She stood outside, under the arbor, propped up by her walker, coaxing the tendrils up, up, up so that they finally covered most of it. She's gone now, but the image of her there, standing determined, has never left my heart.
And more resources.
CHAPTER NINE: FINAL CONFUSION
Jane gives the last word in BUNGALOW DETAILS: Exterior, to Ernest Freese whose merry bit of prose, A Bungle Ode, was published in The Architect and Engineer of California in 1918. A nonsensical composition, poking fun at all things bungalow, Jane explains that including it doesn't mean that she's not serious about bungalows.
It just means that Jane is not serious.
READ ALL JANE'S BOOKS ABOUT BUNGALOWS!

BUNGALOW KITCHENS
Restoring the heart of the home.

BUNGALOW BATHROOMS
Everything you need to know to restore or create a beautiful & functional bungalow bathroom.

BUNGALOW DETAILS: INTERIOR
Your inspiration for a beautiful home.

BUNGALOW: THE ULTIMATE ARTS & CRAFTS HOME
All things bungalow.
& last but not least

LINOLEUM
It's not vinyl!
ConnectSTAY IN THE BUNGALOW KNOW!!!
Sign up for our newsletter & receive our FREE E-book, 7 VITAL Things to Do Before You Hire a Contractor.