HOW TO DECORATE A BUNGALOW LIVING ROOM/DINING ROOM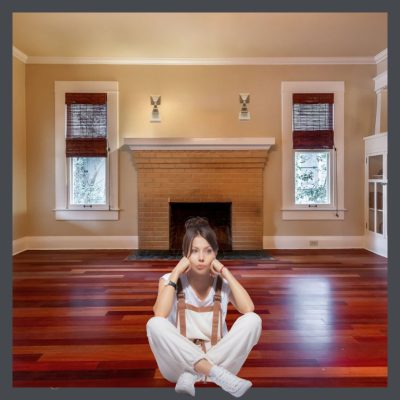 Here you are in your empty house. It echoes. It promises. It suggests. It perplexes.
In this article, I am going to wrap up all the points of how to decorate a bungalow living room & I will probably add a few, hopefully, wise words of advice too!
This article is written from my own needs as expressed in my responses to the questions in Part 1, as well as my own viewpoint, as expressed in the earlier articles. I am always seeking more knowledge & honor all points of view, so I invite your comments & suggestions. I do request that you honor my pixels.
I'm going to assume that you have read all of the articles in this series. They will form a good reference point as you navigate the panorama of infinite choices. Here's a review of what each part covers & they will be referenced going forward:
BUNGALOW DON'TS
A handy dandy list of design boo-boo's to avoid in any style of house with a special focus on bungalows.
DESIGNING YOUR BUNGALOW'S INTERIOR SPACES- an Introduction
The Craftsman Magazine was the arbiter of taste regarding this aesthetic. This post is primarily an article laying out the basic philosophy & design theory of the Craftsman movement, highly applicable when you are looking at how to decorate a bungalow living room.
DESIGNING YOUR BUNGALOW'S INTERIOR SPACES- Part 1
Determining your own needs & message. Looking into your our heart- an exercise. If you have not yet done it, please do so. The decisions that you make here will form pivotal roles going forward.
In this article I have included the wishes of my own heart, which again, will be referenced below.
DESIGNING YOUR BUNGALOW'S INTERIOR SPACES- Part 2
Interior design elements/building blocks: The use of space & lighting in creating beauty, harmony & functionality.
SPACES- Part 3
More pieces of basic design: Types of lines, using different shapes & forms, patterns, textures & color to create a space that you will love.
DESIGNING YOUR BUNGALOW'S INTERIOR SPACES- Parts 4 & 5
Using the principles of design- unity/integration, balance, rhythm, emphasis, scale & proportion, contrast & details to decorate a bungalow living room.
YOUR HANDY-DANDY CHECKLIST FOR HOW TO DECORATE A BUNGALOW LIVING ROOM
When you start doing the steps of furnishing & embellishing, please follow this order because each one builds on the previous ones. I am going to include the numbers of the previous posts so you can see what basic design rules I followed for each one. If you should hang-up on the execution of any one step, take a moment to consider if there are any previous ones that might take more considering or more action.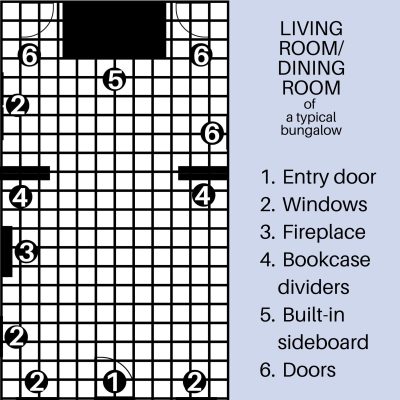 1. Create an overhead scale model of the room or rooms if your bungalow's dining room is joined to the living room. (Probably.)
You can do this on paper or electronically. (I am going to assume that you do not have a design program.) I like to use Canva, a free design program that allows me to do pretty much anything that I need to do. If you do not have a large computer screen, whether or not you have a design, program, I suggest gathering a large pad of grid paper, a ruler, a drafting pencil, an eraser & pair of scissors.
Sketch in the key architectural features of the room- the windows & doors, fireplace, built-ins, wainscoting, chair & plate rails. Here's my sketch of my 1925 bungalow in Tampa, as an example.
Number each type of fixed element, the existing architectural elements that  cannot be changed.You can use the same number for things that are duplicates of the same items.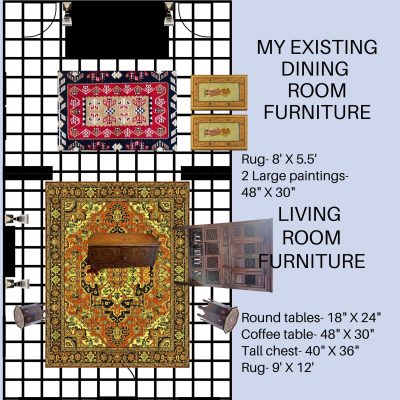 2. Take the measurements of each piece of furniture that will come with you. Include all dimensions & insert them to scale.You can do more than one rendition of this image, fooling around with different pieces. Some of the items that you will bring are not forever pieces. Spaces evolve as you decorate your bungalow.
When I left the Hare House, I sold many pieces with the house. They had been purchased specifically to make the Hare's feel welcome & comfortable should they ever decide to pay a call. (Fine, they were dead. I didn't care.) Other ones didn't fit my new plan which was to go more ethnic, so that's what came to Tampa with me, my multi-cultural mash-up of Chinese, Moroccan, & East Indian & my Turkish rugs.
The colors & hand craftsmanship of these cultures fit beautifully with A&C & had heavily influenced the Movement so they seemed right to me. (An Introduction.) I was ready for more color & fortunately, it all worked out in my 1925 bungalow which had a more casual feel than my 1910 Craftsman. (Parts 1 & 2 & 3– wishes & space & lines & color.)
I added them to the grid that I made. These are shown on the diagram, named by type of item. I had some problems to solve here, the main one being the shape of the 2 rooms. Even with the added bookcase dividers (Some bozo had removed the original ones.) it was just too long & thin. There was no division between the 2 spaces. (No open plan for me, thank you!) I used Part 3 for this, deciding on the spaces I wanted to delineate & then using the lines of the rugs to form those areas.
You can clearly see what you are missing by this point! I needed a couch & chairs, a table for under my dining room windows & really needed a dining table & chairs.
I stuck with the symmetrical lay-out of the rooms because A&C just seems to feel symmetrical. I was ready to change it should the new furniture demand it but it did not.
INVESTING IN NEW FURNITURE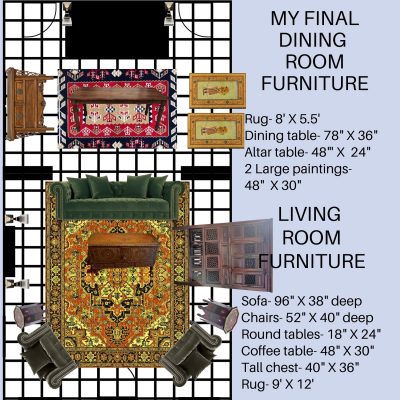 3. So here are the final, fully furnished rooms. It took me a long time to find the perfect couch & chairs because the room was so large & I am never in favor of using a large number of pieces. I needed comfortable ones that were appropriate in the scale of the room, to which I could add my bamboo folding chairs when I was expecting a houseful of people. (Part 1, wishes.)
I wanted to anchor the room with A&C inspired furniture, not true Craftsman because by 1925, when my house was built, Stickley's Craftsman style was out of fashion, & considered odd. He had declared bankruptcy in 1915 & his new wares looked more typical 20's than A&C. I decided to harken back instead of moving forward. The furniture of 1925 was more petite & not suitable in this space which one of my friends described as a bowling alley because someone had ripped out the built-ins. (I built them back.) And even with the dividers it was a lo-o-o-ong space!
The chairs & couch that I chose were large & geometric, using the principles of scale & proportion found in Part 4. They were right for the sizes of the rooms as well as the built-ins that I have designed to be rather chunky. They too served to visually shrink the length of the 2 rooms, with the couch providing a short wall between them.
The principle of unity, mentioned in the same article, was achieved through color & through theme. Even the new pieces like the dining table with its distressed finish, looked old.
SUMMARY
The reason that you are doing all these steps in learning how to decorate a bungalow living room is to accomplish what you learned about your needs & wants in Part 1. You are creating a home that will enhance your life, help you achieve your goals & give you a brighter outlook on daily life. There are few things that are more about you than your living space.
Let me know if you should need some help!
Check out my Pinterest page to see more living rooms.

STAY IN THE BUNGALOW KNOW!!!
Sign up for our newsletter & receive our FREE E-book, 7 VITAL Things to Do Before You Hire a Contractor.