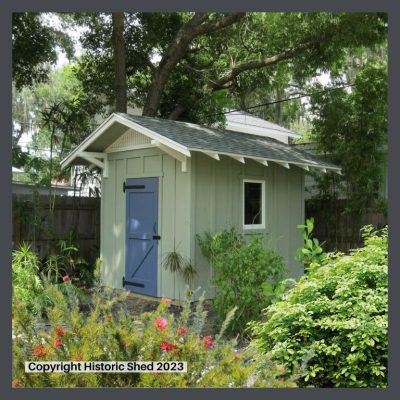 There are so many things to deal with when you have a historic bungalow, even after the primary renovations are done. So, it's quite forgivable if you are tempted to head off to the local shed supplier and stick a pre-made metal shed in the yard just to have a dry place for the lawnmower or the barbeque, or here in Florida, your hurricane shutters. Hm-m-m, I guess in colder climes, it can hold your storm shutters or your screens, depending on the season.  But pre-made sheds that don't match your bungalow can be an eyesore in an otherwise perfectly renovated or restored property, so don't be hasty in your purchase.
A properly designed shed that complements your historic bungalow can also enhance your property, both aesthetically & financially. A really cute one can amuse you & make up for the dollhouse that you never had. Nestled in your garden, it can be an elf house that doubles as a utility shed

Until I started a shed company with my husband, I can't say I spent much time thinking about sheds or their design. But while working on a large preservation project, the residents of the newly rehabbed houses started clamoring for sheds that were allowed within the historic district and it came to my attention that living within a historic district created some problems for anyone that wanted storage and didn't already have an outbuilding (I'd been lucky to have had a historic one-car garage that came with each of the 1920s homes I had owned at that point). Since most stock metal sheds weren't allowed by the local preservation review boards, residents had to hire a designer, get local preservation approval, then get a contractor to build the shed (including permits since they are required for most sheds here in Florida).  That lead us to starting a whole company dedicated to designing and building historically appropriate sheds and thus changed the direction of my life for a while (but that's a whole 'nother story that has mostly ended). 
Along the way I found that it was fairly easy to design a historically appropriate shed for historic homes if you follow a few straightforward design rules. I will attempt to lay them out here in an organized fashion.
START WITH THE SIZE OF YOUR HISTORIC BUNGALOW SHED
It seems obvious, but start with thinking about what you want to put in the shed. What are the big items? How much room do you need to maneuver around them? Where can shelves go? Would it be worth having loft storage for items like holiday decorations that you only need to get out once a year rather than making the shed larger?
Think about things you don't have now, but might put in the shed someday. We had a customer who bought a 16′ kayak after we built her a 14′ long shed – she ended up having to store it outside along the back wall.
Think about possible future uses. Would you want to finish out your shed for a home office or pool house at a later date? Or even turn it into a guest house?
Bigger can be better, but if you build it, you will fill it. And the bigger you go, the more it costs, so you want to be sure you right size it.
LOOK AT YOUR YARD
How much room do you have for the shed? And how much room will be left after you build it? Then think about whether your shed would interfere with future yard plans like the pool or deck you've been dreaming about. Next check your local zoning codes to see what any required side and rear yard setbacks would be. Many places will not allow you to place the shed right on your property line, so you may have less space than you think you have. We've installed sheds in places where they required as much as 10′ setback from the rear property line!
Next, consider how the shed placement can help your yard layout. Are there desirable views you don't want to block? Or are there undesirable things your shed can hide if you place it right? How will you landscape around it?  Does the area where you'd like to place it flood or have standing water after it rains? Are there trees in the way (don't forget to look up at branches as well as the base)? And are there utility wires in the way, above or below ground?

LOOK AT THE ROOF OF YOUR HISTORIC BUNGALOW
Since most sheds are just boxes with a roof, I find duplicating the roof details to be the easiest way to make the shed complement the main house. Start with the roof shape. Is it a gable, hipped, jerkinhead or some other shape? Or if your house has a combination of roof shapes, such as a hipped main roof with a gable porch, decide what you find most prominent from the side facing where the shed will be built (often the rear).
The next part of the roof to match is the roof slope. A shallow roofed shed won't look good next to a Folk Victorian with a steeply pitched roof, even if it is the same roof shape. You don't have to match it precisely, but there are phone apps that will help you determine your house's roof pitch to get you in ballpark.
Then study the eave details. Does the house have wide overhanging eaves or narrow? Are there exposed rafters or boxed soffits? Do the tails have a specific design? These are all elements you may want to consider in your new shed.
And lastly, are there brackets or outriggers or other details you'd like to include in the shed design? And if there are roof vents, what shape are they? As sheds aren't generally climate controlled, this is an important design and functional feature, so you might as well make it look right.
NOW LOOK AT THE OTHER FEATURES OF YOUR HISTORIC BUNGALOW
What material is on the exterior walls of the house? If it's siding, what is the profile and exposure? If its stucco, is it smooth or textured? If you can't match the main house exterior due to costs or availability, are there materials that are complementary? For example, will lap siding look good next to your brick house (the answer is usually yes)?
Similarly, plan to match the roofing material of the main house as closely as possible on the shed. Or, if you will be replacing the main house roof soon, choose the future roof so you don't have to change out the shed at the same time.
Then look at the other details on the house such as windows, doors, and trim. Choose windows of similar design and proportions as the main house, although you can choose a simpler sash pattern if you'd like (for example, 1/1 windows rather than 6/1) since the accessory building can be subordinate in design as well as size to the main house. Just as important, look at the exterior trim on the windows and door and plan to match them in the shed.
Finally, choose paint colors for the shed that are either the same as the house or a complementary pallet. Or, go crazy and use it to try out a color schemes that you are considering for the main house.
NOW ENJOY YOUR LOVELY SHED!
Just kidding. You still have to build it. Of course, designing the perfect shed for your bungalow is only step one in the process, but hopefully these tips will help you feel confident that your new shed will indeed be designed to be a perfect companion to your old house. If I get ambitious, I will write up some tips on building the shed so it will last as long as your historic home as well.
In the meantime, you can peruse some designs for bungalow sheds in the Historic Shed Collection – Liberty House Plans or you can get a custom design done at http://historicshed.com.
TIP: Read the post about a shed that we built for Suzanne HERE!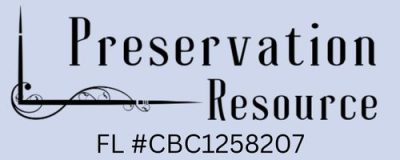 This article was written by Jo-Anne Peck of Preservation Resource, Inc. & Historic Shed. Jo-Anne is a historic preservation professional with a degree in Building Science, a Master's of Fine Arts in Historic Preservation & a licensed Florida Building Contractor with over 25 years experience in preservation. She has kindly provided these photos & this information based on her vast knowledge of bungalows.
STAY IN THE BUNGALOW KNOW!!!
Sign up for our newsletter & receive our FREE E-book, 7 VITAL Things to Do Before You Hire a Contractor.