by Janet Lea Haddock CID #4333
Instructional Specialist of Interior Design
Anne Arundel Community College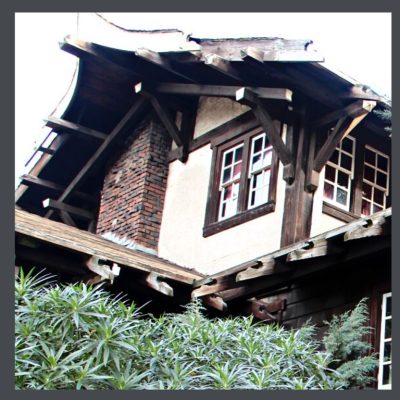 These two words are tossed around today by Realtors, consumers, builders & designers. We say them… "I love arts and crafts furniture", we ask for them… "I want to buy an Arts & Crafts bungalow", but are those two words understood? Do those requests come from a place of knowledge or from a think tank somewhere deciding that Arts & Crafts i.e., Craftsman was going to be a new historic-based trend to sell merchandise and home design. Is the term "Arts & Crafts" a style, a movement, or something else?
To be a loyalist to this movement when browsing the aisles of big box stores can be challenging. The undisciplined explosion of furnishings for the home was born from the industrial revolution. It brought garish results with a lack of proportion & overly embellished decorative details. Mass production was now possible so furniture, carpet & drapery, formerly only affordable to the wealthy, was now within reach of the common man.
THE ARTS & CRAFTS MOVEMENT THAT BIRTHED THE BUNGALOW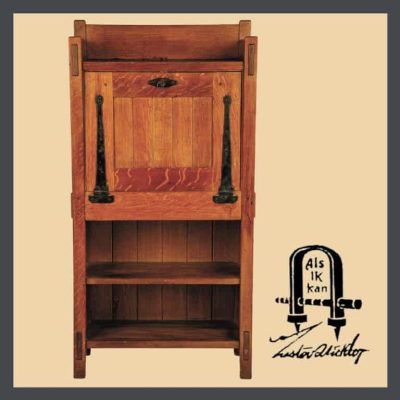 Today we celebrate those individuals who said, "no thank you" & gave birth to the Arts & Crafts movement. It was really a restoration, a return to "master craftsmanship" in furniture construction which led to home construction & design. It was a rejection to theatrical excessiveness. The mission was "truth to materials." It embraced exposed joinery, natural finishes, simple lines while combining materials like metal & wood. Appreciating the beauty of those materials in a far simpler format that could be affordable to the masses was the intent. The term "mission furniture" is about the mission of truth to materials, but often mistaken for furnishings used in religious facilities known as missions, especially prevalent in California. Now how does this tie into "the Bungalow"?
AMERICAN BUNGALOW STYLE (1905-1930)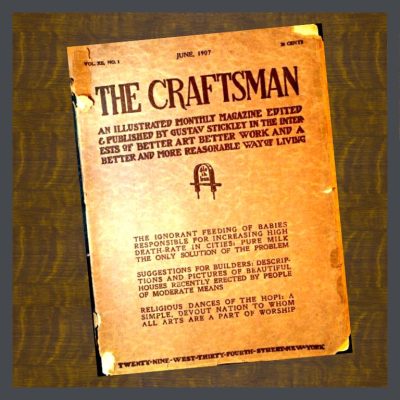 Characteristics. Simple design, sparse decoration, and natural materials—these were the essential components of the Bungalow style.
Materials. The materials used for the bungalow's exterior usually suggested warmth & informality. …
That description is taken directly from the Wentworth Studio, a firm of architects and builders, specializing in restoring historic properties.
The concept of bungalows started with structures that were created in India for a British officer's home (1890). They were not necessarily small houses in the beginning (circa. 1890), but grew (or shrank) to be a one-story home, typically a smaller square footage with deep overhangs. The late 1800s & the turn of the century, having no significant HVAC & limited use of electricity, used the overhangs in the roofing as a means of interior comfort management for seasonal weather. Meanwhile Sears Roebuck & Co. had begun to send catalogs directly to consumers. Home plans for bungalows appeared in 1908 for the first time…
RENOVATING YOUR BUNGALOW- CHOOSE AUTHENTIC ARTS & CRAFTS FINISHES
So what are we learning from this information? When renovating a bungalow…seek out authentic sources for the finish details like hardware, tile, light fixtures, etc. Truth to materials means to appreciate & use the materials as they were meant to be seen. Walls were painted, woodwork was stained. Brick was chosen for its color, not colorized once in place. The deep overhangs limited sunlight from entering the rooms so warm colors were painted on the walls. Wood darkens over time as it ages. When we see an Arts & Crafts bungalow today, perhaps the dark wood originally wasn't as dark…light colored simple drapery hung at the windows. Built-ins provided an efficient use of space with glass doors, often leaded glass, giving both storage & beauty.
Gustav Stickley is celebrated & attached to this movement & justifiably so, but he isn't the only Craftsman tied into the Arts & Crafts movement. History includes the Aesthetic movement within it bringing William Morris, Charles Rennie Mackintosh, Greene & Greene architects & early Frank Lloyd Wright in the credits. Art Nouveau, French based was happening simultaneously & its influence is apparent in many bungalows. All bungalows are not of a singular style because of those influences. They also embraced Victorian & Spanish influences, especially in the West & Southwest where weather conditions were friendly to stucco exteriors & large expanses of glass. The common threads are the physical size, predominantly single-story living, front porches where people enjoyed socializing with passersby & the charm they exhude. Dining rooms were large, living rooms & bedrooms…not so large. Closets…well, let's not go there.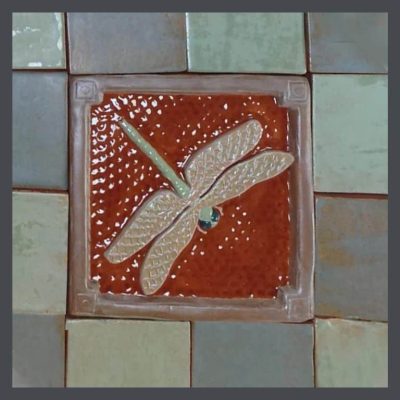 As we walk down the aisles of Home Depot, Lowes or Menards…wherever your shopping options are as you repair & improve your bungalow, a person can find stock tile that can be laid in patterns to complement that era. Perhaps a splurge of 3-5 pieces of vintage tile to complete an authentic visual could be in the budget. Linoleum, which you can read about here, is authentic to this era & is considered one of the earliest sustainable material finishes for flooring. Choose your pattern carefully.
Resist the urge to paint the woodwork, but should it be your only option (or sometimes the best option) study the charts in your local paint supplier & read my articles about era appropriate colors. Patience in making the right choice is a virtue & celebrated by your fellow Arts & Crafts lovers. Avoid synthetic materials. They did not exist during this time. One can still have modern convenience without man made finishes. Insert your personal style through your accessories & art as furnishings are easily removable & do not compromise the space.
The bungalow was a great option for the young family in its day. It provided all the basic necessities a growing family needed in an atmosphere of charm & quality craftsmanship. As technology soars at the speed of light, maybe this is our way of pulling back & slowing down a bit…we want to sit on our porches & talk to our neighbors again…for some, it may be their first time.
TIP: FOR SOME GREAT A&C RESOURCES, VISIT OUR PAGE ON ARCHITECTURAL SALVAGE HERE.
STAY IN THE BUNGALOW KNOW!!!
Sign up for our newsletter & receive our FREE E-book, 7 VITAL Things to Do Before You Hire a Contractor.