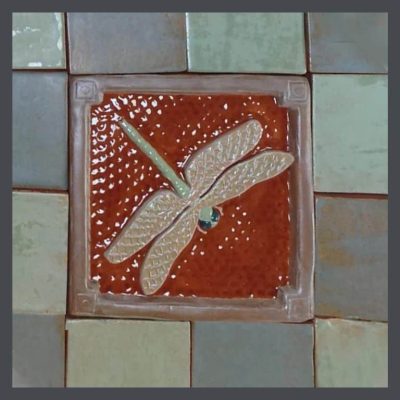 I love handmade bungalow tiles- Batchelder, Malibu, Catalina. But I don't discriminate. I love tiles from all over the world. I adore the vivid colors of Mexican tile, Cuban tile, Moroccan tile, painted tile, relief tile- little pieces of art. It is a medium, first used in Ancient Egypt over 2,000 years ago that still enchants. But I especially love subtile tiles created during the era our bunaglows were built.
Arts & Crafts tile clearly reflects the philosophy & the beauty of the Movement. Using materials from the earth, adorned with forest animals, plants & trees & bugs (yes, lots of bugs) tiles compliment the other "honest" materials found in the bungalow- the wood, the brick, the linen.
Jane Powell, bungalow author extraordinaire quips that the original Movement lasted only a short time as compared to the longevity of the modern revival & one of the best examples of this is the work of today's Arts & Crafts tile artists. Below are the words of one of the most talented.
FROM A MAKER OF HANDMADE BUNGALOW TILES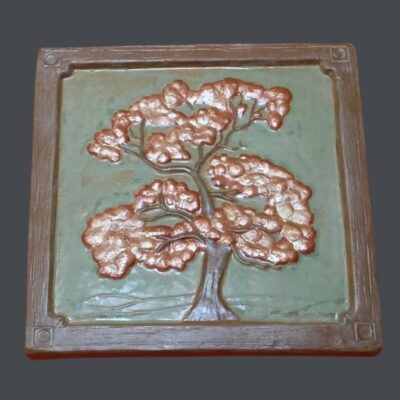 "I'm Fay Jones Day, a grandmother, a gardener and a reader. I make handmade, relief, accent tiles for Craftsman Bungalows and other home styles in my rural Oregon studio, inspired by the towering pines and oaks and the wildlife around me.Usually people use my tile on fireplaces & kitchen backsplashes. My clients are mostly proud homeowners. They tell me all about their old house they just bought, or sometimes it's a new construction in the Craftsman style.  They want to restore (or build) their Bungalow with the period correct tile.Maybe they saw some pictures of my tile, on Pinterest, Houzz or Facebook, and they finally found me where I actually sell my tile, which is on Etsy.As it turns out, I might just not be the big tile company that they were expecting. Instead, I'm an elderly, self-taught, (on the autism spectrum) woman making tiles by hand alone in my studio. I don't have a show room, employees, machines, an art degree (or a business plan.)What they have found really, is a nature girl who loves to get her hands dirty.I have been making art tile for about 22 years. I have lots of very happy people who love the tiles that I have made them. I ship tiles all over the country.
I started making tile a bit late in life. I took a circuitous route. The year I became a grandmother (I was 37), I bought some clay and started making figurative sculpture. I did that obsessively for some years. (People called me the Goddess sculpture lady.)  Only, I discovered what I loved was surface decoration.
Eventually I bought a house and made tile for the kitchen. I didn't know anything about making tile, but I figured that if I could make sculpture, then I could make tile.  I loved it, and was completely hooked.
My daughter asked me to make tile for her Craftsman Bungalow. I made hers slightly heavier. Then a buyer introduced me to American Bungalow Magazine. I found my niche! I make tile with nature themes, primarily leaves, and pollinators, and also coordinating WELCOME tiles.  I use mostly muted Craftsman glazes, but I also use more vibrant colors to suit different needs.  I love to try different designs, so I make lots of various shapes and sizes, textures and colors for all different types of spaces.
Best of luck to all of you Bungalow people. Enjoy your restorations. Have fun with your house and make it 'your own.'"
You can see more Fay, framed, at Family Woodworks, LLC, & with soft music on YouTube.
TIP: READ MORE ABOUT THE ARTS & CRAFTS MOVEMENT HERE.
STAY IN THE BUNGALOW KNOW!!!
Sign up for our newsletter & receive our FREE E-book, 7 VITAL Things to Do Before You Hire a Contractor.