MANUFACTURING & CONSTRUCTION BEFORE ELECTRICITY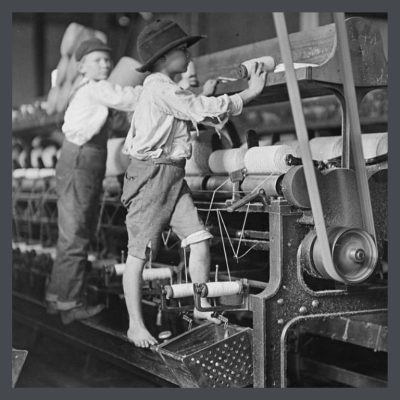 This is some background on the machines that Eric is rescuing, making construction prior to electricity possible. The majority, if not all of his articles refer to what is covered here, so please read it so that you can understanding the following tales of daring-do.
Our bungalows are products of this old technology. All the wood in our framing, our siding, our shingles, built-ins, our wainscoting was milled by these machines. They are a major part of our homes' histories.
THE INDUSTRIAL REVOLUTION
The Arts & Crafts Movement of the 19th Century was born as a reaction to the more mechanized world of the Industrial Revolution. This revolution increased production capacity by 1,000 fold in every industry. Instead of the artisan's handcrafting of a beautiful chair, a factory churned out hundreds of chairs & fitted them with fancy gee-gaws. This had a major impact on people's daily lives. Instead of working in a craft studio, or on the family farm, people swarmed to the cities where they went to work in a factory tending huge, whirring machines & earned the where-with-all to purchase these items- at least some of them did. Thanks to Charles Dickens we know that many remained ill-fed, un-housed & impoverished, orphaned & barefoot while some thrived, amassing great fortunes.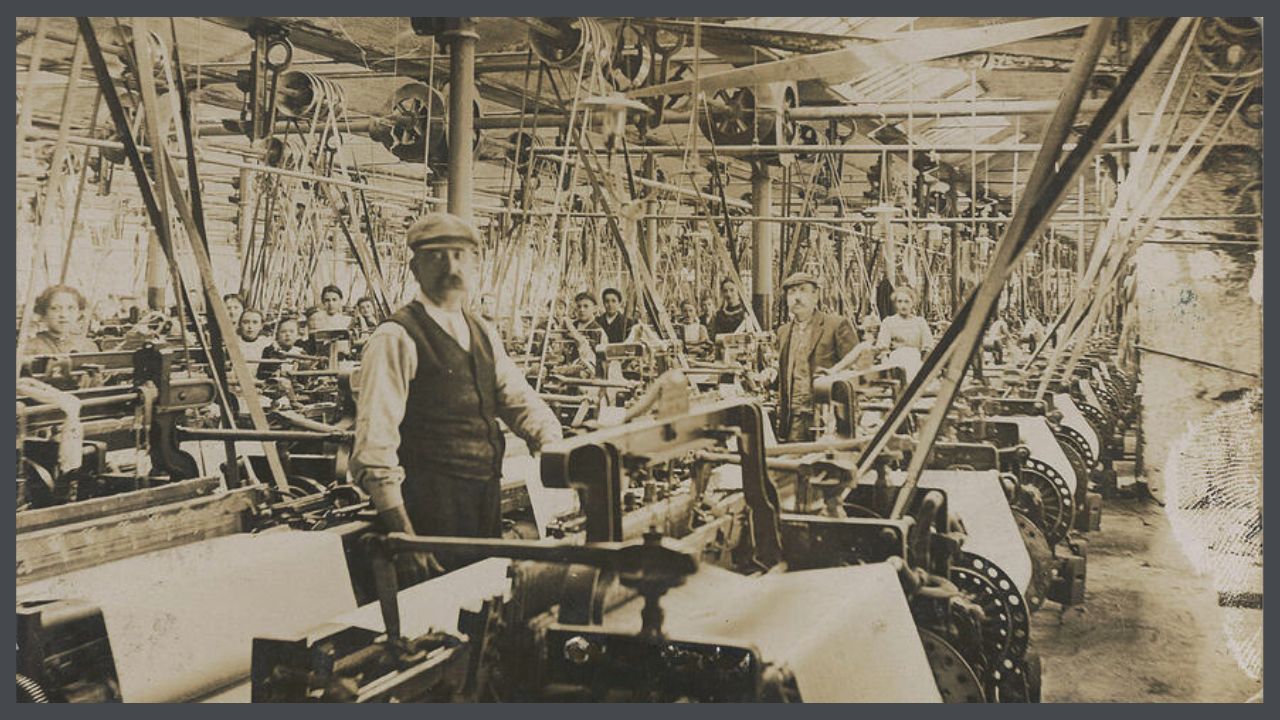 The grandfather of the Arts & Crafts Movement, John Ruskin had much to say on the matter. His statement, "Every increased possession loads us with a new weariness," eloquently summarized the philosophy of the Movement.
(Looking at these images of children slaving to help feed their families makes me very weary. Oh, yeah. If they had families)
THE ENERGY THAT SUPPORTED CONSTRUCTION PRIOR TO ELECTRICITY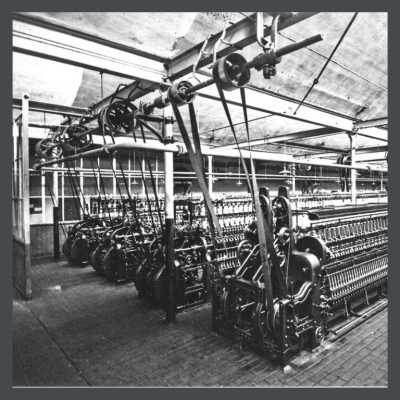 The key driver of the Industrial Revolution was the harnessing of energy. With this ability to control power, our old growth forests could be razed & milled. The logs could be turned into lumber for homes, furniture & indeed, into the factory buildings that held the mills, some of these being thousands of square feet in size.
However, even prior to the coal powered steam engine was the invention of the line shaft which allowed many machines to be operated from one energy source, be it steam, water, wind or even animal.
HOW THEY DID IT
A line shaft is a power-driven rotating shaft for power transmission that distributed power from a large central power source to individual pieces of machinery throughout a workshop or an industrial complex. The central power source could be a water wheel, windmill, animal power or a steam engine. Originally, most had probably been powered by steam but in later years they were powered by a huge electric motor. In many cases, the individual machines were still set up for and connected to the line shaft system, so rather than replacing the machines, they just updated the power supplier.
These machines were an OSHA nightmare. Loud and dangerous with no safety features, they exemplified Industrial Age technology during which time thousands of people left their farms & surged into cities to work in the factories & loose fingers, limbs & lives to these behemoths.
These machines factored largely in the building of our bungalows. I do not believe that construction prior to electricity would have existed on any scale without the use of line shaft.
LINE SHAFT CONSTRUCTION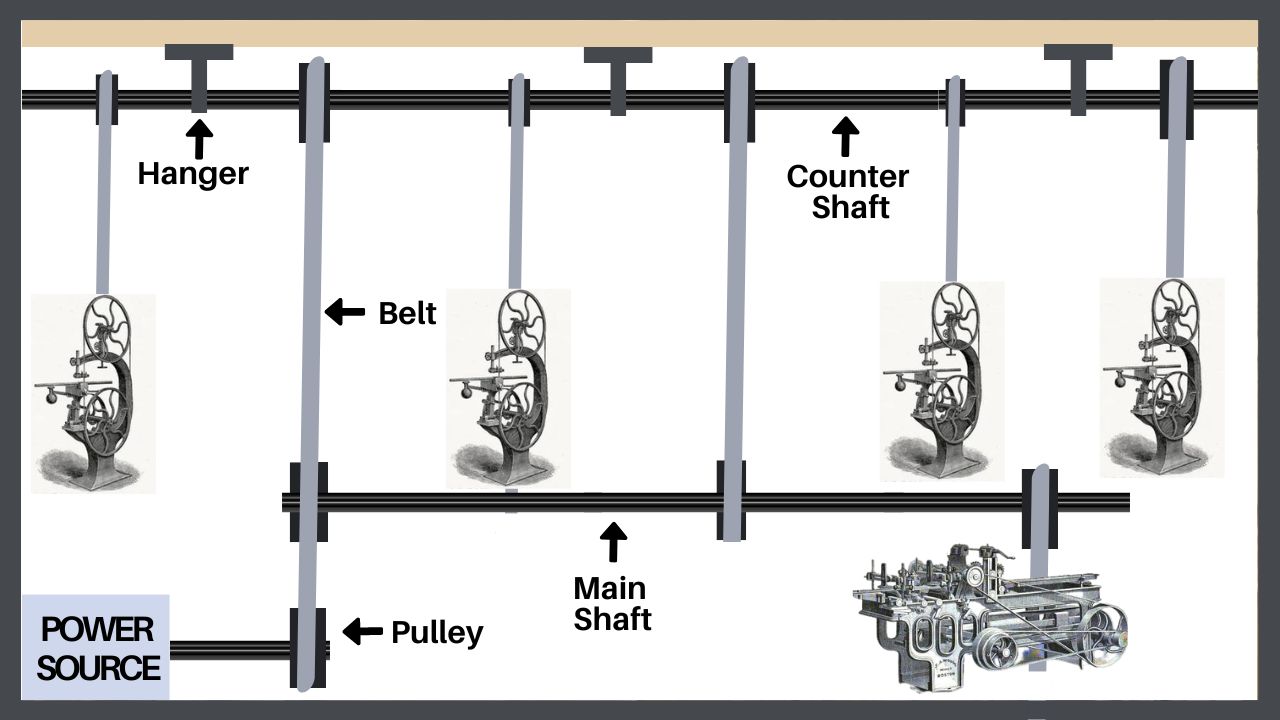 Here's how it was constructed:
On the floor, or on the ceiling, was the power source, attached to the main shaft which it propelled by a belt attached to a pulley.
Hanging from the wood ceiling beams was the counter (or intermediate) shaft , a long, thick heavy, (often hundreds of pounds) metal rod. This shaft was attached to the high ceiling beams by heavy metal hangers.
Attached to this counter shaft were round metal pulleys, ranging in size from around 6″ in diameter to 36." Long belts made of leather or fabric (usually leather) ran across these pulleys, to pulleys on the individual machines giving each  individual machine its power.  This was all suspended over a great expanse, as high as 15 feet it the air, which Eric & his merry band would access by standing on ladders.
Here's a video of one operating, though the size of it is much smaller than the line shafts rescued by Eric.
When you next admire the beautiful features of your house, consider the part that line shafts played. Observe a moment of silence in honor of those who toiled for so little in this cacophony, lost limbs & lives to create the materials that make your house so beautiful.
And then trot on over to Eric's stories of rescuing antique woodworking machines!
READ ALL THE STORIES ABOUT ERIC'S ADVENTURES IN COLLECTING ANTIQUE MACHINES!

ERIC LAVELLE, MASTER HISTORIC PRESERVATIONIST, Part 1
Giving old buildings new life.

ERIC LAVELLE, MASTER HISTORIC PRESERVATIONIST, Part 2
Learning about the old machines.

ERIC LAVELLE, MASTER HISTORIC PRESERVATIONIST, Part 3
More lessons, learned the hard way!

ERIC LAVELLE, MASTER HISTORIC PRESERVATIONIST, Part 4
The first trip to the old Lapp mill, built in 1892.

ERIC LAVELLE, MASTER HISTORIC PRESERVATIONIST, Part 5
Playing "Be Right or Die." It's a fun game.

ERIC LAVELLE, MASTER PRESERVATIONIST, Part 6
Are they lunatics, or are they heroes?

ERIC LAVELLE, MASTER HISTORIC PRESERVATIONIST EXTRAORDINAIRE
How does he do it?

OLD HOUSE RESTORATION VIDEOS- Eric Lavelle's Antique Wood-Working Machines
Watch the old machines in action. They are loud!!!!

STAY IN THE BUNGALOW KNOW!!!
Sign up for our newsletter & receive our FREE E-book, 7 VITAL Things to Do Before You Hire a Contractor.