PLAYING "BE RIGHT OR DIE"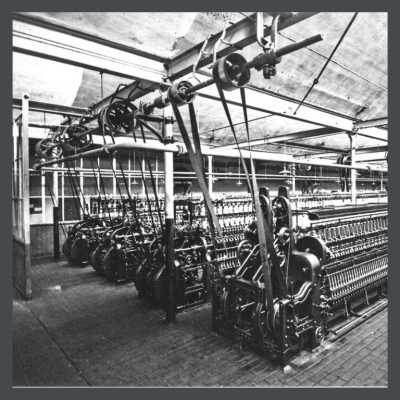 To understand the challenges of removing the machines mentioned in this article, you need to read about line shafts. They are monster pieces of equipment that back in the day, cost people their fingers, their hearing & probably some lives.
Because of the rickety mill floors & the expense of power equipment, like forklifts, to remove these machines, they were moved with a combination of wits, skill, passion & luck, through the use of artfully placed hand equipment. You can read about this equipment in the article here.
If you are not shocked & amazed by what you see, read it again. There's something that you didn't get!
ERIC SPEAKS
I would make a second trip to buy one of the line shaft motors, a 15HP low RPM Westinghouse, from sometime around 1910. I looked at the enormous line shaft, one section 2 7/16″ shaft diameter 20ft long, and the other one 33ft long, and said "I'm glad I don't have to take that down." Of course I ended up having to take it down!
It took me over a year to decide to buy the heavy molder, blower, lineshaft drive motors, and all of the lineshaft from Lapp Mill. It was a great deal, but it was at my budget limit, and it was a logistical nightmare. It was 800 miles away from my shop.
In November 2010, I went ahead and made the decision to purchase the stuff at Lapp Mill. At the same time, Jim made his purchases, and we decided to go together. I sweet talked Dan into agreeing to haul the heavy molder to Indiana for me at about that time as well. Since we've all had a great deal of trouble with winter hauls, we decided to wait until spring for the pickup.
BRINGING DOWN THE 33 FOOT LINE SHAFT
Jim, Bill, and I arrived at Lapp Mill on the morning of Thursday, May 12th. Jim and I had figured out a way to bring down the line shaft with 3 chain hoists and some short lengths of 1/4″ welded link chain. It was rated so that any single chain could support 1200lbs just in case a whole line shaft ended up hanging from one chain. I told Jim, "We're about to play Be Right or Die, and we'd better be right."
LOWERING THE WHOLE LINE SHAFT FROM THE CEILING
The line shafts and counter shafts had a total of something like 29 pulleys ranging from over 8″ in diameter to perhaps 30." We used one chain hoist at each line shaft hanger, looping a 3′ section of chain through the base of the hanger, and another 3′ section of chain around the shafting itself. This kept the shaft from dropping on one end or another. We put upward pressure on the shaft with the hoists, and unbolted the ends of the hangers. We then lowered the shaft out of the hangers and onto saw horses so we could remove the pulleys. Bill took the pulleys off and labeled each one. It took 3 of us to carry a 20ft long piece of the shaft to the trailer. The steel shaft alone weighed 320lbs.
It was late in the day, Jim and I were tired, and this last counter shaft had hangers that didn't have tops that could be removed to lower the shaft. The whole thing had to be unbolted from the ceiling, and lowered hangers and all. The only thing we could use as a lift point (the place where I attached the pulley or hoist to lift or lower something.) In that case, we hung the pulley from a small loop of chain around the 1″ electrical conduit.
First, the line we tied to it was too slack, which would cause it to free fall about 8″ before the line supported it. We left one end of it on the top of that door and Jim unbolted that end first. He began unbolting the other end while on the ladder in front of it. I thought that looked dangerous, and I asked him to unbolt it with his ladder past the end, just in case. I wrapped the end of the support rope around my left wrist on the outside of my glove.
I NEED SOME HELP HERE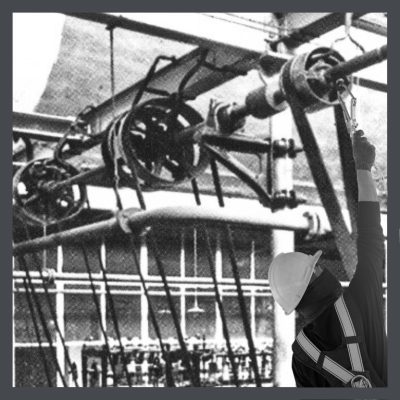 As soon as Jim took the last bolt out of the hanger, the counter shaft dropped on his end, the hanger slid off, forcing him to catch it while on the ladder. Seconds later, the other end rolled off the top of that door, that end dropped, spit the hanger off onto the floor, and pulled my left hand into the air, leaving me half hanging there like some kind of giant, dirt coated Christmas ornament. I couldn't reach the counter shaft with my left hand to lift it and release my right hand, so I said "Uhh…Jim, I need some help here…" as he came down the ladder with the hanger in his hands while being blinded by the halogen lamp shining in his face. When he got down, he pulled down on the rope and released me.
Just another day collecting antique machinery.
READ ALL THE STORIES ABOUT ERIC'S ADVENTURES IN COLLECTING ANTIQUE MACHINES!

ERIC LAVELLE, MASTER PRESERVATIONIST, Part 1
Rescuing old houses.

ERIC LAVELLE, MASTER HISTORIC PRESERVATIONIST, Part 2
Learning about the old machines.

ERIC LAVELLE, MASTER HISTORIC PRESERVATIONIST, Part 3
More lessons, learned the hard way!

ERIC LAVELLE, MASTER HISTORIC PRESERVATIONIST, Part 4
The first trip to the old Lapp mill, built in 1892.

ERIC LAVELLE, MASTER PRESERVATIONIST, Part 6
Are they lunatics, or are they heroes?

ERIC LAVELLE'S OLD HOUSE MACHINES GLOSSARY
I was clueless about these antique machines he uses & thought that you might be too!

ERIC LAVELLE, Introduction to the Machines
Manufacturing before the Age of Electricity.

ERIC LAVELLE, MASTER HISTORIC PRESERVATIONIST
How does he do it?

OLD HOUSE RESTORATION VIDEOS- Eric Lavelle's Antique Wood-Working Machines
Watch the old machines in action. They are loud!!!!

This article was written by Eric LaVelle, a master restorer of historic houses. He makes the woodwork with a shop full of antique machinery in Belleville, Illinoise. Visit him on Facebook here.
TIP: Eric's hair-raising tales express his passion for the antique machinery he rescues from old mills. You can start here!

STAY IN THE BUNGALOW KNOW!!!
Sign up for our newsletter & receive our FREE E-book, 7 VITAL Things to Do Before You Hire a Contractor.