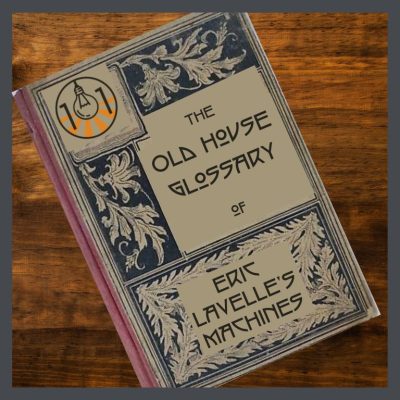 Master restorer, Eric LaVelle writes delightful articles about his work, which includes rehabilitating old buildings & rescuing antique machinery that he uses in his rehab work. He has graciously allowed me to include his stories in my blog. They include technical terms many of you (that includes my own self!) don't understand, so I am including a GLOSSARY here for you so that you can most easily follow the bouncing ball.
I am going to put it in alpha order because I am guessing that you'll find these terms repeated in more than 1 post.
Each article also has links to videos about the machines that are discussed. I have tried to find videos that show the old machines & the tasks each on is able to perform.
Should I have missed any words, drop me a line & I will include them.
ERIC'S ANTIQUE MACHINES GLOSSARY
Axle/shaft
Some of the old books also refer to them as journals.
A rod or spindle (either fixed or rotating) which goes through the center of a wheel or a group of wheels. Every rotating shaft must be supported by bearings. Axles are used in machines & also in vehicles.
Babbitt bearings
A bearing is a device that supports, guides, & reduces the friction of motion between fixed & moving machine parts.
Babbitt bearings are made of certain types of alloys, which are melted down & cast to produce the bearing surface.
Band saw
A power saw that uses a long blade loop, like a ribbon, stretched between two wheels. The blade continually rotates along with the wheels. Take a look at the video to see what it can do.
Beds
Usually used in reference to molders, jointers & planers. They are the flat, usually cast iron areas that the wood slides over while being molded, planed or jointed
Box joint machine
Cuts the corner joints for wooden boxes.
Chain hoist
A lifting device that can lift large amounts of weight by simply pulling on a chain.
Circular resaw
A machine that makes two thinner boards from one thicker board using a circular blade.
Door clamp
A large clamping machine that pulls door components together tightly, keeping them straight and square.
Drum sander
A machine that uses a cylinder (drum) wrapped with sandpaper to give a very smooth surface while maintaining a constant thickness.
Heads
Rotating pieces that hold the blades on planers, jointers, molders, tenoners, & others.
Jointer
A machine that cuts away the surface of a board to make perfectly flat, or the edge of a board to make it perfectly straight.
Knife switch
Used commonly in the past, a knife switch is used to control the flow of electricity in a circuit.
Line shaft
A long rotating shaft that connects to multiple machines, usually via flat belts, powering multiple machines with a single source of power.
Louver groover, also called a blind stile mortiser
Cuts the slots in the stiles, which are the side piece of the frames of a shutter to accept the wooden slats.
Lumber
Harvested wood, whether cut into logs, or wood cut to use in construction.
Matcher
A machine that cuts both edges of a board at once to give either smooth edges, a shiplap pattern, or tongue and groove pattern. A planer matcher does both at once.
Mill
A shortened version of "planing mill", where they took rough sawmill lumber and turned it into either smooth dimensional lumber (lumber that is cut to standard widths and depths, but never specific lengths. Typical dimensional lumber is 2x4s, 2x6s, and 4x4s) or other finished products.
Millwork
Millwork is historically any wood mill produced decorative (rather than structural) materials used in building construction. It is often is in a deteriorated condition from the elements & must be repaired, recreated.
Miter
A joint made by placing 2 pieces of wood together at a 90 degree angle.
Miter trimmer
Shaves the end of a mitered board with a blade similar to a guillotine in order to make a perfect fit.
Mortiser or morticer
A woodworking machine used to cut square or rectangular holes in a piece of lumber.
Outriggers
Supports that extend out beyond a machine so it can't tip over as easily.
Phase wires
The phase wires are the hot wires used in an electrical power system.
Phase converters
The majority of phase converters are used to produce three-phase electric power from a single-phase source, thus allowing the operation of three-phase equipment at a site that only has single-phase electrical service.
Three-phase electric motor
A three-phase electric motor contains four wires (three hot wires and one neutral wire) and uses three alternating currents of the same frequency.
ERIC LAVELLE, MASTER PRESERVATIONIST, Part 6
Are they lunatics, or are they heroes?
READ ALL THE STORIES ABOUT ERIC'S ADVENTURES IN COLLECTING ANTIQUE MACHINES!

ERIC LAVELLE, MASTER HISTORIC PRESERVATIONIST, Part 1
Giving old buildings new life.

ERIC LAVELLE, MASTER HISTORIC PRESERVATIONIST, Part 2
Learning about the old machines.

ERIC LAVELLE, MASTER HISTORIC PRESERVATIONIST, Part 3
More lessons, learned the hard way!

ERIC LAVELLE, MASTER HISTORIC PRESERVATIONIST, Part 4
The first trip to the old Lapp mill, built in 1892.

ERIC LAVELLE, MASTER HISTORIC PRESERVATIONIST, Part 5
Playing "Be Right or Die." It's a fun game.

ERIC LAVELLE, MASTER PRESERVATIONIST, Part 6
Are they lunatics, or are they heroes?

ERIC LAVELLE, Introduction to the Machines
Manufacturing before the Age of Electricity.

ERIC LAVELLE, MASTER HISTORIC PRESERVATIONIST
How does he do it?

OLD HOUSE RESTORATION VIDEOS- Eric Lavelle's Antique Wood-Working Machines
Watch the old machines in action. They are loud!!!!
STAY IN THE BUNGALOW KNOW!!!
Sign up for our newsletter & receive our FREE E-book, 7 VITAL Things to Do Before You Hire a Contractor.