LUNATICS OR HEROES?
This is another thrilling episode of Eric LaVelle's gallant rescues of old woodworking machines from crumbling buildings.
The links take you to a GLOSSARY or to a page of videos of the old machines in action. Take advantage!
HERE'S ERIC!
It was nearly time to leave the Old Lapp Mill, and I wanted to see the sawdust pit/basement, which Priscilla called the "Alligator pit".
When her children were young, her husband told them there were alligators down there, and he'd put them down there if they didn't behave.
In a corner with the least amount of piled up sawdust, I saw a corner sink. I decided to dig and see if there was another one. With a couple scoops, I uncovered yet another sink, this one white marble with a porcelain bowl, and a marble backsplash for it.
[Sawdust is not just highly flammable but can actually explode into flames. After 45 years as a Safety Officer for a wood flooring company, the sight of all this sawdust made my hair stand on end. I have seen someone with terrible scars all over their body from just a small amount of sawdust exploding in a sander bag. The Lapp Mill burned once in the late 1800's. I guess that they forgot.]
MOVING A 5000LB MACHINE
Finally, we had to move the heavy Colladay sticker/molder 11 1/2′ long, 4 1/2′ wide weighing 4000-5000lbs (we think). I named it The Lapp Ness Monster. I think that story was best told by one of the others there, Rick Bruner:
"Now being the inexperienced guy I am, I looked at the molder and thought too bad they can't get this out of here. Then I realized that was what they were planning on doing. I took a look at the 60 to 70 feet they had to move this through the mill (and not a straight run at that), I looked at the rickety floor boards of which none were tight or level, I looked at the slight but inclined path they had to follow and said to myself – get in your truck and get out of town before the rubber room custodians come and take these guys back.
"You see, in my mind, they were either raving lunatics or super heroes and at that point I was strongly leading towards lunatics.
"Eric rolls in a little floor jack (I'm thinking what does he imagine he is going to do with that). Well he jacks up the molder and out come a dozen or so 12″ pieces of 1″ pipe and guys are scurrying around placing the pipe under the skids previously bolted to the molder. I again resist the tendency to get out of town because of the human nature aspect of watching a train wreck (you know what I mean). I did try to make sure I was standing in a spot that was reasonably safe when the floor collapsed like I was sure it would.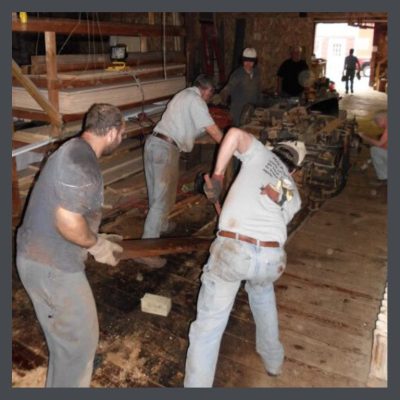 "So all the pipe gets placed and out comes a 2 X 8 and these guys start levering the 2 X 8 and lo and behold the mammoth molder starts to slowly move – inches at a time. Using the pipe at various angles they were actually able to 'steer' the molder fairly successfully. In what seemed like no time the molder was at the door and Dan was backing his trailer up. A few supports to adjust for height and the use of a come along resulted in the molder easily going onto Dan's trailer."
All of this took 3 very long days. The amount of physical labor we did was just brutal. I'm used to a fair amount of it, and Jim is used to even more, but we hurt more every day, and the degree of fatigue made it harder to think as well. At one point Jim said, "I feel worse than when I got hit by a car."
A FINE PIECE OF HISTORY- GONE
Alas, Lapp Mill is no more. It was later demolished. I believe it could have been an incredible museum if any preservation minded people would have saved it. I ultimately ended up with 6 machines from the mill.

This article was written by Eric LaVelle, a master restorer of historic houses. He makes the woodwork with a shop full of antique machinery in Belleville, Illinoise. Visit him on Facebook here.
READ ALL THE STORIES ABOUT ERIC'S ADVENTURES IN COLLECTING ANTIQUE MACHINES!

ERIC LAVELLE, MASTER PRESERVATIONIST, Part 1
Rescuing old houses.

ERIC LAVELLE, MASTER HISTORIC PRESERVATIONIST, Part 2
Learning about the old machines.

ERIC LAVELLE, MASTER HISTORIC PRESERVATIONIST, Part 3
More lessons, learned the hard way!

ERIC LAVELLE, MASTER HISTORIC PRESERVATIONIST, Part 4
The first trip to the old Lapp mill, built in 1892.

ERIC LAVELLE, MASTER HISTORIC PRESERVATIONIST, Part 5
Playing "Be Right or Die." It's a fun game.

ERIC LAVELLE'S OLD HOUSE MACHINES GLOSSARY
I was clueless about these antique machines he uses & thought that you might be too!

ERIC LAVELLE, Introduction to the Machines
Manufacturing before the Age of Electricity.

ERIC LAVELLE, MASTER HISTORIC PRESERVATIONIST
How does he do it?

OLD HOUSE RESTORATION VIDEOS- Eric Lavelle's Antique Wood-Working Machines
Watch the old machines in action. They are loud!!!!

STAY IN THE BUNGALOW KNOW!!!
Sign up for our newsletter & receive our FREE E-book, 7 VITAL Things to Do Before You Hire a Contractor.