THE STORY OF ERIC LAVELLE, HISTORIC PRESERVATIONIST EXTRAORDINAIRE
Eric LaVelle of Belleville, Illinois, is a master historic preservationist but takes it a step further. In addition to performing highly detailed work on houses that are extremely  deteriorated, dangerous, ornate & enormous, he finds, salvages & repairs the antique construction machinery with which he works his magic.
Eric was kind enough to allow me to publish his fascinating & inspiring story, which starts with his childhood interest in old houses, his own first old house, & the trials & tribulations of collecting massive antique machines & moving them to his workshop- without heavy lifting equipment!
He is a wonderful writer & his passion for the tools of his trade is evident in his writing & in every dangerous stunt he performs to secure some of them!
I have also created a GLOSSARY. The words in the GLOSSARY are linked in the text. If you see any words here that you don't understand, let me know & I will add it.
I have also created a playlist on YouTube on which you can see all the machines in action. Then, there's also a page about all the simple tools that he uses when he's rescuing the machines. Simple though they be, they utilize physics & ingenuity to wrestle hug machines from dangerous places.
ERIC SPEAKS
As a child, I was fascinated with 19th century houses, but it wasn't until 1996 that I bought and lived in one. My wife and I moved into an 1880's two story house in a small town. Most of the interior woodwork was intact, as were the ornate front and back doors.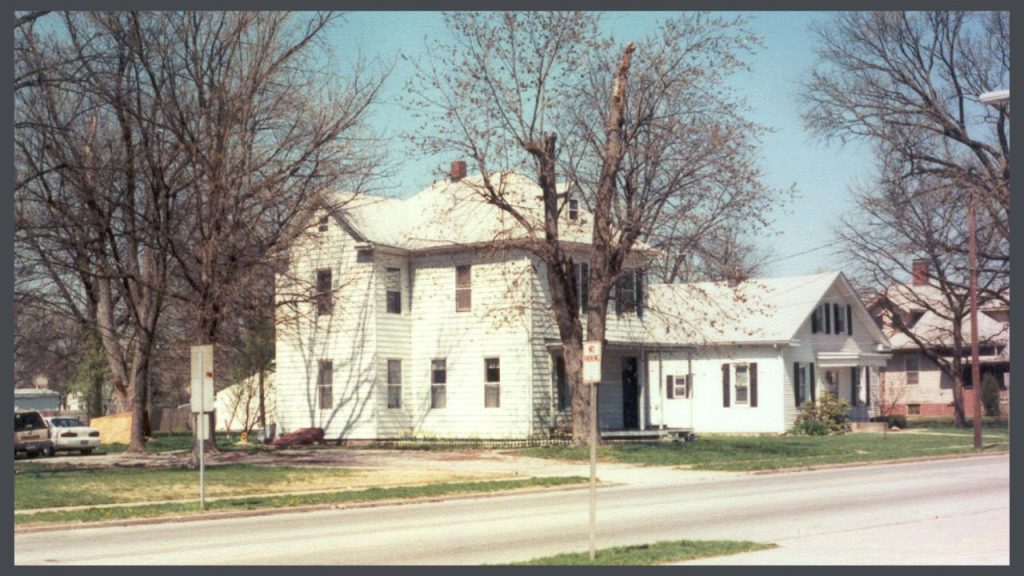 I was fascinated with the woodwork, and wanted to be able to reproduce it, but I had no idea how they had done it, or the equipment they used to do it. I began reading Old House Journal and Old House Interior magazines to learn more about these houses, and how to restore them. The internet was new to me, and there wasn't a great deal of helpful information on it at the time.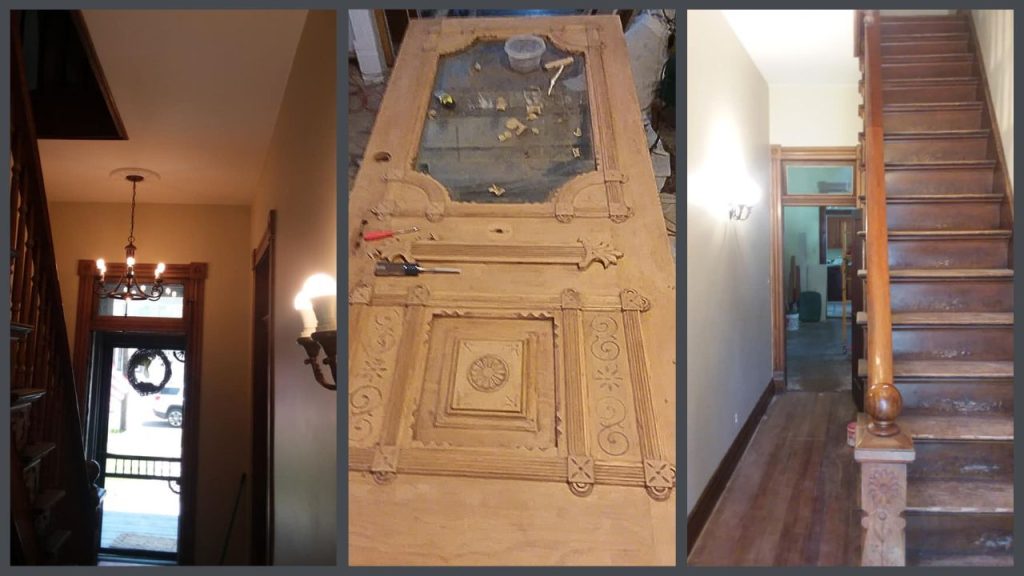 In order to gain the skills to reproduce this millwork, I bought a few small, second hand machines at local auctions. My budget then was extremely small, so in order to get lumber, I resorted to salvaging it from buildings being torn down. The largest of these salvage projects was a dairy barn made mostly of oak and hickory, about 35'x50′ in size, and 30-40ft tall. I spent some time analyzing that structure, and ended up disassembling it from the top down, in a manner that was the reverse of how it was built. Some of my friends helped me do it. It was a physically punishing and dangerous job. To haul the barn lumber, the farmer sold me a 16ft double axle trailer to haul away the lumber.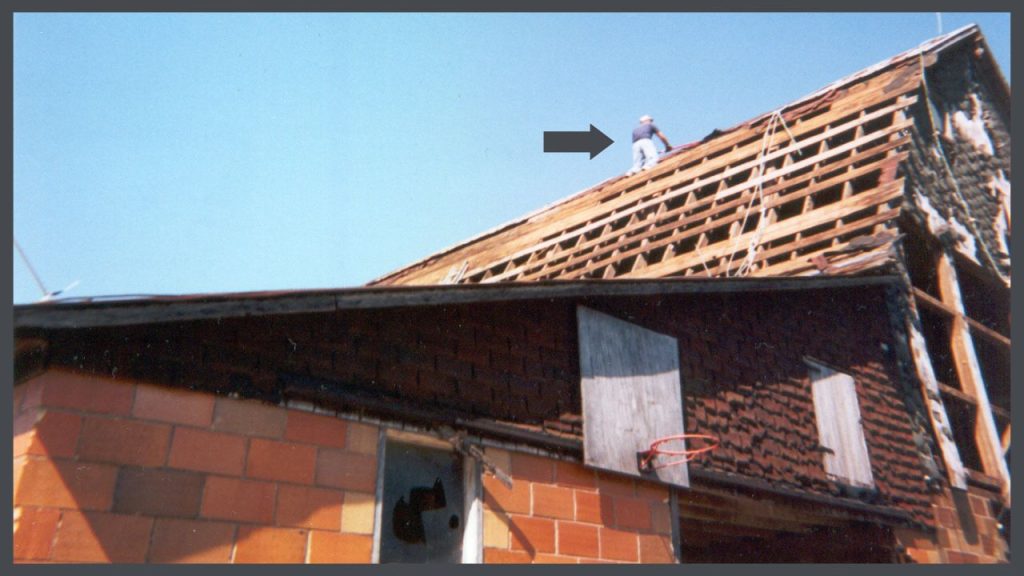 It was 2001, and I had mountains of salvaged lumber, so I needed machines to work with it. My budget was still extremely small, and I could only look at the catalogs of the larger modern machinery with longing. I simply wasn't ever going to be to afford a shop full of those machines. I tried working some of the wood with hand tools, but found it to be much more frustrating than inspiring. My small machines would simply burn up doing any serious work.
THE FIRST MACHINE
In 2002, I stopped crying over the new machines I couldn't afford when I got on eBay and found very old machines for sale for very little money. The first thing I decided I needed was a large bandsaw to resaw barn timbers. This one was 36″, much larger than those I saw in the catalogs. [You can see videos of  an antique bandsaw & a new ones in action, here.] After having the high bid, I set out on a 4 hour drive to pick up the machine with my van and trailer. My Dad went with me. I filled the gas tank just before leaving, which took us all the way there with some gas to spare.
I had never seen a 36″ bandsaw. I was shocked at the size of it. It was in a machine shop, and they were using it to saw aluminum. They loaded it with a forklift, but they didn't really know what they were doing, and tried to lift it by the table, which promptly cracked. I didn't know enough to tell them any different.
It was loaded sideways to the wind, and had some plywood guards built onto it, so it caught wind like a giant sail. Paying little attention, I filled the gas tank on the way out of town, figuring we'd have plenty to get home. I hadn't even bothered to watch the gas gauge when we ran out of gas on the interstate about 30 miles short of making it home. It was then that I learned lesson #1: a loaded trailer, especially with an enormous amount of wind drag, burns a lot more gas than an unloaded one.
After hitch hiking to the gas station and filling up, we got the saw home safely. As I was going in and out of the driveway, there was a dip in the pavement, and I bent the cross bar that held the jack on the trailer. I drove to a local welding shop where they could cut it out and weld a new piece in. The giant saw was still on the trailer. The owner of the shop looked at it and started talking about "3 phase motor" and something called "babbitt bearings". I had no idea what those were, so I just nodded my head, and looked them up later. These would lead to the development of skill#2: building a phase converter, and skill #3: pouring babbitt bearings.
We had just bought another house with a garage, and were moving there, so I wanted to unload the saw at that location. I had no idea how to move a 1500lb saw without any power equipment. This would require skill #1: rigging heavy machinery with hand tools. My Dad showed me that I could use my 48″ crowbar, the same bar I used to disassemble the barn, to slowly inch the saw off the trailer. It took me a very long time to move it that way. Since it was taller than the garage door, and I didn't know how easy it was to remove the top wheel, I hooked a chain around the top of it, which was attached to the framing above the garage door, and tipped the saw so it was leaning into the opening of the door. I then stood it up by prying the base forward, and the saw stood up inside the garage.
At this point I had a long way to go. I still didn't know how they made the millwork in my first house, and I didn't have electricity in the garage, which was 130ft from the house.

This article was written by Eric LaVelle, a master restorer of historic houses. He makes the woodwork with a shop full of antique machinery in Belleville, Illinoise. You can visit him on Facebook here.
READ ALL THE STORIES ABOUT ERIC'S ADVENTURES IN COLLECTING ANTIQUE MACHINES!

ERIC LAVELLE, MASTER HISTORIC PRESERVATIONIST, Part 2
Learning about the old machines.

ERIC LAVELLE, MASTER HISTORIC PRESERVATIONIST, Part 3
More lessons, learned the hard way!

ERIC LAVELLE, MASTER HISTORIC PRESERVATIONIST, Part 4
The first trip to the old Lapp mill, built in 1892.

ERIC LAVELLE, MASTER HISTORIC PRESERVATIONIST, Part 5
Playing "Be Right or Die." It's a fun game.

ERIC LAVELLE, MASTER PRESERVATIONIST, Part 6
Are they lunatics, or are they heroes?

ERIC LAVELLE'S OLD HOUSE MACHINES GLOSSARY
I was clueless about these antique machines he uses & thought that you might be too!

ERIC LAVELLE, Introduction to the Machines
Manufacturing before the Age of Electricity.

ERIC LAVELLE, MASTER HISTORIC PRESERVATIONIST
How does he do it?

OLD HOUSE RESTORATION VIDEOS- Eric Lavelle's Antique Wood-Working Machines
Watch the old machines in action. They are loud!!!!

STAY IN THE BUNGALOW KNOW!!!
Sign up for our newsletter & receive our FREE E-book, 7 VITAL Things to Do Before You Hire a Contractor.