LEARNING ABOUT THE MACHINES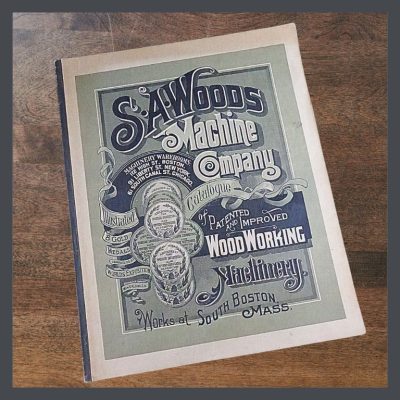 It was summer of 2002, and I had a bandsaw, but I knew that I would need more than that.
By this time I recognized that the internet was both the biggest library and market place ever known. I began to study the woodworking process. I learned some things from my uncles about woodworking, but I needed to learn much more. I also needed to learn about the machines themselves. I began to search and read both Vintagemachinery.org, and the Yahoo group that would become OLD WOOD WORKING MACHINES.
These sites gave me access to photos and catalogs of machinery starting in the mid 1800's. It also allowed me to correspond with, and read conversations between all types of woodworking professionals, with combined experience of hundreds of years.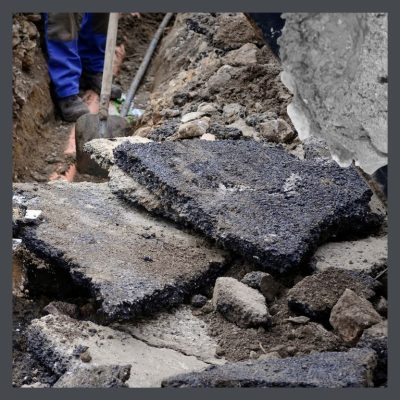 In order to run anything at all, I was going to need electricity in the garage, 130ft behind the house. Originally the machines ran on steam, but had been retrofitted with 3 phase motors. I bought an entire spool of electric wire on eBay, and proceeded to dig a 24″ deep trench across the yard. It would have been nice to rent a trencher, but I doubt it would have made it through the 2ft deep packed gravel of the driveway, the bricks, rocks, tree roots, and the 500lb chunk of concrete with the bottom of a clothesline pole embedded in it.
After running the wire and hooking up a sub panel in the garage, I knew I needed to build something called a phase converter to convert the single phase residential electricity that I had into something that would run the industrial motors. I found information online about how to build it, then bought an old 20HP 3 phase motor, which I would spin up to speed with a small single phase motor, then turn on to provide the third leg of the power. This was called a pony start rotary phase converter. When I first hooked it up, the big motor wouldn't run. Feeling defeated, I went back in the house, with that little voice in my head telling me I couldn't do it. I imagined a face behind that voice, then imagined myself punching it square in the nose before going back out and figuring out the motor was configured for 440 volt operation instead of 220v (lesson #2: never assume the wiring is hooked up the way you need it). A little reconnecting according to the chart on the side of the motor, and I was up and running with 3 phase power.
ALMOST!
I knew from experience that lumber that was almost straight and almost flat made parts that almost fit. I learned that the jointer was the machine to make parts that actually fit.
I again consulted eBay, where I bought a 16″ jointer that happened to have a square head. After reading about the increased danger of square heads in a jointer, my morbid sense of humor compelled me to refer to the machine as "Munch" for its propensity to munch fingers.
The biggest problem with this machine was that the beds were shorter than normal. I'd later replace it with another machine that was not much newer, but had longer beds and a round head. I bought that machine from an elderly man named Max, who owned 35 forklifts.
SO MANY TOOLS, SO LITTLE TIME!
On the Vintagemachinery.org site, I found a link to something called the 1880 Census Report. This report was illustrated, and gave an accounting of the technological advances in various fields, including woodworking. It had drawings and descriptions of the woodworking machines available at the time.
I used it to make my shopping list. I now knew exactly what machines they used to produce the millwork in my 1880's house.

This article was written by Eric LaVelle, a master restorer of historic houses. He makes the woodwork with a shop full of antique machinery in Belleville, Illinoise. You can visit him on Facebook here.
READ ALL THE STORIES ABOUT ERIC'S ADVENTURES IN COLLECTING ANTIQUE MACHINES!

ERIC LAVELLE, MASTER PRESERVATIONIST, Part 1
Rescuing old houses.

ERIC LAVELLE, MASTER HISTORIC PRESERVATIONIST, Part 3
More lessons, learned the hard way!

ERIC LAVELLE, MASTER HISTORIC PRESERVATIONIST, Part 4
The first trip to the old Lapp mill, built in 1892.

ERIC LAVELLE, MASTER HISTORIC PRESERVATIONIST, Part 5
Playing "Be Right or Die." It's a fun game.

ERIC LAVELLE, MASTER PRESERVATIONIST, Part 6
Are they lunatics, or are they heroes?

ERIC LAVELLE'S OLD HOUSE MACHINES GLOSSARY
I was clueless about these antique machines he uses & thought that you might be too!

ERIC LAVELLE, Introduction to the Machines
Manufacturing before the Age of Electricity.

ERIC LAVELLE, MASTER HISTORIC PRESERVATIONIST
How does he do it?

OLD HOUSE RESTORATION VIDEOS- Eric Lavelle's Antique Wood-Working Machines
Watch the old machines in action. They are loud!!!!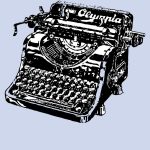 STAY IN THE BUNGALOW KNOW!!!
Sign up for our newsletter & receive our FREE E-book, 7 VITAL Things to Do Before You Hire a Contractor.